A&E > Stage
Spokane Civic Theatre bringing holiday tradition to stage with "A Christmas Story: The Musical"
Thu., Nov. 16, 2017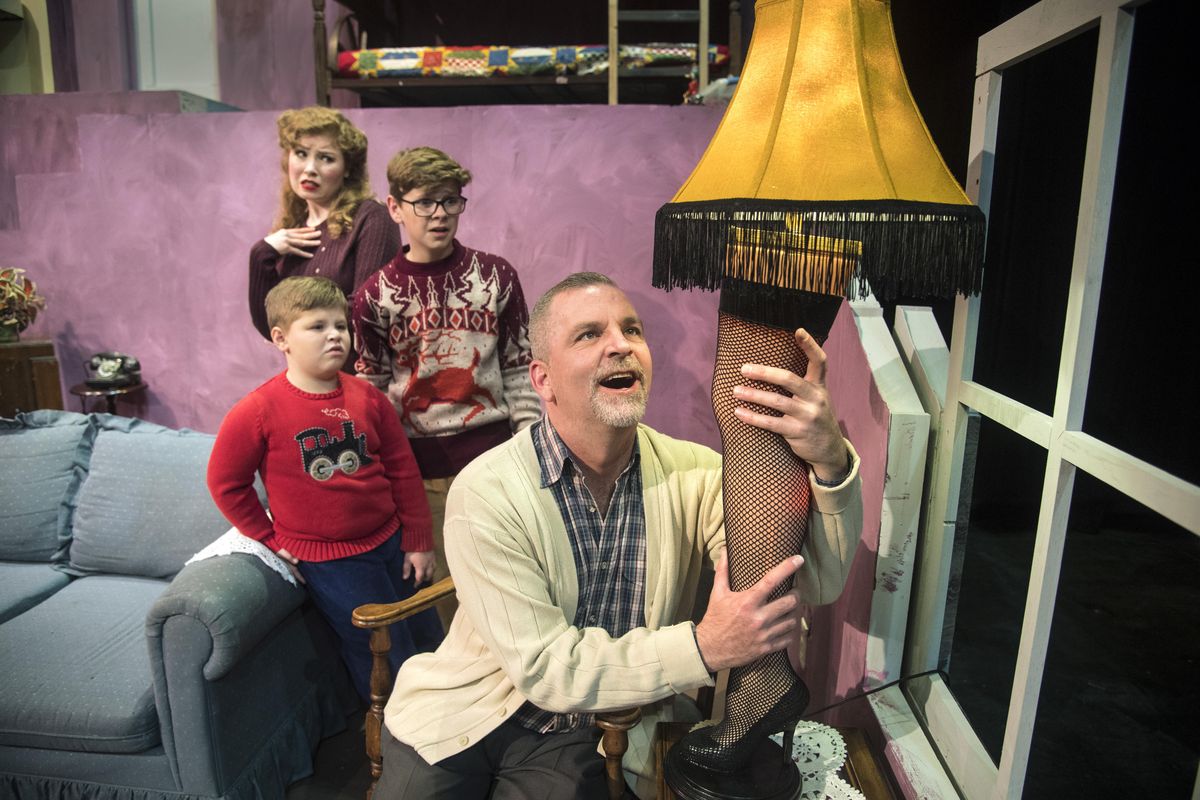 Mark Pleasant, as The Old Man, hugs his new leg lamp much to the displeasure of Tami Knoell, as Mother, Brody Else, as Randy, and Kevon Burget, as Ralphie, during a scene from Civic Theatre's "A Christmas Story: The Musical." (Dan Pelle / The Spokesman-Review)
Come December, many a household will no doubt be filled with exclamations of "You'll shoot your eye out!" and references to a "major award" and triple-dog dares.
Spokane Civic Theatre will kick the holiday tradition off a little early when "A Christmas Story: The Musical" opens Friday on the Margot and Robert Ogden Main Stage.
According to director Kathie Doyle-Lipe, the theater chose "A Christmas Story: The Musical" as its holiday production because they wanted to do something outside of their holiday standards like "A Christmas Carol" or "White Christmas."
"It seemed like a movie that is a tradition with so many families," she said.
The Civic production, which features musical direction by Henry McNulty, is based on the 1983 movie of the same name, itself inspired by semi-autobiographical stories from writer Jean Sheperd's "In God We Trust: All Others Pay Cash."
The story centers around a young boy named Ralphie (Kevon Burget), who wants nothing more than a Red Ryder Carbine Action 200-shot Range Model air rifle for Christmas.
In the meantime, Ralphie and his buddies Flick (Matthew Brauhn) and Schwartz (Zachary Abshire) must contend with neighborhood bullies Scut Farkus (Clayton Sanchez) and Grover Dill (Cole Henry), while Ralphie's father, called the Old Man (Mark Pleasant) tries in vein to fix a malfunctioning furnace and argues with his wife, known only as Mother (Tami Knoell) over the Old Man's "major award."
Sheperd played the voice of adult Ralphie in the film, a role Tom Armitage will fill in the musical as an onstage narrator.
The cast also includes Brody Else (Randy), Catherine Dietschak (Esther Jane), Noelle Fries (Mary Beth), Phedre Peters (Miss Shields) and Doug Dawson (Santa).
The chorus features Johanna Allen, Julia Allen, Carolina Bufford, Chandler Carey, Crystal Carey, Quinn Gamon, Chet Gilmore, Annika Johnson, Kris Kittleson, Pearl Tesarik, Rachel Verrill, Eli Wissing and Mary Jo Woods.
Aiden Else, Dacey Else and Ella Wissing play school kids.
Burget came to the production through Greg Pschirrer, a friend of Doyle-Lipe's who teaches drama at Lewis and Clark High School.
He saw Burget perform and suggested he try out for "A Christmas Story: The Musical."
"This boy just walked in, and it was like I was looking at the movie," Doyle-Lipe said. "He is a strong singer and has real charisma. I feel very fortunate to have him."
She feels the same way about the other young actors, many of whom she had not worked with before.
"There is just talent galore up there," she said. "Those kids have been a dream."
Doyle-Lipe directed Civic's 2003 production of Philip Grecian's stage adaptation of "A Christmas Story" and has since seen the movie many times.
Working on the musical version has made her realize the story should have been written as a musical in the first place.
"Adding music gives it more depth, more heart, in some cases, more comic moments," she said. "It fits it really well and I think it highlights some of the iconic scenes that everybody always think about," she said.
"A Christmas Story: The Musical" opened on Broadway in 2012 and features music and lyrics by Benj Pasek and Justin Paul, the award-winning duo behind the musical "Dear Evan Hansen" and all but one song in the movie "La La Land."
Pasek and Paul were nominated for the Tony Award for Best Original Score and the Drama Desk Award for Outstanding Music for "A Christmas Story: The Musical."
"It's young, it's fresh, it's very catchy," Doyle-Lipe said about the music. "It's nothing anybody's familiar with, but you'll go home and you'll have a song or two that won't stop playing around in your head."
"A Christmas Story," in its various forms, has proven itself to have similar staying power. Since 1997, for example, the film has been shown during 24-hour marathons beginning on Christmas Eve.
Doyle-Lipe believes watching "A Christmas Story" has become a tradition for so many families because it reminds viewers of other traditions they hold.
"We tend to forget tradition. We still do them as a family, but I think until something like this makes you take a second look at it that it brings back the depth of how ingrained the different family traditions are with each family and how wonderful it is to have family time and people around for the holidays," she said.
And though some situations, like the malfunctioning furnace and neighborhood dogs ruining dinner, are at times a little over the top, Doyle-Lipe also believes the relatable nature of "A Christmas Story" plus a good dose of heart make the movie a holiday staple for so many.
"You've got a story that's going to touch you whether you're 2 or you're 102," she said. "There's going to be something there you relate to, that pulls at your heartstrings."
Local journalism is essential.
Give directly to The Spokesman-Review's Northwest Passages community forums series -- which helps to offset the costs of several reporter and editor positions at the newspaper -- by using the easy options below. Gifts processed in this system are not tax deductible, but are predominately used to help meet the local financial requirements needed to receive national matching-grant funds.
Subscribe to the Spokane7 email newsletter
Get the day's top entertainment headlines delivered to your inbox every morning.
---