Gonzaga's John Stockton takes his place in College Basketball Hall of Fame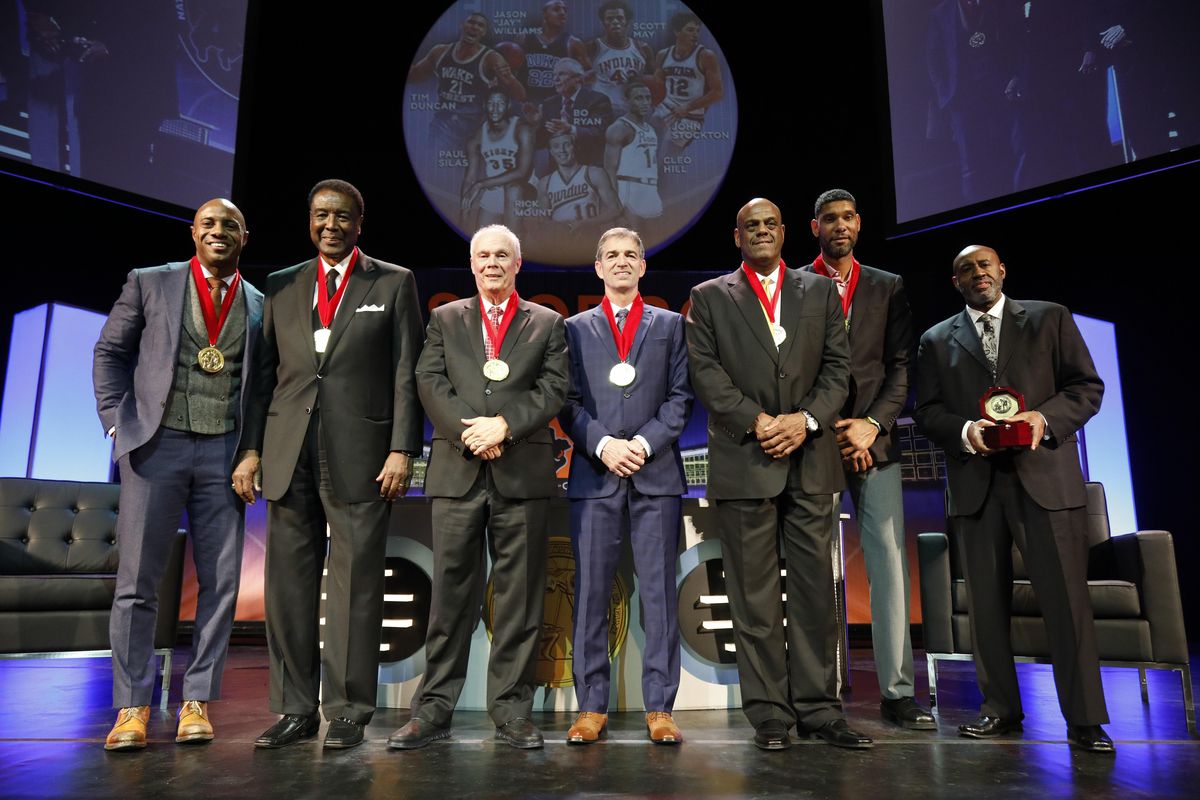 KANSAS CITY, Mo. – There were Final Four players and a Final Four coach but the two biggest stars inducted into the College Basketball Hall of Fame on Sunday never played in the national semifinals.
In fact, one of them, never played in a postseason game in his college career.
Gonzaga's John Stockton, the point guard from the tiny school in the West Coast Conference, and Tim Duncan the big man from the other ACC school in North Carolina headlined the class of 2017.
Duncan's Wake Forest teams failed to advance beyond the regional finals in his career. Stockton's Gonzaga teams were never called out on Selection Sunday, or whatever method filled that role in the early 1980s.
Duncan was everybody's All-American in college. He continued that success with the San Antonio Spurs in the NBA.
As for Stockton?
"I was surprised to be included, frankly," Stockton said of his selection in an article published in The Spokesman-Review last week.
"I never looked at my college career in those terms … My pro career, I think, is what brought attention to my college career," he said.
Stockton finished with 1,340 points and 554 assists in his four seasons at Gonzaga. He was the first Gonzaga player named WCC player of the year.
He went on to win two Olympic gold medals and set numerous records in the NBA and remains the career steals and assists leader. For those accomplishments he was twice inducted into the Naismith Memorial Basketball Hall of Fame – as a player and as a member of the 1992 U.S. Olympic basketball team – and as of Sunday he is also a member of the College Basketball Hall of Fame.
Also in the Class of 2017 were Indiana's Scott May, the 1976 national player of the year and a leader on the sport's last undefeated team, and Purdue sharpshooter Rick Mount, who led the Boilermakers to the 1969 NCAA final.
Paul Silas, who set an NCAA career rebounding record for three seasons at Creighton and one of the NBA's top defensive players of the 1970s, enters the hall, along with Cleo Hill.
Hill, a star at Winston-Salem State from 1957-61, was a first-round draft pick of the St. Louis Hawks, whose management told the coach to freeze Hill out the offense so his white teammates could take more shots. The coach, Paul Seymour, resigned in protest and Hill didn't play in the NBA after his rookie season.
Bo Ryan, who led Wisconsin to two Final Fours and Wisconsin-Platteville to four NCAA Division III national championships, is the lone coach inducted in this class.
And there was Jay Williams, a two-time ACC player of the year at Duke whose playing career ended before his second NBA season, when he was involved in a motorcycle crash and severed the main nerve in his leg and a fractured pelvis, among other injuries. His comeback attempt three years later wasn't successful and his life then became complicated with depression and addiction to painkillers.
Excerpts from a Blair Kerkhoff (Kansas City Star) profile of Williams published for the Hall of Fame celebration follow:
Williams opened up in his 2016 book, "Life Is Not An Accident," billed as a "memoir of reinvention. His career at ESPN as a game and studio analyst started in 2008 and he's been part of the network's "College GameDay" program since 2015.
When the hall call came, Williams, 36, was caught off guard.
"I was taken aback," Williams said. "To be part of a class with guys like Tim Duncan, John Stockton, Paul Silas and all those names. To know I'll be associated with them, it's moving and little difficult to comprehend."
In the chapters of his basketball life, the end of Jay Williams' college basketball career is what he most fondly remembers.
Not necessarily the accomplishments, like his second national player of the year award captured in 2002 or the NCAA championship he helped Duke win the previous season, but simply how several influences came together to shape him into the person he wasn't sure he could become.
"To win the title was a great thing and to win individual honors, but they pale in comparison to how my family and Coach (Mike) Krzyzewski orchestrated a plan to me to graduate in three years and laid a foundation that no one could ever take away from me," Williams said.
Williams spoke to that and his Blue Devils career, when he averaged 19.3 points, 6.0 assists and 3.7 rebounds, on Sunday at the National Collegiate Basketball Hall of Fame induction ceremony at The Midland in downtown Kansas City.
---