News > Spokane
With 10,000 refugees welcomed, World Relief Spokane marks important milestone
Nov. 19, 2017 Updated Sun., Nov. 19, 2017 at 10:36 p.m.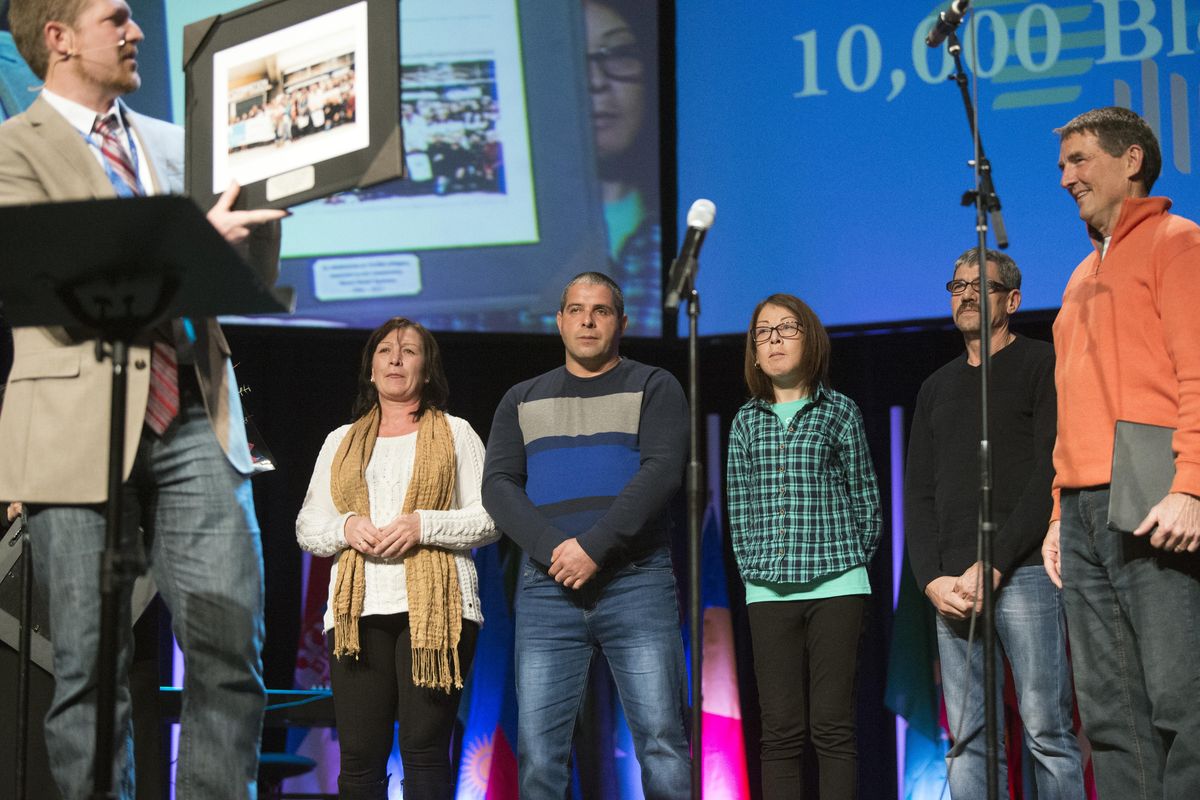 A family of four from Moldova, center, represent the 10,000th refugee settled in Spokane at a service Sunday, Nov. 19, 2017, at Life Center Church, where World Relief Spokane Director Mark Finney, left, and Pastor Joe Wittwer, right, celebrated the milestone. (Jesse Tinsley / The Spokesman-Review)
Late last month, Tatiana Bichir, her husband and parents stepped off a plane at Spokane International Airport, ready to start a new life in America.
Escaping religious persecution in their home country of Moldova – a small Eastern European nation nestled between Ukraine and Romania – the family of four were thrilled to start a new chapter in Eastern Washington.
But little did they know their arrival marked an extra special place in the Lilac City's record with refugees.
"Just a few weeks ago, we crossed the milestone of having our 10,000th refugee … come through Spokane," said Mark Finney, director of World Relief Spokane, from atop the stage at the Life Center megachurch Sunday afternoon. "We are thrilled that they get to be here."
In celebrating the milestone – technically 10,002 refugees relocated since 1989 – World Relief Spokane invited hundreds from the Inland Northwest to fill the pews of the church overlooking the Spokane River and hear stories from refugee families.
Bichir, her husband, Oleg, and parents Ivan and Galina Zgherea, presented gifts of flowers and a framed photo of the family at the airport to the church's pastor Joe Wittwer and World Relief's former director Linda Unseth. Through a translator, they said before the show that they were "very grateful" for the community support they've received since coming to the United States.
"Thank you very much for the good organization who helps people in the entire world," the family said, speaking through Diana Borisova, their case manager. "And thank you to everyone else who helped."
Shamsa, a refugee from Somalia who elected not to share her last name, took the microphone and told the crowd the harrowing story of escaping violence in Mogadishu, where her sister and brother were killed before she was able to secure refuge in Spokane. The crowd, filling about half of the church's 2,000-person occupancy, reacted with audible sympathy to the young woman's tale.
"I dreamed one day I would get out of this life and go to America," she said. "And today I'm here. I'm so glad."
Stealing the show, though, was the Neema Youth Choir, made up entirely of refugee children from a wide range of African countries. Through three songs interspersed throughout the event, the children coaxed a lot cheers, clapping and dancing.
Led by Jackson Lino, a 29-year-old refugee from Sudan who came to Boise when he was 12, the gospel choir had the last word when they closed with a song called "I Am Not Forgotten," which Lino said was a favorite among the children.
"My name is Shadrach," said 10-year-old Shadrach Mungualinipa before the song. "And I am not forgotten."
Finney, who transitioned from resettlement specialist with World Relief to director of its Spokane chapter earlier this year, also spoke briefly about President Donald Trump's travel ban, and how it has affected his office. With a cap of 45,000 refugees nationwide, he said, the organization has had to lay off a sizable chunk of staff, though they were able to stay open, unlike a branch in Boise that shuttered this year.
Andrew Goodwin, a communications assistant with World Relief, said before the event that the United States isn't even on track to hit the 45,000 cap, due to the extra level of vetting and requirements necessary for people's applications to go through.
"Right now, we're at about 13,000 refugees through the year," he said.
Looking at the pews, Finney asked the crowd to help change that. He asked them to follow World Relief's slogan of standing with the vulnerable.
"I would ask you today, will you stand with World Relief?" he said. "Will you help bring the next 10,000 to Spokane?"
Local journalism is essential.
Give directly to The Spokesman-Review's Northwest Passages community forums series -- which helps to offset the costs of several reporter and editor positions at the newspaper -- by using the easy options below. Gifts processed in this system are not tax deductible, but are predominately used to help meet the local financial requirements needed to receive national matching-grant funds.
Subscribe now to get breaking news alerts in your email inbox
Get breaking news delivered to your inbox as it happens.
---