News > Spokane
Direct to your door: Spokane-area grocery delivery
Fri., Nov. 24, 2017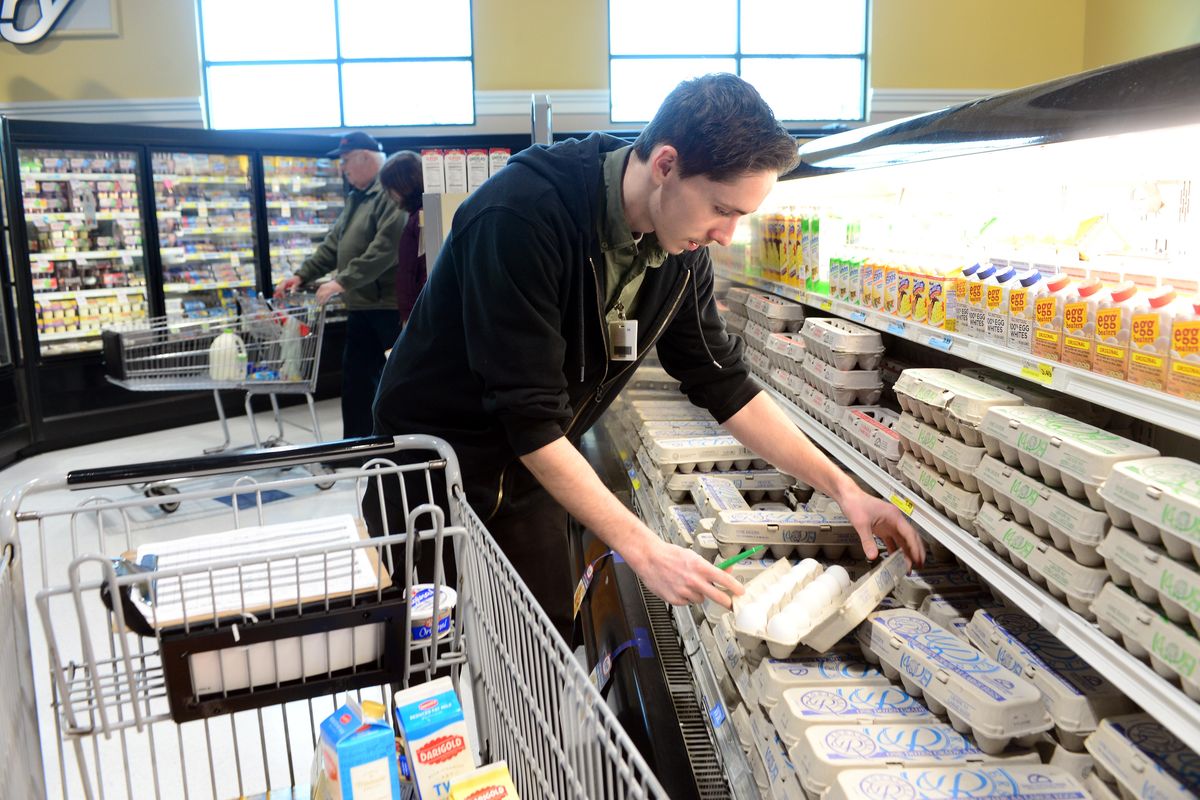 Garret Fox shops for a delivery customer, first checking the eggs for cracks before placing them in his cart, Thursday, Dec. 22, 2016, at the East Sprague Avenue Rosauers store. Fox will then box up the order, some totaling $400 or $500 or more, in plastic totes and handing them off to delivery driver Ron Jarvey. (Jesse Tinsley / The Spokesman-Review)Buy a print of this photo
The grocery market is perhaps one of the last frontiers largely untapped by e-commerce. And for good reason.
Most people would rather take a short trip to a grocery store than pull up a computer or app. And when it comes to needing a small package of cream cheese you forgot, or a case of beer to go with dinner, the inconvenience of a 15-minute grocery run can dwarf the hours-long wait for a delivery driver.
For the vendors, perishable items such as ice cream, milk and fruit are a logistical nightmare when it comes to at-home delivery. It's why companies like Amazon, which have ruled over online ordering for close to a decade, still haven't quite figured out how to expand home grocery delivery outside of a few metropolitan areas.
But that's all changing. Whether it's through a company that fulfills grocery delivery like UberEATS does for restaurants, or it's a grocery chain fulfilling delivery in-house, here are the stores you can rely on to take care of that grocery list for you.
For a fee, of course.
Rosauers
An Inland Northwest favorite, Rosauers is also the only grocery chain in the area that provides in-house grocery delivery.
All patrons have to do is visit www.rosauersdelivers.com, call in and pay with a credit, debit or food stamp card, or check on delivery, and within hours fresh groceries are at their doorstep.
Rosauers has been delivering groceries for more than a decade, says CEO Jeff Phillips.It wasn't until 2015, when their contracted delivery service Delivery Boy went under, that the chain had to develop it's own service. Soon after, they redesigned their delivery service and expanded it to three stores: the South Hill location on East 29th Avenue, the store near the North Division Y, and the Valley store on University Road and Sprague Avenue.
The fee is a flat $7.95. Ordering online is much like ordering anything from Amazon. Patrons will make a list, hit submit, then pick a two-hour delivery window. A driver will show up and hand over the groceries. Yes, you can tip them.
Phillips said the demographic that most takes advantage of the service are the disabled and working professionals who'd like a quick time-saver, but anyone can find a benefit if they look hard enough.
"It's pretty popular," he said. "We're looking at decisions to see if we need to expand the delivery portion of it."
Albertsons, Costco, Petco, Fred Meyer, Natural Grocers
Instacart wants to change the way Americans buy groceries. Similar to how UberEATS has filled the food delivery void by opening up options to any restaurant willing to participate, Instacart is hoping to do the same for retailers and grocery stores.
By paying "private contractors" (i.e. people in the community who sign up and are paid for their time while delivering) to become personal shoppers, the company is able to bypass the typical roadblocks that would befall grocers, including wages and vehicles necessary to employ a fleet of delivery drivers.
For shoppers, the instructions are simple: go to www.instacart.com, put in your ZIPcode, and a list of grocers will pop up. Select from any you desire, put as many items in your cart as you want (from any or all of the retailers) and then hit purchase. An Instacart contractor will get your list, go to the store(s), buy the items, and deliver them to your home.
They can even deliver within the hour, depending on the list, or seven days down the line.
For those wishing to sign up as a contractor, they can visit shoppers.instacart.com and apply. Instacart provides a pre-loaded debit card with the monetary total of the shopper's order.
Dacyl Armendariz, Instacart's communications manager, said the service, which started in the Bay Area in 2012, launched in the Inland Northwest in September and is already growing. They originally predicted it would be a big hit for busy professionals, but they're seeing a large demographic of people jumping on board.
"It's been very successful for us, so much so that we're constantly adding additional shoppers," she said. "We've been very pleased with the amount of adoption we've seen in Spokane and we look forward to expanding and building it out."
So far, Albertsons, Costco, Fred Meyer, Natural Grocers at 4603 N. Division St., and Petco are the stores in the Spokane region that offer the service. Armendariz said drivers can deliver about 20 to 30 minutes away from any of those retailers.
Instacart charges a fee of $9.99 on orders under $35, and $5.99 on orders above $35. The list of available items for delivery will auto-populate on Instacart's website.
While big box stores such as Fred Meyer and Costco are on the list, Armendariz said only perishables and nonperishable everyday items, like toilet paper and shampoo, are eligible for delivery.
"You're not able to buy a TV," she said.
Local journalism is essential.
Give directly to The Spokesman-Review's Northwest Passages community forums series -- which helps to offset the costs of several reporter and editor positions at the newspaper -- by using the easy options below. Gifts processed in this system are not tax deductible, but are predominately used to help meet the local financial requirements needed to receive national matching-grant funds.
Subscribe now to get breaking news alerts in your email inbox
Get breaking news delivered to your inbox as it happens.
---