News > Idaho
Idaho candidate launches gubernatorial attack website
UPDATED: Fri., Nov. 24, 2017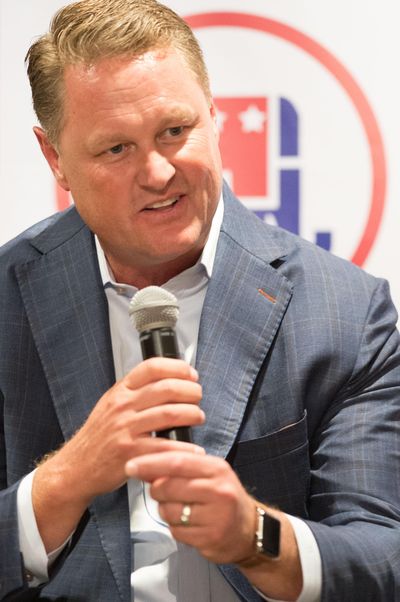 BOISE, Idaho – Boise businessman Tommy Ahlquist has launched an attack website criticizing his Republican gubernatorial opponents as sad choices for Idahoans.
Ahlquist, who is running for political office for the first time, faces Lt. Gov. Brad Little and U.S. Rep. Raul Labrador and others in the 2018 GOP race to replace outgoing Gov. C.L. "Butch" Otter.
"We think it is important that Idaho voters have a chance to be fully informed of the records of our career politician opponents," said David Johnston, Ahlquist's campaign manager.
It's not the first attack website of the gubernatorial campaign, but it is the most sweeping so far in its range of criticism. The first came from Little's campaign when Labrador first announced his gubernatorial campaign. Little dedicated a page on his website offering Labrador suggestions where to stay and eat while in Idaho as a way to needle the congressman's time spent in Washington D.C. and not in the state.
Ahlquist's site – launched last week – is set up like a quiz, asking people whether Little or Labrador is worse on a variety of topics. Some attacks point to Labrador distributing bonuses to his congressional staffers while Little once took a higher per diem while in office as a state senator in 2008.
Others are more direct. For example, one selection for Labrador reads: "During his time in Congress, Raul Labrador has missed over 200 votes. And since announcing his candidacy for governor in 2017, he has missed more than five times the number of votes as the average congressman, despite taking a $174,000 taxpayer-funded salary."
According to govtrack.us, Labrador has missed 219 roll call votes since he assumed congressional office in 2011. The site ranks Labrador slightly higher than other House members who have missed votes.
In turn, Labrador described Ahlquist as the "worst kind of politician." Labrador said his brief spike in missed votes over the summer was due to a family emergency.
"I've always been honest with voters that my role as a father means sometimes I will miss votes," Labrador said in a prepared statement. "Most of the votes I missed this year were because I was in the hospital twice with my young son when he had a heart procedure and subsequent complications. Shame on you, Tommy. Idaho deserves better than this."
Johnston said the highlighted missed votes did not include the votes when the congressman was with his family.
Ahlquist also targeted Little as having the largest salary increase for an elected official in 2014, as well as his office having a 43 percent increase in employee salaries.
The site, however, fails to mention that Idaho's lieutenant governor is one of the lowest paid positions of its kind in the United States and that Little has just one full-time staffer. Ahlquist is correct Little received the highest pay raise for an elected official in 2014, but that pay bump moved the state's lieutenant salary from $35,700 a year to $43,552 a year. Meanwhile, the Idaho governor makes $124,436 a year.
Furthermore, in 2014, a part-time administrative assistant was promoted to full-time as chief of staff – which caused the 43 percent increase in employee salary spending.
"The lieutenant governor's pay, similar to all Idaho constitutional officers, is set by the legislature. Brad Little has never requested or advocated for a pay increase during his service as lieutenant governor," said Zach Hauge, Little's campaign manager.
Other criticism on Ahlquist's site draw from previous attacks Labrador has received from other political opponents.
"Congressman Raul Labrador has spent almost $6,700 in taxpayer dollars a year to lease a luxury SUV to drive comfortably around Idaho at your expense," Ahlquist's site said.
The claim cites a 2016 Spokesman-Review report fact checking a similar attack by Labrador's Democratic opponent during the 2016 election. At the time, Labrador was one of just 59 House members who leased a vehicle from their congressional funds. Doing so is authorized by House rules.
Labrador's office paid $558 a month to lease a 2014 Ford Explorer – not generally considered a luxury vehicle or a luxury brand.
Local journalism is essential.
Give directly to The Spokesman-Review's Northwest Passages community forums series -- which helps to offset the costs of several reporter and editor positions at the newspaper -- by using the easy options below. Gifts processed in this system are not tax deductible, but are predominately used to help meet the local financial requirements needed to receive national matching-grant funds.
Subscribe to the Coronavirus newsletter
Get the day's latest Coronavirus news delivered to your inbox by subscribing to our newsletter.
---