Sports > Gonzaga basketball
John Blanchette: Texas had a front-row seat to Rui Hachimura's coming-out party
UPDATED: Sun., Nov. 26, 2017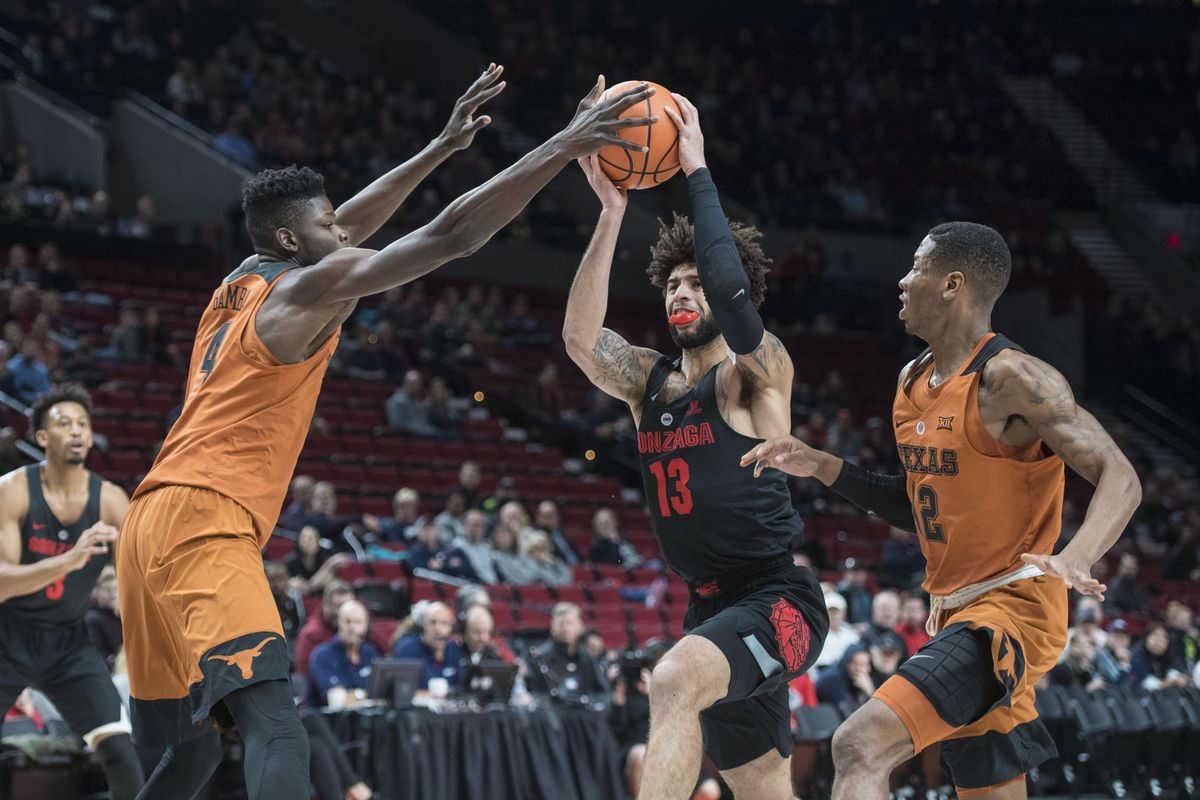 Gonzaga guard Josh Perkins drives on Texas forward Mohamed Bamba (4) and guard Kervin Roach II, Sunday, Nov. 26, 2017, in the Moda Center. (Dan Pelle / The Spokesman-Review)
PORTLAND – Cue the Cult of Rui.
You knew it was coming. It's been simmering for a year anyway, bubbling to a quick boil every time Gonzaga's sleek SUV of a forward rose for one of his powerful dunks – usually in the latter stages of blowouts, when feats like that can reclaim a distracted fan.
Those jams and his affable mien and the relative mystery around Rui Hachimura's arrival at Gonzaga – and the rarity of a high-level recruit from Japan – made him a magnet of interest.
Let's face it. He's Gonzaga's Ichiro, known by his first name more than his last from the very first time he suited up.
Almost immediately he became the designated why-doesn't-he-play-more Zag, which is the endowed chair of Gonzaga basketball. All shortcomings and the many dimensions of his game that needed growth and nurturing dismissed as Zagophiles thirsted for more.
And now the fizz has been unbottled.
So never mind all the other angles and facets of Gonzaga's 76-71 overtime victory over Texas in Sunday morning's basketball mass at the PK80 Invitational. Never mind how the Bulldogs shook themselves from the emotional suck of Friday's epic double-overtime loss to Florida. Never mind the 24-0 lick they put on the Longhorns midway through the first half. Never mind the 24 turnovers and the meltdown that allowed Texas to get to overtime after trailing by 11 points with three minutes to play. Never mind another long-range shooting exhibition by Josh Perkins, and Silas Melson for coming up with two mega-plays that weren't within his grasp Friday night. And never mind the poise the Zags mined to regroup in the OT.
Mind Rui Hachimura and his coming-out party.
"He was basically great every minute he was on the floor," conceded Bulldogs assistant coach Tommy Lloyd.
We might have known something was up when head coach Mark Few sent him to check in barely three minutes into the game – mindful of his fatigued team and the need to further involve his bench, and of that something was coming down in which Hachimura might thrive.
"It was an open-court game," he said, "which Rui is a lot better usually in than half-court grinders."
Which became clear when he drove the lane for one of his soaring dunks about 90 seconds after checking in.
But then there was suddenly more. A three-point play in transition. A layup off a press break. A rhythm 3. A pump-fake and drive that closed the first half. A pick-and-roll layup and a jump-hook out of a post-up.
Rebounds. Defense. The. Whole. Package.
"That's the Rui I know," said Perkins. "A confident guy. A funny dude on the court. When he's out there in transition, getting layups, shooting open 3s, that's the guy I'm used to seeing."
Hachimura's arrival at GU was heralded by a few YouTube videos and some outsized statistics against overmatched high-schoolers in Japan. If he struggled to build his game as a freshman, it was largely because classes he needed to better his English and tackle academic demands at Gonzaga often kept him away from practice.
"Last year was such a big jump in just learning how to function in a different culture and college that I don't know how much basketball wise he really absorbed," Lloyd said.
Acknowledged Hachimura, "It's much more comfortable than last year, definitely. Now I understand the system and now I need to do more of my stuff."
He got more of a chance Sunday because both Killian Tillie and Jonathan Williams battled some foul issues – and because "most importantly, he hit his defensive assignments so he was able to stay on the floor longer," Few said.
This was growth that could be seen with the naked eye. Coming out of a timeout against Ohio State on Thursday, the Zags set up in the zone that completely stifled the Buckeyes. Problem was, Hachimura was playing man-to-man – and OSU nailed a 3 on his side.
"And we were on Rui for making an individual mistake," Lloyd said. "But our other guys have to help Rui out there. You have to communicate – over-communicate.
"We've really been on Rui to find his opportunities. Sometimes he's got the mindset, "I don't want to make a mistake so I'm just going to stay out of the way." You see that he floats to the corner a lot, which is OK once in a while, but we want Rui involved in ball screens, post-ups, movement, catching the ball where he can drive, occasionally shooting a 3."
By game's end, Hachimura had 20 points and nine rebounds in 28 minutes – all career highs. And he was surrounded by a half-dozen reporters, and not uncomfortably.
"I'm so happy to be here and playing with the guys," he said. "I'm just happy."
And so is his cult.
Local journalism is essential.
Give directly to The Spokesman-Review's Northwest Passages community forums series -- which helps to offset the costs of several reporter and editor positions at the newspaper -- by using the easy options below. Gifts processed in this system are not tax deductible, but are predominately used to help meet the local financial requirements needed to receive national matching-grant funds.
Follow along with the Zags
Subscribe to our Gonzaga Basketball newsletter to stay up with the latest news.
---