News > Crime/Public Safety
Suspect identified in Hillyard police shooting
Nov. 29, 2017 Updated Wed., Nov. 29, 2017 at 9:23 p.m.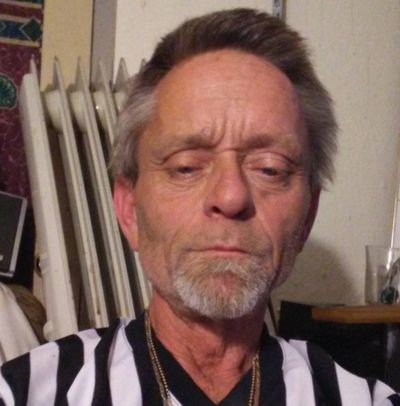 The man killed in a gunfight with Spokane Police on Tuesday night in Hillyard was 59-year-old James C. Danforth, as identified by a police dispatch recording and Danforth's neighbor.
Danforth, who police said shot at two officers inside their patrol vehicle before they returned fire, had a criminal history that included four felony burglary convictions and criminal trespassing.
In 2010, Danforth was charged with unlawful possession of a firearm, but the charge was dismissed.
The Spokane County Medical Examiner has yet to officially identify the deceased suspect, who Spokane Police Chief Craig Meidl described as a white male in his 50s with "an extensive felony record."
Just before 6 p.m. Tuesday, officers responded to a complaint from a caller who said that a short-time roommate, identified by dispatch as Danforth, was refusing to leave and had fired a gun in the house, at 2934 E. Rowan Ave., before fleeing on foot.
When Danforth returned around 7:45 p.m. in the pouring rain, two officers who responded to the call were finishing investigative work in their patrol car in front of the house. Danforth opened fire on the car, police said. A firearm was later recovered at the scene.
The officers returned fire, hitting Danforth multiple times. Following the exchange, they performed first aid as emergency crews arrived. The shooting suspect was taken to the hospital, where he was pronounced dead.
The events of the shooting were recounted over police radio.
"Twenty-one, shots fired! East Rowan, he's still moving!" an officer tells dispatch.
"On the corner of Rowan and Haven. He still has a gun."
A few seconds later, officers say Danforth is down.
"He's laying down. Hands are out," the officer says.
"As soon as we get a couple more, we'll get a shield and we'll see. He's still making noises."
"Twenty-one, both cops are good so far, just so you know."
Megan Varner, Danforth's neighbor, said she heard the commotion unfold.
When Danforth initially left his house with a gun, Varner said, officers warned her and other neighbors that an armed man wearing a camouflage jacket was on the loose.
"We knew it was instantly (Danforth), because he always wears a camo jacket," said Varner, who described Danforth's residence as unfriendly, with a number of roommates who are constantly fighting.
Varner said multiple police units were initially at the scene, but after an hour just the two officers remained, who she said were questioning people in the neighborhood.
Soon, Varner said, she and her husband heard gunfire.
"I heard a few single gunshots go off and then a few seconds went by, and I looked at my husband and asked if that was gun shots," Varner said. "Right then, I heard some more go off all in just a matter of a seconds."
Local journalism is essential.
Give directly to The Spokesman-Review's Northwest Passages community forums series -- which helps to offset the costs of several reporter and editor positions at the newspaper -- by using the easy options below. Gifts processed in this system are not tax deductible, but are predominately used to help meet the local financial requirements needed to receive national matching-grant funds.
Subscribe now to get breaking news alerts in your email inbox
Get breaking news delivered to your inbox as it happens.
---