News > Idaho
Convicted Moscow murderer wants to withdraw plea
Nov. 30, 2017 Updated Thu., Nov. 30, 2017 at 9:03 p.m.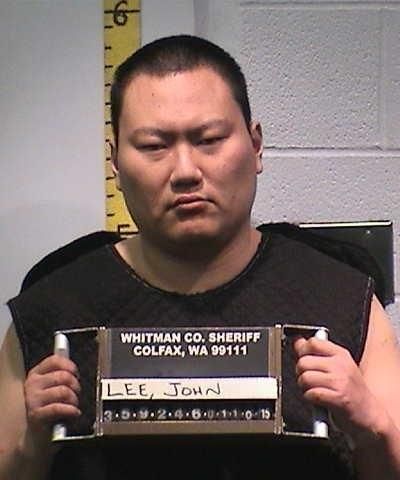 MOSCOW – Convicted murderer John Lee says he was "psychologically coerced" into accepting a plea agreement following his 2015 Moscow shooting spree, though his own lawyer believes he understood exactly what he was doing.
John Lee was sentenced to life in prison without possibility of parole in May 2016, after admitting he shot and killed his adoptive mother, 61-year-old Terri Grzebielski; his landlord, David Trail, 76; and Moscow Arby's manager Belinda Niebuhr, 47. He also shot Michael Chin, 40, of Seattle.
After initially pleading innocent, Lee later entered an Alford plea, acknowledging that there was enough evidence to convict him, while maintaining that the shootings weren't premeditated.
He now wants to withdraw that plea. His motion to do so was the subject of a five-hour hearing in Latah County 2nd District Court on Wednesday. Because the motion is based on Lee's mental state at the time he entered the plea, court rules require him to waive attorney-client privilege. That allowed his former attorney, Charles Kovis of Moscow, to testify.
Kovis said there was "never any doubt that people had been killed and that (Lee) did it."
Consequently, "I felt like (the plea agreement) was absolutely the best thing that could happen," he said. "There were a terrible set of facts in the case. (The plea deal) took the death penalty off the table."
Kovis also said Lee clearly understood every aspect of the case against him, including the various options available to the defense and the consequences of accepting the plea agreement.
"We went over the consequences of the agreement many times," he said. "John's very intelligent, very well read. He knew the discovery (evidence) inside and out. I never once thought he wasn't (mentally) competent."
Kovis described Lee as "very manipulative" and suggested he wanted to change his plea because he got "cold feet."
"It's not unusual, once someone goes to prison, for them to want to take their plea back. I see it all the time," he said. "But when John told me he wanted to take his plea back, I said he could – if he had a good legal reason for doing so. There needs to be new evidence or something that wasn't available before."
Moscow attorney Mark Monson, who now represents Lee, said his client's untreated mental disorders and extreme sensitivity to sound provides the rationale – that "good legal reason" – to withdraw his Alford plea.
Monson noted that a guilty plea "must be entered into knowingly, intelligently and voluntarily." However, mental health assessments done shortly before and shortly after Lee entered his plea suggest he may have been coerced into accepting the plea deal.
For example, Lee made suicide threats while he was being held in local jails and complained about loud noises for months. He accused jailers of "torturing" him by forcing him to share a cell with a loud snorer. At least two different psychologists also suggested he suffered from paranoid schizophrenia and high-functioning autism spectrum disorder, and noted he was unmedicated and in need of treatment at the time he entered his guilty plea.
"We often equate coercion with physical coercion, but this case is different," Monson said. "We're talking about psychological coercion. … He was experiencing pain from sounds he believed were being directed at him by his guards. If he truly believed the only way to stop the pain was to accept the plea deal, that's what makes it involuntary."
Latah County Senior Deputy Prosecutor Mia Vowels rejected that notion, saying the three people who were best positioned to evaluate Lee's mental state – his attorney, the judge who accepted his guilty plea and Lewiston psychologist James Phillips, who evaluated him shortly after he entered the plea – all concluded he was competent and understood the consequences of his actions.
Phillips said competency reflects a defendant's ability to understand the charges against him, assist his attorney in his own defense and provide informed consent.
"It's not a psychological determination," he testified. "It's a legal determination. Having a mental disorder alone doesn't make someone incompetent. Most people with mental disorders are competent."
Vowels noted that Lee "never hesitated to complain" about multiple issues while he was in jail – yet it wasn't until after he was sentenced to life in prison that he started complaining about being coerced.
"There is no evidence that his guilty plea wasn't voluntary," she said.
At the conclusion of the hearing, Judge John Stegner said he would take the case under advisement and issue a ruling in the future.
Local journalism is essential.
Give directly to The Spokesman-Review's Northwest Passages community forums series -- which helps to offset the costs of several reporter and editor positions at the newspaper -- by using the easy options below. Gifts processed in this system are not tax deductible, but are predominately used to help meet the local financial requirements needed to receive national matching-grant funds.
Subscribe now to get breaking news alerts in your email inbox
Get breaking news delivered to your inbox as it happens.
---