A&E > Art
Fall Visual Arts Tour offers plenty of opportunity to check out Spokane's creative side
Thu., Oct. 5, 2017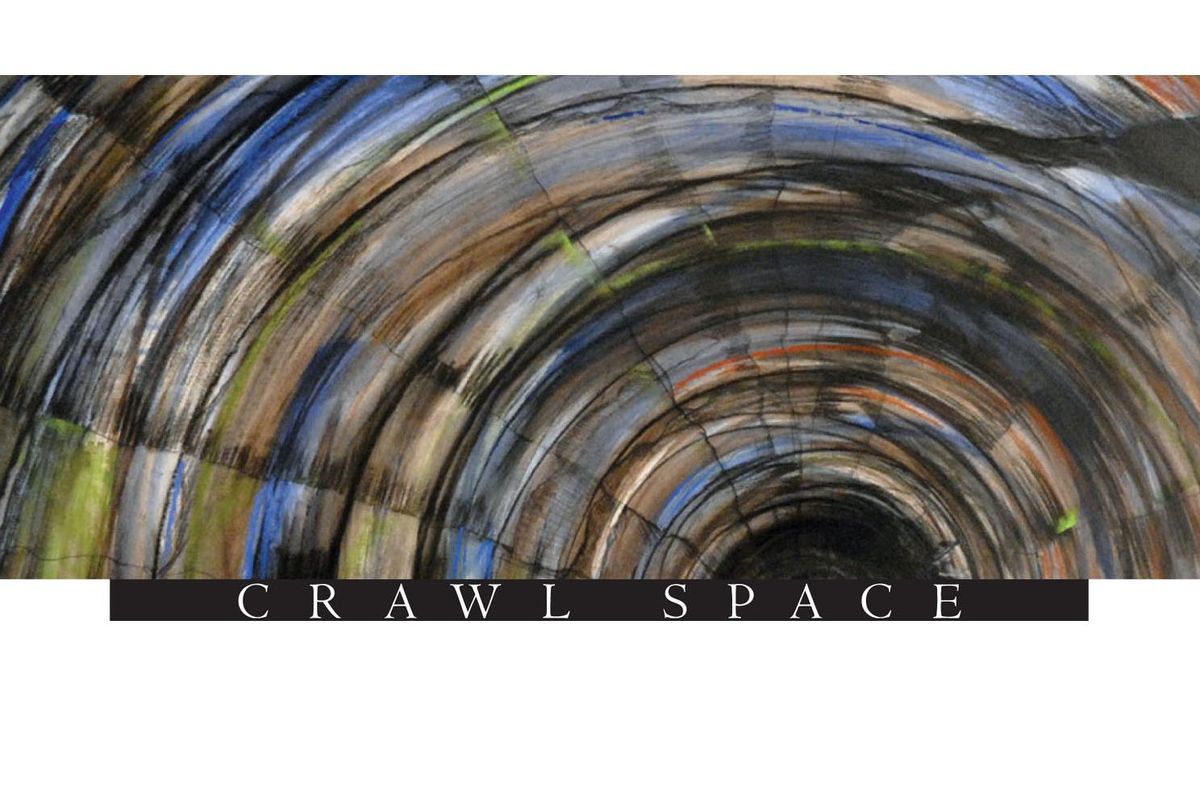 Karen Kaiser is showing new works, all titled "Crawl Space," at the Spokane Art School Gallery in the Garland District in October. (x / Karen Kaiser)
October in Spokane is a triple whammy for the local arts scene. Spokane Arts, the nonprofit dedicated to amplifying the city as a regional culture catalyst and arts hub, is promoting Create Spokane Arts Month and its biannual Visual Arts Tour, highlighting dozens of happenings at art galleries, wineries, libraries and cultural centers all over the city.
And did we mention that all this activity has Downtown Spokane Partnership's First Friday on steroids tonight? To create your own mini-visual arts tours for this weekend – and to decide what other poetry readings, pottery classes, lectures, plays or films you want to attend for the rest of the month, check it all out at www.spokanearts.org
Spokane Arts Executive Director Melissa Huggins believes that setting aside October to celebrate the city's creative communities will encourage more people to experience the rich and diverse offerings the arts community builds all year round.
"Spokane is a place where people have showed up in droves for the last 10 years to celebrate emerging artists at Terrain. It's a place where in 2012, hundreds of people packed into a venue they'd never been to because some writers at a book festival promised them homemade pie and local whiskey," Huggins said. "We have a world-class symphony. We're hosting the Individual World Poetry Slam for the second time. Our film community is growing exponentially."
Here are seven not-to-miss shows on the Visual Arts Tour this weekend. (Everything listed below happens Friday, 5 p.m. to 8 p.m., unless otherwise indicated.) We're leaving Terrain off this list, not because it's not a must-see, but because we have story all about it on Page 12. We'll also skip over "The Feels," the sculpture exhibit at the Chase Gallery, because we featured it on Sunday.
1. If you have to wait for the line to die down at Terrain, head over to the downtown branch of the Spokane Public Library to see the works of muralists and brothers Cain and Todd Benson, and mixed media artists Karen Mobley and Stefani Rossi. All four local artists bring a mix of experience, emotion and environment to their pieces that hits the viewer like a bird's chirp in a silent room. 906 W. Main Ave.
2. Walk south a couple of blocks to see the latest among contemporary and emerging ceramic artists. It's time for the world-renowned Archie Bray Foundation in Helena to travel to Spokane for the annual exhibit of their works again. If you miss Friday night, the gallery will also open Saturday from noon to 4 p.m. Kolva-Sullivan Gallery, 115 S. Adams St.
3. Then head east less than half a mile to meditate on Kim Wheaton's paintings of moody Eastern Washington landscapes. The Moses Lake resident lovingly presents the sweeping wheat fields and stark desert lands of the Columbia Plateau. There's baubles to ogle as well, as always at Dodson's Jewelers, 516 W. Riverside Ave.
4. Another half mile east is Dean Davis Photography, where you can meet the magnetic Melissa Cole and take in her new exhibit "Cellular." The painter explores her background in biology, highlighting tiny organisms from pollen to plankton, in her own, colorful way. Davis doesn't host a ton of First Friday shows, so enjoy all the art on his walls when you can. 216 W. Pacific, Suite 102
5. If crowds aren't your thing, or you already caught Terrain's preview night, you could opt to attend Artapalooza, a calmer art event for those who wanit to hear themselves talk and take in the works of 30 local artists. Live music will be supplied by pop/folk duet Starlite Motel. On two floors of the Liberty Building, also home to Auntie's Bookstore. 808 W. Main Ave.
6. If you aren't lucky enough to live in the Garland District, get in the car and drive north 3 miles to Spokane Art School. When Karen Kaiser, curator of education for Gonzaga University's Jundt Art Museum wants to show a collection of her paintings and drawings, you go. Kaiser calls her show "Crawl Space," and you can ask her what that means. 811 W. Garland Ave.
7. Spokane Art School throws opens its doors again the next day for a 24-Hour Comic Book Day challenge, starting Saturday at 10 a.m., and ending Sunday at 10 a.m. Get out the coffee – or juice, if you are of the under 18-crowd – and learn what it takes to turn sequential art into a story. 811 W. Garland Ave.
Local journalism is essential.
Give directly to The Spokesman-Review's Northwest Passages community forums series -- which helps to offset the costs of several reporter and editor positions at the newspaper -- by using the easy options below. Gifts processed in this system are not tax deductible, but are predominately used to help meet the local financial requirements needed to receive national matching-grant funds.
Subscribe to the Spokane7 email newsletter
Get the day's top entertainment headlines delivered to your inbox every morning.
---