Sports > Whitworth
Whitworth receiver Nick Kiourkas, coach Alan Stanfield boast eight-year connection
UPDATED: Thu., Oct. 5, 2017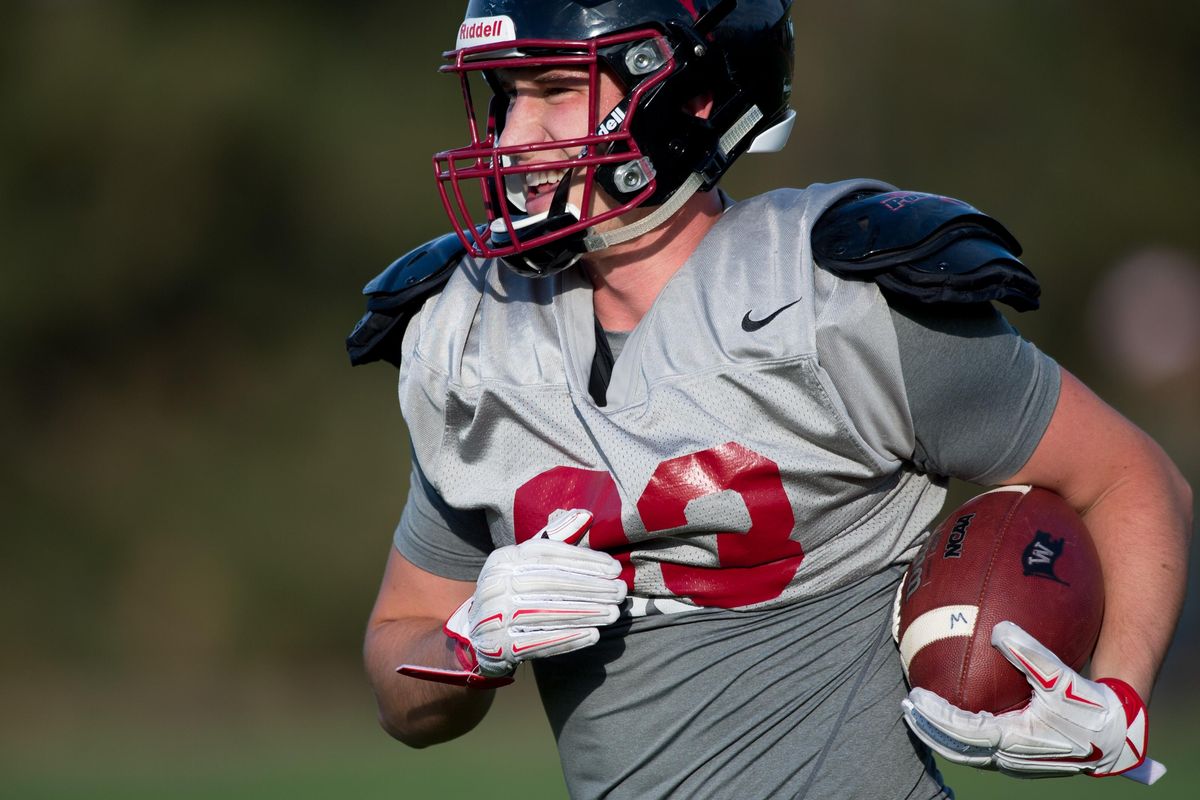 Whitworth wide receiver Nick Kiourkas runs the ball during practice on Wednesday. (Tyler Tjomsland / The Spokesman-Review)
Whitworth wasn't on Nick Kiourkas' radar when he was searching for a place to land after high school graduation.
Kiourkas even thought his career on the football field was wrapped up after playing for Shadle Park High for four years.
"I really wasn't looking to play," said Kiourkas, who is now in his fourth season playing wide receiver for the Pirates. "The recruiting season was already over and I was (looking at) some bigger schools."
Shortly after graduation, Kiourkas' former head coach, Alan Stanfield, who had left the Highlanders to fill a vacant offensive coordinator position at Whitworth, asked Kiourkas to join the Pirates' offensive crew.
Kiourkas didn't need much convincing.
"He knows my work ethic, he knows me best out of any of the coaches," said Kiourkas, who wasn't about to pass up an opportunity to stand next to his four-year mentor on the Pine Bowl sidelines.
"I said, 'Let's do it. Let's do another four years,' " Kiourkas said.
Their coach-player relationship began on the field eight years ago when Kiourkas stepped into Highlanders territory as a Crusader.
Kiourkas attended Northwest Christian, which didn't have a football team at the time. The freshman receiver caught the interest of Stanfield, who was entering his first year coaching at Shadle. The two arranged for Kiourkas to continue his studies at the small private school in the mornings and play on the Highlanders' field in the afternoons.
It turned out well for Stanfield, who was trying to rebuild a program that had suffered seven straight losing seasons.
"He was kind of shy kid, didn't go to school with these guys, but came in and he was just a stud," Stanfield said of Kiourkas.
Although his speed needed work, Kiourkas' magnetic hands couldn't seem to drop a ball.
"When he came to Shadle, I said, 'That kid has the best hands of anybody on our team,' " Stanfield said.
Kiourkas joined Stanfield's line of starters on the varsity squad when he was a sophomore. His sticky hands came in handy for the Highlanders, who bounced back in 2013 with an 8-1 league record and a Greater Spokane League championship.
Now at Whitworth, the Stanfield-Kiourkas duo has led the Pirates' program to new highs. Stanfield's offensive strategies have helped the Pirates break records on the field, including setting a team record in passing yards last season (3,944) while collecting 459 points, marking a program-high 45.9 points per game.
Kiourkas has also made a mark on the Pirates' offense since he followed Stanfield to the Pine Bowl in 2014. The senior has had at least one catch in 35 straight games – a reception in every game of his Whitworth career dating back to the beginning of his freshman season.
"He's one of the few guys that played since he was a true freshman, so obviously that streak doesn't happen for too many guys because not many guys come in ready to play as a freshman," Stanfield said.
Alongside Whitworth's record-setting senior quarterback Ian Kolste, Kiorkas has helped the Pirates to a 3-1 overall record to start this season. In four games, Kiourkas has had 13 receptions for 157 yards and has caught two touchdowns.
It might be Kiourkas' final season with Stanfield, but the pair won't be quick to part ways after this year. Kiourkas plans to stay in touch with Stanfield long after he's left the Pirates.
"There's a certain bond that Coach Stanfield and I share both on and off the field. He knows what's happening in my life, and I feel like I at least have a small part in his kids' life," Kiourkas said.
As for Stanfield, he knows the opportunity to coach an athlete for eight consecutive seasons is not something that comes about too often. His final season with Kiourkas won't be one he'll soon forget.
"It's been pretty special that we've never had to break our coaching-player bond," Stanfield said. "Pretty unique, because this will never happen again."
Local journalism is essential.
Give directly to The Spokesman-Review's Northwest Passages community forums series -- which helps to offset the costs of several reporter and editor positions at the newspaper -- by using the easy options below. Gifts processed in this system are not tax deductible, but are predominately used to help meet the local financial requirements needed to receive national matching-grant funds.
Subscribe to the sports newsletter
Get the day's top sports headlines and breaking news delivered to your inbox by subscribing here.
---