A&E > Music
Garth Brooks sells out seven upcoming shows at Spokane Arena
Oct. 6, 2017 Updated Fri., Oct. 6, 2017 at 9:33 p.m.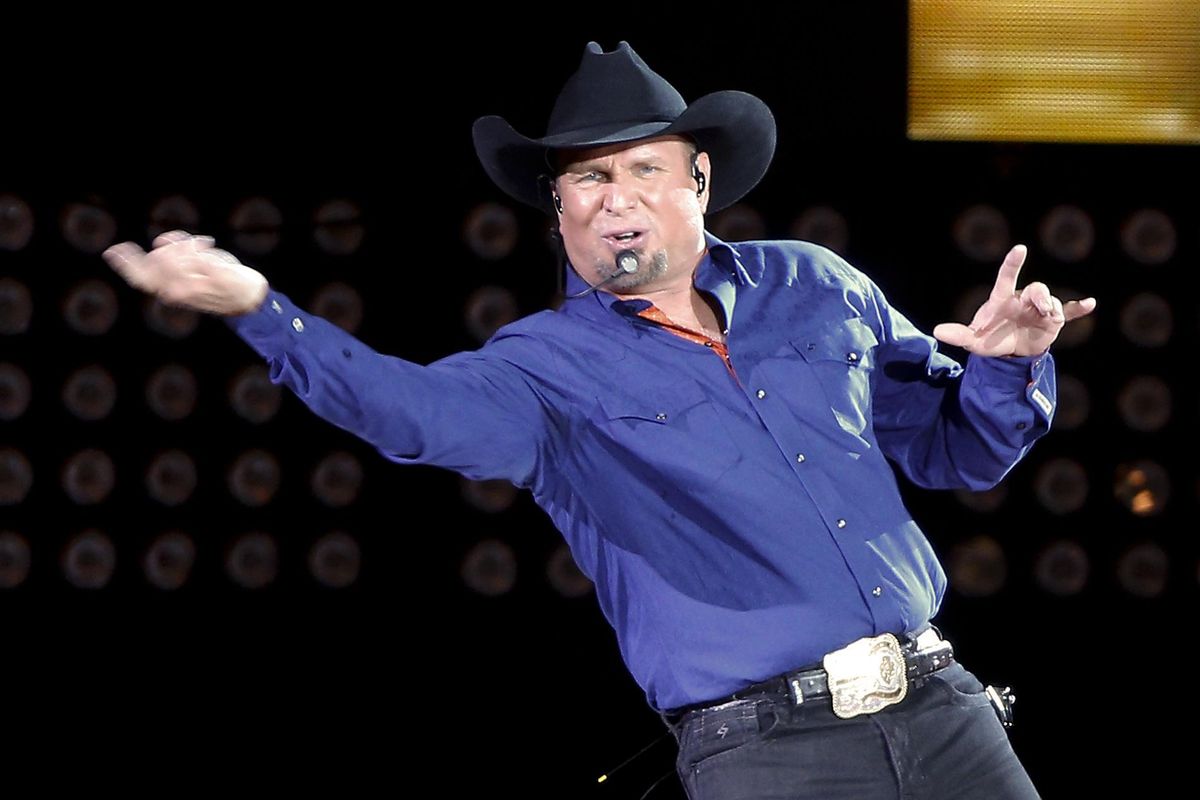 In this July 8, 2016, file photo, Garth Brooks sings "Ain't Going Down" for his opening song during a performance at Yankee Stadium in New York. (Julie Jacobson / AP)
By the time tickets for Garth Brooks' Nov. 11 show at Spokane Veterans Memorial Arena had been on sale for 90 minutes on Friday, event organizers had added six additional concerts to the schedule.
It took just 90 more minutes for all seven shows – Nov. 9, Nov. 10, two shows each on Nov. 11 and 12, and Nov. 14 – to sell out.
"The enthusiasm in SPOKANE is INCREDIBLE! Get ready to have a BLAST with GARTH & @TrishaYearwood! Let's do THIS #GARTHinSPOKANE," the official Garth Brooks Twitter account said in a Friday tweet.
Arena officials announced they'd sold more than 77,000 tickets in two hours. Each 360-degree show will seat about 12,000 people, which brings an estimated audience for the seven-show run to 84,000, and roughly $6.3 million in ticket sales.
Brooks easily broke his Spokane ticket sales record, which was previously 58,189 tickets sold for a 1998 run of five shows at the Arena.
Matt Gibson, general manager at the Spokane Arena, said they expected the response to be big, they just weren't prepared for how big it's been.
"We figured we'd have a few shows to sell, but Spokane is just continually wanting to buy tickets and tweeting everybody," he said.
As expected, wait times were the biggest challenge for people wanting to get tickets.
"I'm the GM, and it took me an hour to get in," Gibson said before tickets sold out. "The only thing I can say is people have been really grateful and really patient, and we are thanking them for hanging in there and doing this …. Obviously we don't want to frustrate anyone and we're happy that there's enough real estate to go around for everybody. Are they waiting? Sure. Is that to be expected? Yeah, but overall, I'm pleased with how the results have been."
Gibson said single tickets here and there are still available but groups of two or four will be hard pressed to find tickets.
"It went so much better than we could've ever hoped…," he said later in the afternoon. "We're regrouping right now, seeing how we can consolidate some things and get some more tickets, maybe, available. Right now, it's sifting through the dust and seeing where we're at. Hopefully we'll have some good news in the hours and days ahead, but for all intents and purposes, we're sold out."
Local journalism is essential.
Give directly to The Spokesman-Review's Northwest Passages community forums series -- which helps to offset the costs of several reporter and editor positions at the newspaper -- by using the easy options below. Gifts processed in this system are not tax deductible, but are predominately used to help meet the local financial requirements needed to receive national matching-grant funds.
Subscribe to the Spokane7 email newsletter
Get the day's top entertainment headlines delivered to your inbox every morning.
---