Sports > WSU football
John Blanchette: Washington State defense is making some noise
Sat., Oct. 7, 2017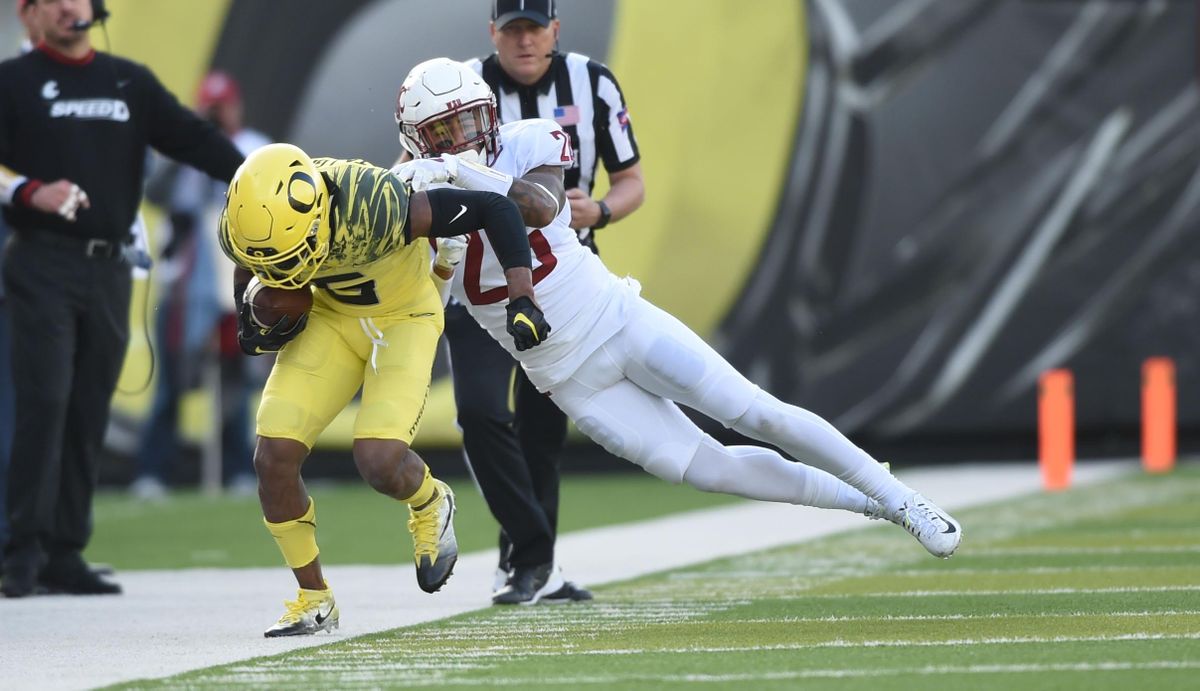 WSU and Oregon battle it out during the first half of a college football game on Saturday, October, 2017, at Autzen Stadium in Eugene, Ore. (Tyler Tjomsland / The Spokesman-Review)
EUGENE – Call it one of those "Did I hear that right?" moments. We've all had them.
The TV's on, but you're just half-listening, preoccupied enjoying the best grilled cheese you've ever made or paying bills and wondering if you can finesse the VISA people another month by "forgetting" to sign your check when you mail it. Or maybe you're benumbed watching the president's latest oratorical affront and just can't believe he came up with something even more preposterous.
On Saturday morning, it was one of those cable chats previewing the evening's football dance pairing of Washington State and Oregon, and one of the experts – a former Duck, as it happened – confided that it would behoove the UO offense to "impose their will on a defense that's not very good, not very big."
Wait, what?
Now, admittedly, this might have been misinterpreted or parsed incorrectly. It's possible he said, "A defense that's good, but not very big" or "A defense that's very good, not big" or even "This is an island, surrounded by water – big water, ocean water."
But even a slight mishearing couldn't change the underlying implication that the Cougars' defense was a thing upon which another's will could be imposed – that it was just another Wazzu D to be exposed in just another Pac-12 shootout.
And that's not quite the exposition that occurred in the Cougars' 33-10 dispatching of the Ducks at Autzen Stadium.
"No, this was about controlling the game – our way," insisted safety Robert Taylor.
With various subtexts.
For instance, the Cougars are bowl eligible at 6-0, a hell of a thing for the first weekend in October. Also, Mike Leach is now above .500 at WSU for the first time since Game 3 of his tenure, a lesser footnote to this being a third straight win over Oregon – not so long ago the money-glitz-attitude roundabout of the Pac-12. Serving as a footwipe to Washington State again, well, it didn't go down easily for all those swaddled in yellow among the 56,653 who turned out, and then turned away from the wreckage.
It was also the Cougars' first roadie after a month of home games, and they looked no more lost than the Ducks, who twice committed back-to-back false starts without the hostile din.
"It was definitely a shock," admitted nickel back Hunter Dale. "Usually, when we get turnovers we're used to our stadium screaming. When I forced a fumble, I was screaming – and I could hear myself. It was kind of weird."
And then there was this: When the new polls drop Sunday, expect the Cougars to move into swanky digs in the top 10.
"Only thing I care about is where we stand at the end of the season," Taylor said.
Which is what he should say. But the events of the last nine days should allow for some appreciation of where the Cougs stand now: an undefeated, multidimensional and, yes, ever more resourceful team.
Last week, they made one of America's most heralded young quarterbacks look pretty damned ordinary. And this week they made life miserable for a callow freshman backup – but it was the way they did it.
For instance, here's the stat line on the Cougar D's one marquee player, tackle Hercules Mata'afa:
That's right, there was no stat line. No tackles, no assists, no fumbles forced or recovered, no quarterback hurries. Mata'afa spent his evening playing ham to the rye slices of Ducks Tyrell Crosby and Shane Lemieux and their linemates, a double-team nearly every down. But all that attention came at a price for the potent Ducks, whose 277 total yards amounted to a shade over half their average game.
"That's responsible on their part," WSU defensive coordinator Alex Grinch said. "He deserves that type of respect. But he's going to get his production, some days more than others."
This day it was reflected more in the play of guys like Dale, whose stat line was as full as Mata'afa's was empty. And explosive Frankie Luvu, more impactful by the week. And finally by a freshman linebacker named Justus Rogers, playing because backup Nate DeRider limped off after filling in again for Isaac Dotson, who lasted only a couple of series.
"We've lost a couple of guys," Grinch acknowledged, "and the guys who have come in have done a tremendous job."
At one point, ahead by just 10 and their offense performing in fits and starts, the Cougs got important stops on four successive Ducks possessions, including Sean Harper's last-guy wrap-up of quarterback Braxton Burmeister that saved a touchdown, Dale's forced fumble, Luvu's blitzing sack and a pick by Marcus Strong – who, OK, got away with a nice push to clear space. By evening's end, there were four sacks, 11 tackles for loss and three turnovers – and the Ducks were 2 of 17 on third down.
"We're happy," Taylor said, "but we're not satisfied."
And, yeah, you heard that right.
Local journalism is essential.
Give directly to The Spokesman-Review's Northwest Passages community forums series -- which helps to offset the costs of several reporter and editor positions at the newspaper -- by using the easy options below. Gifts processed in this system are not tax deductible, but are predominately used to help meet the local financial requirements needed to receive national matching-grant funds.
Subscribe to the Cougs newsletter
Get the latest Cougs headlines delivered to your inbox as they happen.
---