A&E > Pop culture
Zombies to pop culture icons top Halloween favs for Spokane costume shops
Oct. 8, 2017 Updated Sun., Oct. 8, 2017 at 10:08 p.m.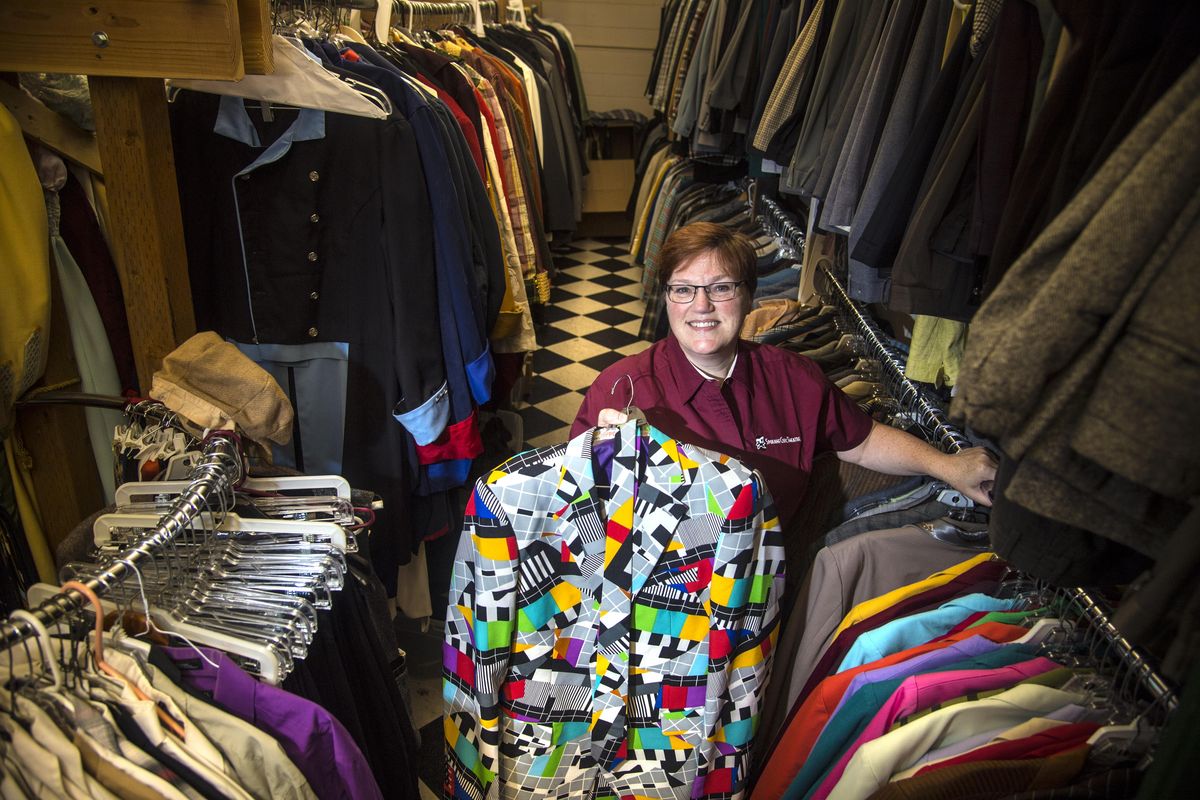 Jan Wanless manages Spokane Civic Theatre's Rentals Shop, which has more than 10,000 items in its collection, including this multi-colored mens jacket, pants and tie. (Dan Pelle / The Spokesman-Review)
Zombies, of course. Scary political images are likely too.
This Halloween, area residents will see plenty of walking-dead attire among this year's popular costumes, in part inspired by Spokane being where TV's "Z Nation" is filmed.
Along with the zombie effect, hit costumes regionally are expected to range from politically charged imagery to retro pieces and clothes seen on popular TV shows and movies. Topping lists are characters from "Wonder Woman," "Game of Thrones," and various superhero flicks.
"I think that politics is going to play a huge role this Halloween because of the political environment we're in," said William Marlowe, who teaches drama at Spokane Falls Community College and frequently directs shows at Spokane Civic Theatre.
"I'd imagine certain masks are going to fly off the shelves or be purchased online. I think we'll see a lot of metaphorical images of political incorrectness like a Twitter monster; someone wearing a body suit, and they print up or write up some of the outrageous things that Trump or others have said."
Jan Wanless, manager of Civic's Rental Shop at Spokane Civic Theatre, already has fielded questions about costumes for certain pop culture characters.
"Right now, it's 'Game of Thrones' stuff," said Wanless about what's popular in 2017. "We have a bit of that right now just because we've needed stuff like it for shows, and they might just need the big fur cape, or a cloak."
Shop employees get questions about history-themed costumes as well. Typical theater productions over the years have yielded gowns depicting various eras as well as historical threads for male actors, all available to rent.
Jessica Ray, who teaches costume design at Eastern Washington University, agrees that two popular choices this year for Halloween will continue to be zombies and "Game of Thrones" fashion, the latter which she's seen worn by college students for the past two Halloweens.
Trying to describe the show's wardrobe gets a little trickier.
"It's basically medieval with a twist," Ray said. "The show has its own sort of style. It has a lot of similar medieval takes, and it's kind of futuristic in a way."
Comic book-inspired wardrobes are perennial favorites in general, Ray added, with people taking inspiration from fan fiction and superheroes.
"Yeah, those are popular with all ages," she said, adding that some adults take it to the extreme of what's called cosplay contests based on characters' costumes being as accurate as possible.
"Almost all the time, those are do-it-yourself costumes through recycled materials or sewing, or taking something that exists and making it different."
Civic's Rental Shop customers can rent outfits at a cost of $25 to $50, with the higher amount depending on how elaborate a costume is.
The shop usually sees clients by appointment but opens broader public hours for Halloween typically for two weeks to give customers time to select items. This year, that will be 2 p.m. to 6 p.m. Monday through Thursday, which is expected to run Oct. 16 through Oct. 31.
Civic's customers go through the studio theater entrance on the east side of the building, at 1020 N. Howard Street.
Just don't ask Civic employees about "Star Trek" or similar themes that haven't made their way specifically into theater shows, Wanless added. Shop assistants usually can help pull pieces together for a more general look, such as 1950s fashion with poodle skirts.
Wanless suggested that people bring in photos of desired clothing for possible costume matching.
"We can do a period piece, but maybe not an exact match with color and everything, because that might not be what we put on the actor in your size," she said.
"We can cover Greek and Roman up through the 50s. We have gowns from the Titanic period, from the Gatsby period. We do a lot with the Victorian period through the 20s, and a lot of gangster outfits. It's fun because a lot of the new TV series are history-based."
And then there is the offbeat. "We just did a show that was ultramodern with an Elizabethan twist and steampunk," meshing gears, an industrial look, and Victorian themes.
Several of the region's thrift stores also can go a long way toward pulling together DIY costumes and creative accessories, added EWU's Ray.
"I'm really into the do-it-yourself stuff," Ray said. "I think a good costume is one that's not bought at a general department store, because one you'd put together is more thoughtful and creative."
She said many thrift stores gear up for DIY Halloween enthusiasts and typically go beyond recycled prefab costumes to display wigs, price-friendly accessories and featured vintage clothing.
"So you can dress up from a time period," she said. Ray agreed that old clothing used for a zombie twist will remain popular.
"A big hit here is always zombie stuff," Ray said. "All it takes are old, ratty clothes you're willing to destroy. You can take a pair of scissors to them, or things like sandpaper, and you wear it down in places so it looks more natural.
"After you destroy it, you can add some stage blood or some red paint. There are all kinds of tutorials online for makeup effects to look like the best zombie, especially now the ante is upped with 'Z Nation' and 'Walking Dead,' so it's kind of become a pop culture favorite."
Marlowe suggests another fun approach for Halloween is to have family and friends dress up according to a group theme. He enjoys characters from literature, so one year, he went out with a group dressed up in "Alice in Wonderland" costumes.
"I was the Cheshire Cat; my wife was the Mad Hatter, and we had the Red Queen, Alice and the White Rabbit," Marlow said. "That kind of group-think can be a lot of fun. This year, a bunch of us are going out as the Adams Family."
He also appreciates creative twists on pop culture. A friend in the year 2000 went out dressed as a Y2K bug, using a body suit and cardboard with glued-on old computer parts and wearing a head band with antennae.
"He won prizes everywhere he went."
Spirit Halloween, with more than 1,300 pop-up stores, lists nearly a dozen top 2017 costume picks. Among them are styles from the science fiction-horror hit "Stranger Things" on Netflix, and steampunk-genre inspired fashion often with anachronistic Victorian and steam-powered machinery.
Others characters that made the costume retailer's top-hit list include:
Social media-inspired costumes, from the Snapchat dog filter to giant bobble heads.
Ever-popular masks representing famous politicians.
Girl Power – Wonder Woman, Moana, Belle and JoJo Siwa are among this year's most popular female icons.
Alien costumes inspired by pop fiction or shows.
Easy transformations for toddlers and young kids, bringing forth Rusty Rivets, Blaze, Shimmer and Shine, PJ Masks and the Paw Patrol crew.
'90s flashback, especially among millennials based on nostalgic childhood favorites from movies and TV, from "Baywatch to "Space Jam."
Foodie take-out, for the foodies who want to wear "ice cream" dresses or costumes depicting other popular foods.
Local journalism is essential.
Give directly to The Spokesman-Review's Northwest Passages community forums series -- which helps to offset the costs of several reporter and editor positions at the newspaper -- by using the easy options below. Gifts processed in this system are not tax deductible, but are predominately used to help meet the local financial requirements needed to receive national matching-grant funds.
Subscribe to the Spokane7 email newsletter
Get the day's top entertainment headlines delivered to your inbox every morning.
---