News > Spokane
Former Spokane Empire star player Carl Sims killed downtown
Oct. 10, 2017 Updated Tue., Oct. 10, 2017 at 10:10 p.m.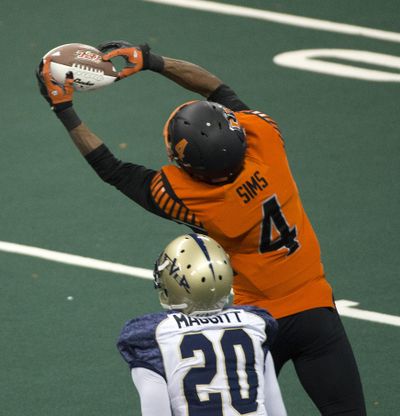 Former Spokane Empire football player Carl Sims was shot and killed early Sunday morning in downtown Spokane, former Empire coach Adam Shackleford confirmed.
Shackleford said Sims' death was connected to a shooting around 1:30 a.m. outside the Monterey Cafe.
The Spokane Police Department couldn't confirm the connection Tuesday night, as the the case is still under investigation. The Spokane medical examiner has yet to release the name of the victim from Sunday's shooting.
According to Shackleford, who said he was informed of Sims' passing and incident on Sunday by former players, Sims was shot in the leg.
Sims, 31, was a wide receiver for the Empire from early 2016 to the middle of the 2017 season. After being released due to a wrist injury, he finished his 2017 campaign with the Nebraska Danger.
"I don't think I've coached a more likable guy in the locker room," Shackleford said of Sims. "He wasn't into cliques. He was liked by everyone.
"He had a great smile. He played with a passion. It's just unfortunate what's happened with this young man. As as coach and father, these are the kind of calls you're scared to death of."
Sims was one of the top receivers in the Indoor Football League when the Empire signed him in February 2016. He totaled 822 yards and 20 touchdowns with the Empire in the 2016 season.
He finished his decorated career second all-time in IFL receiving yards (5,046) and third in career receiving touchdowns (111).
Sims played all four years of his collegiate career at Western Illinois University where he recorded 136 receptions for 1,724 yards and 11 touchdowns.
Former Empire linebacker Nick Haag said he was devastated when he heard of Sims' passing Tuesday evening.
"I am absolutely in shock right now," said Haag, who teamed up with Sims in Spokane. "I can't even think straight."
"He was one of the best teammates around. Always laughing and the life of the party and always kept it real with people. As a player, he was one of the all-time greats. The world has lost a great person."
Contact the writer:
(509) 459-5473
ryanc@spokesman.com
Local journalism is essential.
Give directly to The Spokesman-Review's Northwest Passages community forums series -- which helps to offset the costs of several reporter and editor positions at the newspaper -- by using the easy options below. Gifts processed in this system are not tax deductible, but are predominately used to help meet the local financial requirements needed to receive national matching-grant funds.
Subscribe now to get breaking news alerts in your email inbox
Get breaking news delivered to your inbox as it happens.
---