News > Nation
Winds whip new terror into deadly California wildfires
Oct. 11, 2017 Updated Wed., Oct. 11, 2017 at 9:40 p.m.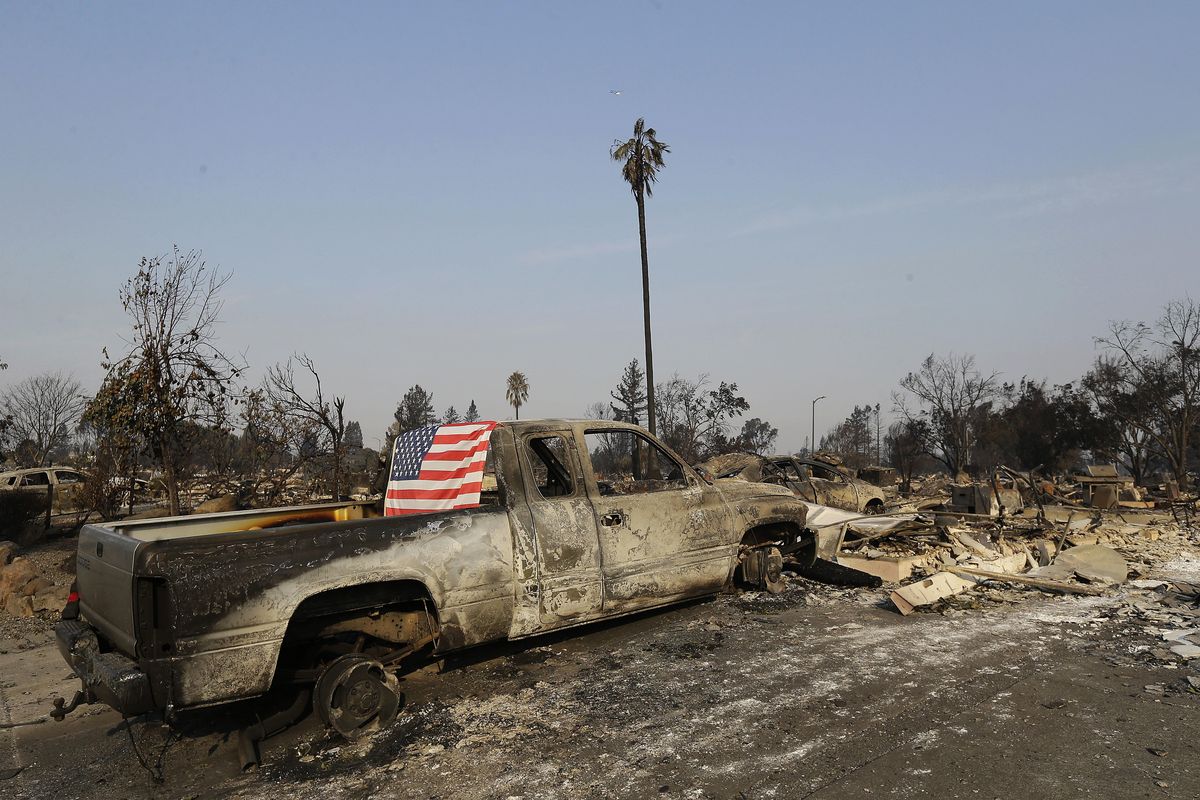 A flag is draped on the back of a truck destroyed by fires in Santa Rosa, Calif., Wednesday, Oct. 11, 2017. Wildfires tearing through California's wine country continued to expand Wednesday, destroying hundreds more homes and structures and prompting new evacuation orders. (Jeff Chiu / Associated Press)
SONOMA, Calif. – Fueled by the return of strong winds, the wildfires tearing through California wine country exploded in size and number Wednesday as authorities ordered new evacuations and the death toll climbed to 23 – a figure expected to rise.
Three days after the fires began, firefighters were still unable to gain control of the blazes that had turned entire Northern California neighborhoods to ash and destroyed at least 3,500 homes and businesses.
"We are literally looking at explosive vegetation," said Ken Pimlott, chief of the California Department of Forestry and Fire Protection. "It is very dynamic. These fires are changing by the minute in many areas."
The entire historic town of Calistoga, population 5,000, was evacuated. In neighboring Sonoma County, authorities issued an evacuation advisory for part of the town of Sonoma and the community of Boyes Hot Springs. By that time, the streets were lined with cars packed with people fleeing.
"That's very bad," resident Nick Hinman said when a deputy sheriff warned him that the driving winds could shift the wildfires toward the town of Sonoma proper, where 11,000 people live. "It'll go up like a candle."
Ash rained down on the Sonoma Valley, covering windshields, as winds began picking up toward the potentially disastrous forecast speed of 30 mph. Cars of evacuees raced away from the flames while countless emergency vehicles sped toward them, sirens blaring. Residents manhandled canvas bags into cars jammed with possessions or filled their gas tanks.
The wildfires are on their way to becoming the deadliest and most destructive in state history. And officials warned the worst was far from over.
"Make no mistake, this is a serious, critical, catastrophic event," Pimlott said.
The fires have burned through a staggering 265 square miles of urban and rural areas. High winds and low humidity made conditions ideal for fire to ignite virtually anywhere on ground or brush.
Cal Fire spokesman Daniel Berlant said 22 wildfires were burning Wednesday, up from 17 the day before. As the fires grow, officials voiced concern that separate fires would merge into even larger infernos.
"We have had big fires in the past. This is one of the biggest, most serious, and it's not over," Gov. Jerry Brown said at a news conference Wednesday, alongside the state's top emergency officials.
They said 8,000 firefighters and other personnel were battling the blazes and more resources were pouring in from Arizona, Nevada, Washington and Oregon.
Flames have raced across the wine-growing region and the scenic coastal area of Mendocino farther north, leaving little more than smoldering ashes and eye-stinging smoke in their wake. Whole neighborhoods were leveled, leaving only brick chimneys and charred appliances to mark sites that were once family homes.
In Boyes Hot Springs, residents for days had watched the ridges over the west side of town to gauge how close the billowing smoke and orange flames of the wildfires had come. On Wednesday, the ridges themselves were obscured by the growing clouds of smoke.
Increasingly large pieces of gray ash drifted down on the community. Sirens wailed. Residents who had held out hope of staying at home, packed up to leave.
With fires advancing from several sides in Sonoma Valley, law enforcement officers on loan from other areas of Northern California barred residents of evacuated communities from returning to see how the homes and businesses had fared. Manned roadblocks blocked routes between Sonoma and devastated areas of Santa Rosa.
Alejandro Rodriguez had been evacuated from one tiny Sonoma Valley town, only to have deputies come to the neighborhood he had relocated to and tell residents there to pack up to go.
"I want to see my house, see if any things left," Rodriguez said, gesturing at officers at one roadblock. "They won't tell us nothing."
Sonoma County Sheriff Robert Giordano said hundreds of people were still reported missing. But officials believe many of those people will be found. Chaotic evacuations and poor communications over the past few days have made locating friends and family difficult.
The sheriff also expects the death toll to climb.
"The devastation is enormous," he said. "We can't even get into most areas."
Authorities say most of Sonoma County's 13 victims lived where steep, narrow roads wind through the hillsides with few ways out.
Helicopters and air tankers were assisting thousands of firefighters trying to beat back the flames. Until now, the efforts have focused on "life safety" rather than extinguishing the blazes, partly because the flames were shifting with winds and targeting new communities without warning.
Fires were "burning faster than firefighters can run, in some situations," Emergency Operations Director Mark Ghilarducci said.
In Southern California, cooler weather and moist ocean air helped firefighters gain ground against a wildfire that has scorched nearly 14 square miles.
Orange County fire officials said the blaze was 60 percent contained and full containment was expected by Sunday, although another round of gusty winds and low humidity levels could arrive late Thursday.
Local journalism is essential.
Give directly to The Spokesman-Review's Northwest Passages community forums series -- which helps to offset the costs of several reporter and editor positions at the newspaper -- by using the easy options below. Gifts processed in this system are not tax deductible, but are predominately used to help meet the local financial requirements needed to receive national matching-grant funds.
Subscribe now to get breaking news alerts in your email inbox
Get breaking news delivered to your inbox as it happens.
---