News > Spokane
Council candidate backs Liberty Lake overpass expansion; his opponent no longer wants seat
UPDATED: Wed., Oct. 11, 2017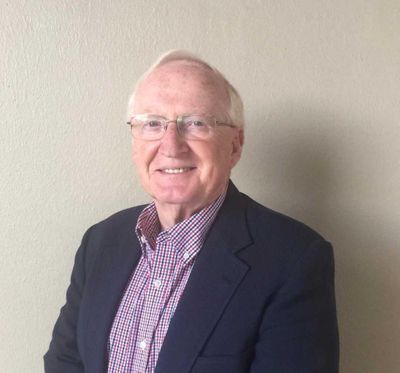 Though Mike Kennedy has no personal experience as an elected official, he's been behind the political scenes of Spokane and Liberty Lake for years, he said.
Now he's a candidate for position 6 on the Liberty Lake City Council. His opponent, Dylan McGuire, says he no longer wants to win the seat, citing an unexpected workload increase at his job. However, he decided to withdraw after the deadline, so his name remains on the ballot, and he is eligible to win the seat.
After working on several city council and mayoral campaigns, Kennedy said, people began to ask if he would consider running himself. He decided he had a duty to contribute personally.
"My purpose in running is not because the city council is out of control, not at all," Kennedy said. "It's just a matter of being more astute with our money. We have to live within a budget."
He said his background in banking and business qualify him to manage Liberty Lake competently.
The city has a lot of open land for development, he said, making it essential that they control population growth for current and future citizens. He said Liberty Lake could double in size within 10 or 15 years.
Throughout this growth, he said it will be important to expand infrastructure. Part of this will be ensuring developers pay proper fees for roads and utilities, and he praises city council actions on this topic.
He said the city must understand the difference between necessities and luxuries. He cites as a necessity updates to the Harvard Road overpass, a $4 million project that would relieve congestion in the city by widening its main point of access to Interstate 90. He said a proposed $4 million pool, on the other hand, is a wish.
"As citizens we can wish we had a lot of things, want a lot of things, but do we really need it?" he said. "When it hits a need, then we gotta figure out how we're gonna pay for it."
He proposes the city find a way to add another lane to the overpass without state funding, which he said could be years in the making. The pool, which Kennedy said would cost $150,000 in annual maintenance and only be usable about 90 days a year, has so far been voted down.
Though Kennedy emphasized that there are highly qualified people on the current council, he said he has noticed that once someone is elected, often no one challenges them.
"We just get the same thing," he said, "over and over and over again."
Another reason Kennedy decided to run was simply to be involved. He said most people are aware of national and state politics, but that they largely ignore local government, where they are financially affected most.
"You gotta be involved, you really do," he said. "I don't mean that somebody needs to show up to every city council meeting, but you gotta know what's going on where you live."
Local journalism is essential.
Give directly to The Spokesman-Review's Northwest Passages community forums series -- which helps to offset the costs of several reporter and editor positions at the newspaper -- by using the easy options below. Gifts processed in this system are not tax deductible, but are predominately used to help meet the local financial requirements needed to receive national matching-grant funds.
Subscribe to the Coronavirus newsletter
Get the day's latest Coronavirus news delivered to your inbox by subscribing to our newsletter.
---