News > Spokane
Upcoming Angela Davis speech at Gonzaga brings controversy to campus
Oct. 11, 2017 Updated Wed., Oct. 11, 2017 at 10:40 p.m.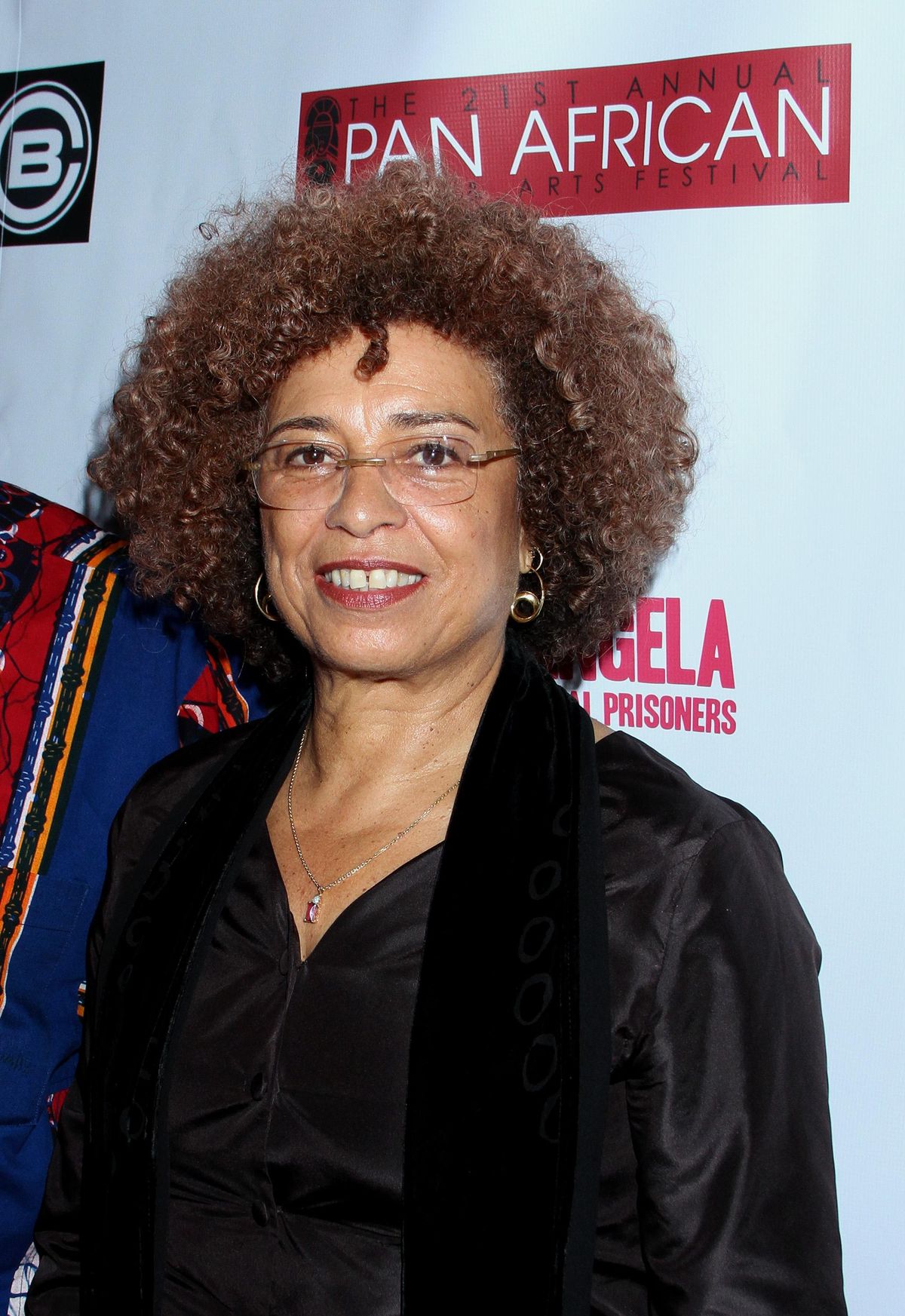 Angela Davis attends Los Angeles Premiere of Free Angela and All Political Prisoners at Pan African Film Festival at Rave Cinemas Baldwin Hills on Sunday, Feb. 17, 2013 in Los Angeles, California. (Arnold Turner / Arnold Turner/Invision/AP)
When posters advertising Angela Davis' planned speech at Gonzaga University hit campus earlier this semester, a second, completely different flyer quickly followed.
Called the "Angela Davis Fact Sheet," this one featured a mugshot of Davis with the words "wanted by the FBI" at the top. Near it, a picture of Judge Harold Haley being led out of the Marin County Courthouse in 1970, a taped sawed-off shotgun pointed at his head.
A list of facts ran below the photos: She was on the FBI's most-wanted list for murder and kidnapping, was a member of the Black Panther Party and served as a former vice presidential candidate for the Communist party, the poster notes.
Distributed by the Gonzaga University College Republicans club last week, the posters shed light on a side of Davis that club president Nick Gervasini said was lacking in official advertisements posted around the school.
"We're not protesting her speaking here, rather these are attempts to generate discussion about other parts of her life we don't think people are aware of," he said over the phone Wednesday. "We just find it a little odd that these flyers have resulted in us being a target of greater suspicion than her herself. We're not really protesting, it's just information."
Still, news of the flyers did create anxiety within the university. Since they weren't approved by college officials before being distributed throughout College Hall, including the Gonzaga Bulletin's newspaper stands, the student paper reported, they were quickly removed.
Brian Cooney, director of the Center for Public Humanities and the organizer of Davis' trip to Gonzaga, said staff were initially concerned that the flyers signaled the beginnings of a larger protests. But in the days following the removal of the flyers, he said, discussion has been civil between those who are excited to see the Oct. 25 speech on campus, and those who still hold reservations.
"The people I've spoken with who have objections, by and large, have been perfectly reasonable," he said. "Overall, it really hasn't been bad. I actually expected the possibility of being inundated with negative response, and that really hasn't been the case."
Cooney, who also teaches English, said he's fully aware of the aspects of Davis' contentious history listed in the College Republican's flyer. But he said it's missing the context that makes her one of the most interesting political activists in the country.
"Davis is, in some ways, a unique figure," he said. "She has an impeccable academic career. She's a distinguished professor. She has an extraordinary publishing career. As strictly an academic, she's as good a speaker you can have. And there is that personal side that her life is a reflection of our history of race in the 20th century."
Davis began her political career in the 1960s as an avid activist for the Communist Party and Black Panther Party. Her public persona gained prominence in 1970, when she was caught up in an incident at the Marin County Courthouse in San Rafael, California.
A judge and other hostages were led out of the courtroom by four armed men attempting to negotiate the freedom of the Soledad Brothers, three black inmates charged with the murder of a white prison guard. Judge Haley and three of the hostage-takers were killed in a shootout with police.
A shotgun purchased by Davis was used in the incident. She was charged as an accomplice, but was found not guilty on all counts in 1972. Since then, she's been a professor of ethnic studies at the San Francisco State University, a professor at the University of California, Santa Cruz, and has delivered dozens of speeches and written several books.
She grew up in Birmingham, Alabama, and was friends with the four girls who were killed in the 16th Street Baptist Church bombing of 1963. She was also friends with Jim Jones, before he convinced 907 people to kill themselves with cyanide-laden beverages in Jonestown, Guyana, in 1978.
Cooney said it's impossible to talk about Davis without mentioning all of the things that make her her. Which is why, he said, in some ways he welcomed students who challenged her controversial past.
"Whenever she speaks anywhere, you hear a number of the same objections – that she was a member of the Communist Party, that she's been arrested, that she's too extreme," he said. "More recently, her work with Palestinians is always going to be a controversial issue. But largely, they were issues we could anticipate. No one has come up with something I hadn't expected to hear."
Local journalism is essential.
Give directly to The Spokesman-Review's Northwest Passages community forums series -- which helps to offset the costs of several reporter and editor positions at the newspaper -- by using the easy options below. Gifts processed in this system are not tax deductible, but are predominately used to help meet the local financial requirements needed to receive national matching-grant funds.
Subscribe now to get breaking news alerts in your email inbox
Get breaking news delivered to your inbox as it happens.
---