Sports > Outdoors
Quetico answers canoe paddler's quest for wild time
Oct. 12, 2017 Updated Thu., Oct. 12, 2017 at 1:30 p.m.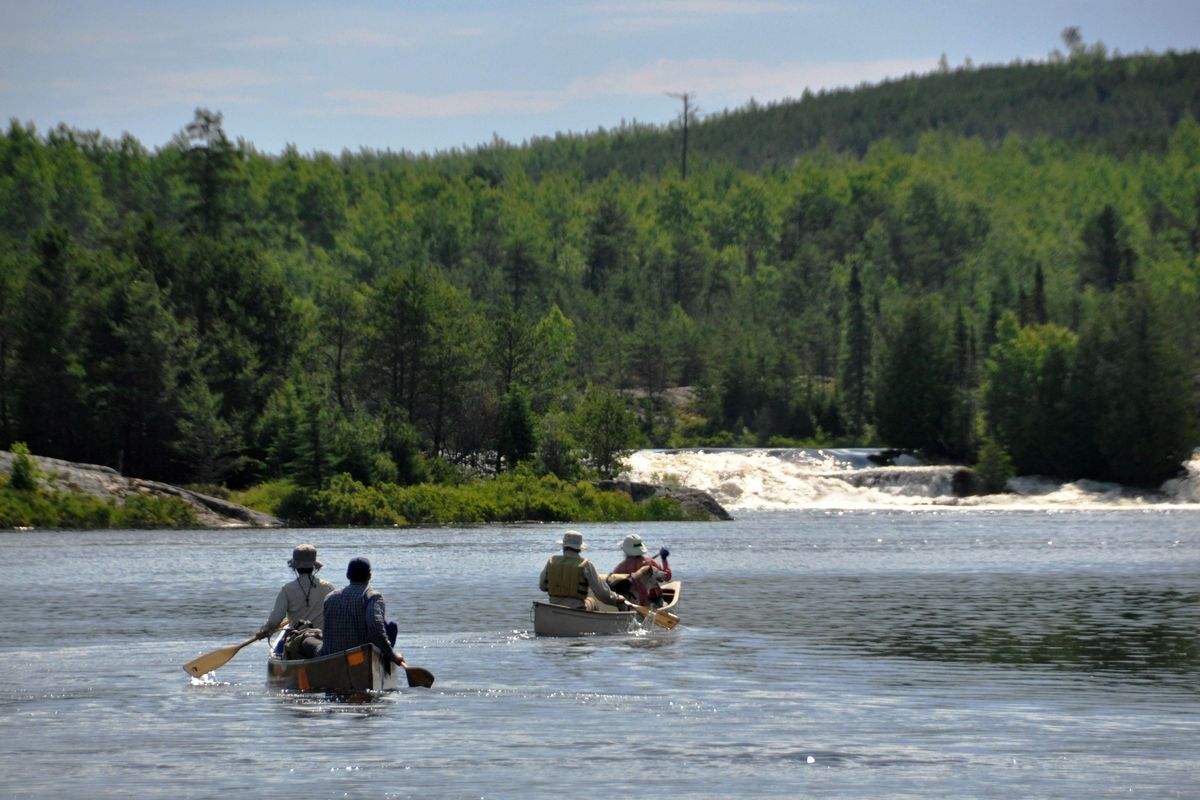 Paddlers head upstream to portage above a waterfall in Quetico. (Rich Landers / The Spokesman-Review)
If you love to camp, fish and paddle a canoe, Quetico fulfills your wildest dream.
Some 6,000 lakes, 32 waterfalls and 4,467 islands are waiting to be explored only by wind or muscle power. And that's only half of the picture.
Quetico Provincial Park is Ontario's million-acre extension of the million-acre Boundary Waters Canoe Area in Minnesota. This is big-time Canoe Country. Paddlers still dip their cups or bottles in the deep-blue middle of Quetico lakes and drink untreated water without consequence.
The BWCA is a paddler's nirvana, too, but Quetico is even more primitive and uncrowded. Canadians allow no signs to mark campsites, portage routes or even the dangerous stretches of flatwater that abruptly transform into waterfalls.
One map-reading error could leave canoeists in a maze of confusion and an unplanned bivouac where the whine of mosquitoes builds near dusk like the revving of Formula One race cars down the home stretch.
Or the predicament might simply be an chance for one more campfire and wilderness walleye tacos.
The favorable 27 percent exchange rate was a mere bonus to the chance in late June to join Minnesotans revisiting their favorite pike-infested waters in Canada from Saganagons to Agnes lakes. Raised in Duluth, they paddle like pros and carry canoes as naturally as moms tote babies.
They cook over wood fires and single-portage when most humans would lighten the load and make two trips. A bottle of insect repellent would last them a lifetime if it weren't for dabbing a little on the ears of their dogs. They are North Woods tough.
And the men are equally impressive.
The canoe played a huge role in opening this country and it continues to be the most efficient vessel for exploring Quetico's sprawl of lakes, many with names originating from Ojibwe or French.
In the first two days of paddling, our group of eight covered 28 miles and nine portages through the Falls Chain into Kawnipi Lake. The canoes took us upstream, downstream, into the wind and through whitecaps, yet they were easily loaded, unloaded and carried on trails that ranged from cruisers to nightmares.
Quetico paddlers must check in at one of six ranger stations around the wilderness perimeter. We hopped a Seagull Outfitters water taxi to an island at the border. From there we paddled to the Cache Bay Ranger Station for permits and orientation by Ranger Janice Matichuk, a 33-year employee with Ontario Parks who first came to the Cache Bay backcountry in 1985 with her five-month old daughter.
"There's never been a better time to visit here," she said.
More than 50,000 visitors a year paddled into Quetico for at least one night of camping in the 1950s, she said. "Quetico got serious about overuse and capped visitation at 20,000."
Last year, fewer than 14,000 campers rolled out sleeping bags in the wilderness.
The BWCA, which had 250,000 camping visitors a year in the heydays now hosts about 180,000.
Matichuk said 85 percent of the Quetico visitors are from the USA and 60 percent are men ages 50-80.
She checks in visitors ranging from babies to octogenarians, but the numbers of women are noticeably declining. "Children are a rarity."
While her tips on portage trails and routes were valuable to refining our trip itinerary, the ranger refused to recommend her favorite camping spots. "We don't mark campsites on maps and I don't rate them at all," she said. "That would only lead to over-use of some spots."
So we set out to find our first of several homes away from home among 2,200 unmarked backcountry campsites in Quetico Provincial Park.
Group campsites aren't as easy to find as one might expect. Some areas hammered by wildfire years ago were thick with doghair jack pine. But when sites were found, the Minnesotans' canoe camps would spring up much as they have for generations.
Tarps are rigged to shed rain over packing and kitchen areas. Fires are built using birch bark for tinder. Most of the meals are cooked over a wood fire, including Julie Allen's spectacular pot-baked biscuits and blueberry cobbler.
An orange spade for digging cat holes was always available by the base of a tree on the edge of every campsite. Quetico has no latrines.
Pulleys, strong rope and a team effort are the Minnesotan solution to hanging group-size packs of provisions beyond reach of bears and the 20-something paddler with the insatiable appetite.
Every evening was set aglow with a round of something sippable by the fire. Banter eventually faded one by one into personal time and benediction in the twilight where fireflies flurry like campfire sparks in a breeze.
Loons made appearances every day. Their mesmerizing calls would hush fish-catching brag fests. A pair and then a group of three common loons cruised by camp one evening, paddling and calling, freezing our conversation and fixing our gaze. Equally stunning after the echoing calls faded was the silence.
A haunted house can't match a week in Quetico for scaring the crap out of campers. Among our hair-raising experiences were rifle shots that turned out to be beaver tails smacking the water by shore; trees swaying, creaking and cracking in the wind over our tents; a lightning storm that raged just a few bolts short of Armageddon.
When the thunder faded into the distance and the night sky finally went dark again, a single firefly glowed like a slow-pulsing beacon under my tent rain fly where it had sought refuge.
The traumatizing 20 minutes of in-your-face lightning prompted discussion of what to do when hell breaks loose. "Response to lightning casualties is the opposite of triage," Scott Wolff, an ER doctor, said in a teaching moment. "You leave survivors and go to immediately to the unconscious. If they're not breathing, you breathe for them in case they're in respiratory paralysis."
The trip involved no major injuries, but there was some significant bloodshed as seen on the inside of our tents. Mosquitoes that had been detected too late were smashed in red smudges against the rip-stop nylon.
Fishing sometimes resulted in even more gore. On a layover day designated for producing a fish dinner, I was carefully adding a northern pike to my stringer when a strung-up walleye lurched up over the gunnel and engulfed my thumb. I had to pry its jaws open as dozens of sharp teeth razor-bladed my skin.
"That's nothing," Wolff said as my blood pooled in the canoe. "Remember when the pike grabbed my toe (while swimming)? That was bad. I still have some of the pike teeth I dug out of my skin."
Any inclinations for skinny dipping after dinner were doused.
Early mornings are a fine time to be out of the tent on a Quetico island. Moose and other critters have left "sign" to read. Swainson's thrushes and winter wrens begin singing at first light, communicating, emphasizing territories before getting about finding food for the day. I heard my first whippoorwill.
The nature show continued as we paddled. Common terns put on a show above. A loon with a chick on its back seemed unconcerned. Spotted sandpipers had a nest at a portage take-out.
We never paddled far without seeing another bald eagle. We were always being watched, as proved any time we filleted a fish on a rock along a remote shoreline. Within minutes of paddling away toward camp, gulls and eagles would home in from long distances to compete for the carcass.
Someone always seemed to be dipping a jig or casting a Rapala. With little enforcement, anglers are expected to be honest in observing rules such as no bass over 13 3/4 inches long could be kept until after July 1 to protect spawners. Only one walleye over 18 inches could be kept a day. Conservation is a matter of trust here.
We found time to explore several of the 52 known pictograph sites in Quetico. We traveled hard and lived simply for eight days. Indeed, we later spent 34 percent of our food expense for a post-trip lunch and beers at a resort off the Gunflint Trail.
During stretches of flatwater paddling that continued for hours, the Minnesotans put on a clinic on the efficiency of short strokes at fast tempo. "It's a lot about using your core," Wolff said as a smattering of rain slowly built to a steady drizzle and ultimately into a pelting shower. Rain jackets donned; sandalled feet bare to the elements. Everything that needed to be dry sealed in waterproof bags. We pressed on.
Ed Kowachek, of Missoula, and I started adding up the trip's adventures on Day 6 during a long sunny stretch of paddling conversation. We marveled at good fishing and hard work followed by wilderness sunsets and the simple pleasures of passing good whiskey around the campfire.
"I'm not sure what the hereafter holds – heaven and all of that – but I'm sure going to miss all of this," he said.
Even the portages are fondly remembered simply for surviving them. Several trails ended just upstream from falls, where a put-in is a serious matter.
"A lot of the accidents here are related to the falls," Ranger Matichuk had told us. "In one case, two paddlers who portaged above a falls put in and one pushed away from the bank before realizing they'd loaded gear on top of their paddles. Before they could recover their propulsion, the current swept them over the falls.
"We average a death every five years," she said. "It's every year in the Boundary Waters. Most are caused by drowning, falling trees or heart attacks. But every year, an unsecured boat is carried off by the wind or current and goes over some falls. Sometimes people go over with them."
We should have no problem with grimly named routes such as Deadman's Portage, she said. "But be very careful of the poison ivy along McKewen Creek, or you'll wish you were dead."
In eight days we saw fewer than a dozen other canoes in Quetico. A bright spot came on a portage when we met a family from North Carolina – grandpa, two daughters, his son-in-law and five grand kids. They were heading out for a 12-day trip. The kids were pumped, and so was grandpa.
The son-in-law looked like Atlas the Titan under the weight of a huge load. Yet he set his canoe and pack down at the lake shore, chit-chatted a bit and grabbed one of my bags as I hoisted a canoe onto my shoulders. "I might as well carry something back to the other side of the portage," he said.
All of the portage trails were mini-adventures of hiking, wading, mucking and balancing on wet or mud-slimed boulders.
At the swampy beginning for the haul to McKewen Lake, my foot wedged under a root submerged in muddy water and I toppled forward in a belly-flop splash. My chin missed an angular granite boulder by inches as 50 pounds of Kevlar canoe came crashing down on top of me.
Muddy goo and water drained out of my shirt and pants as I scrambled to my feet and kept going. The Minnesotans were ahead, carrying twice the weight, and I had to catch up.
Upon reaching the other side of a ridge, I'd carried the canoe 1.2 kilometers, or 1,200 meters, or 239 rods, give or take a few cubits, depending on the unit of measurement you prefer.
As required, we navigated to Cache Bay and checked out of Quetico before paddling back to the U.S. In the ranger station I mentioned the 1.2-K portage to veteran Ontario Parks Ranger Janice Matichuk.
"You did that portage?" Matichuk said, snapping her head up from filling out a report. "You stud muffin!"
But before my chest had a chance to swell, she smiled and said, "Last time I did that trail I was six months pregnant."
Local journalism is essential.
Give directly to The Spokesman-Review's Northwest Passages community forums series -- which helps to offset the costs of several reporter and editor positions at the newspaper -- by using the easy options below. Gifts processed in this system are not tax deductible, but are predominately used to help meet the local financial requirements needed to receive national matching-grant funds.
Subscribe to the sports newsletter
Get the day's top sports headlines and breaking news delivered to your inbox by subscribing here.
---