News > Education
Rypien School Program helps hospitalized children keep pace
Thu., Oct. 12, 2017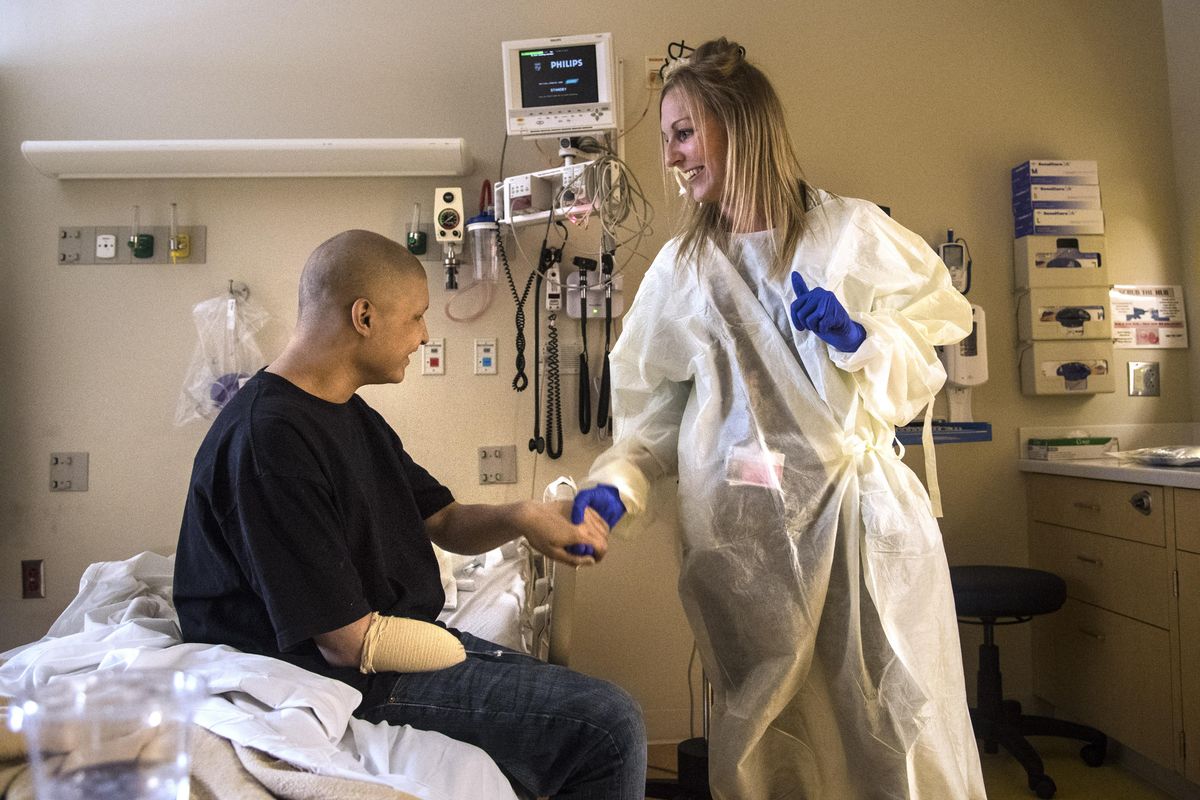 Alyssa Vanderzee, education specialist for the Andrew Rypien School Program, shakes hands with Leo Valdez, 17, from Tonasket, Wash., Wednesday at Sacred Heart Children's Hospital. Vanderzee was helping Valdez set up his enrollment for his GED. (Dan Pelle / The Spokesman-Review)
It was a different kind of classroom.
Leo Valdez sat tiredly on his hospital bed Wednesday afternoon, pecking awkwardly with his left hand at the keys of a laptop perched upon his lap.
The 17-year-old had been through several rounds of chemotherapy when his right hand was amputated in June. A tumor had grown too large.
Next to Valdez sat Alyssa Vanderzee, an education specialist at Sacred Heart Children's Hospital who was there helping Valdez register for his GED.
Since February, when he was diagnosed with bone cancer, Valdez has been in and out of the hospital. His treatment, intense doses of radiation, requires he spend long stretches of time away from his Tonasket, Washington, home.
And while much of Valdez's life has been overturned by the chaos of the diagnosis, one thing has remained consistent: school work.
"I'm doing good," he said. "It keeps me distracted."
That's been possible because of a new program funded by the Rypien Foundation and run by the hospital. The Andrew Rypien School Program helps hospitalized kids keep up on their school work.
During the 2016-17 school year, the first year of the program, 230 patients were served. Those kids came from all over the Northwest, although most were from the Spokane area. Of the 230 patients, more than 50 percent received cancer-related care.
On Thursday, a dedicated space for those children will officially open. The small classroom allows Vanderzee and others to teach students outside of hospital rooms.
When students are too tired or too sick to leave their rooms, Vanderzee will come to them.
These students all require special attention. Their education has to be balanced with their medical conditions and needs, said Maggie Rowe, the hospital school liaison for the Rypien program.
"It's a different experience every day on who feels well enough to come out of isolation," she said.
Rowe and Vanderzee contact the patients' schools and request schoolwork to help them stay caught up. The Rypien School Program is not an accredited school, and whenever possible provides material directly from the students' schools.
"We're in really regular contact about the child's education," Rowe said.
It can be a daunting task. Many of the kids are admitted to the hospital multiple times. And days can stretch into years.
"Some of our kids with cancer, they miss at least a year of school," said Kim Jorgensen, the director of the Children's Hospital. "Sometimes two, sometimes three."
Missing that much school can make a bad situation even worse. The students, when they do return, are behind academically and isolated from their friends, Jorgensen said.
"We just end up with a lot of kids being socially disconnected from school," she said.
Additionally, some of the treatments, especially for cancer, can impact a student's ability to learn later.
"If you talk about radiation and a young kid's brain … it leaves a large impact," Jorgensen said.
The program offers other services in addition to in-hospital tutoring. It does consultations with families, and program staff can attend IEP and 504 meetings, among other things.
Because there are only three full-time staff members, the program relies heavily on volunteers, many of whom are retired teachers.
Joe Staebell retired from a 30-plus-year teaching career six years ago. Since then, he's volunteered at the hospital three days a week for two hours a day. He likes working with the variety of ages on all different subjects.
Staebell, who the kids call Mr. S, had prostate cancer earlier in his life and his mother and mother-in-law both died of cancer. He called that some of the "background" of his service.
"It's very rewarding," he said. "The kids are receptive."
On Wednesday, another volunteer, Mike Bolkovatz, worked with 11-year-old Alexa Southerly. Southerly has Type 1 diabetes and was admitted on Monday. Wednesday was her last day.
Together Southerly and Bolkovatz worked on math. Bolkovatz is a retired engineer, and is volunteering, he said, because his daughter spent the first three months of her life in intensive care at a Providence hospital in Alaska.
"Now I have the the time and I wanted to give back," he said. "I'll never be able to give back all that the Providence system has given me, but I want to try."
Bolkovatz believes the program is doing something more fundamental than just keeping the kids caught up with their school work. It's helping them find hope.
"When they are here and they are in the hospital and they are not learning, I think they lose some hope," he said.
When asked what he wants to do when he leaves the hospital, Leo Valdez hesitated. But Alyssa Vanderzee the education specialist, prodded him on.
"I want to be a boxer," he said.
"We've looked at many (videos of) one-handed boxers and athletes," Vanderzee adds.
Local journalism is essential.
Give directly to The Spokesman-Review's Northwest Passages community forums series -- which helps to offset the costs of several reporter and editor positions at the newspaper -- by using the easy options below. Gifts processed in this system are not tax deductible, but are predominately used to help meet the local financial requirements needed to receive national matching-grant funds.
Subscribe now to get breaking news alerts in your email inbox
Get breaking news delivered to your inbox as it happens.
---