Sports > EWU football
Eastern Washington's clutch scoring drive turns back Montana State, 31-19
Oct. 14, 2017 Updated Sat., Oct. 14, 2017 at 10:16 p.m.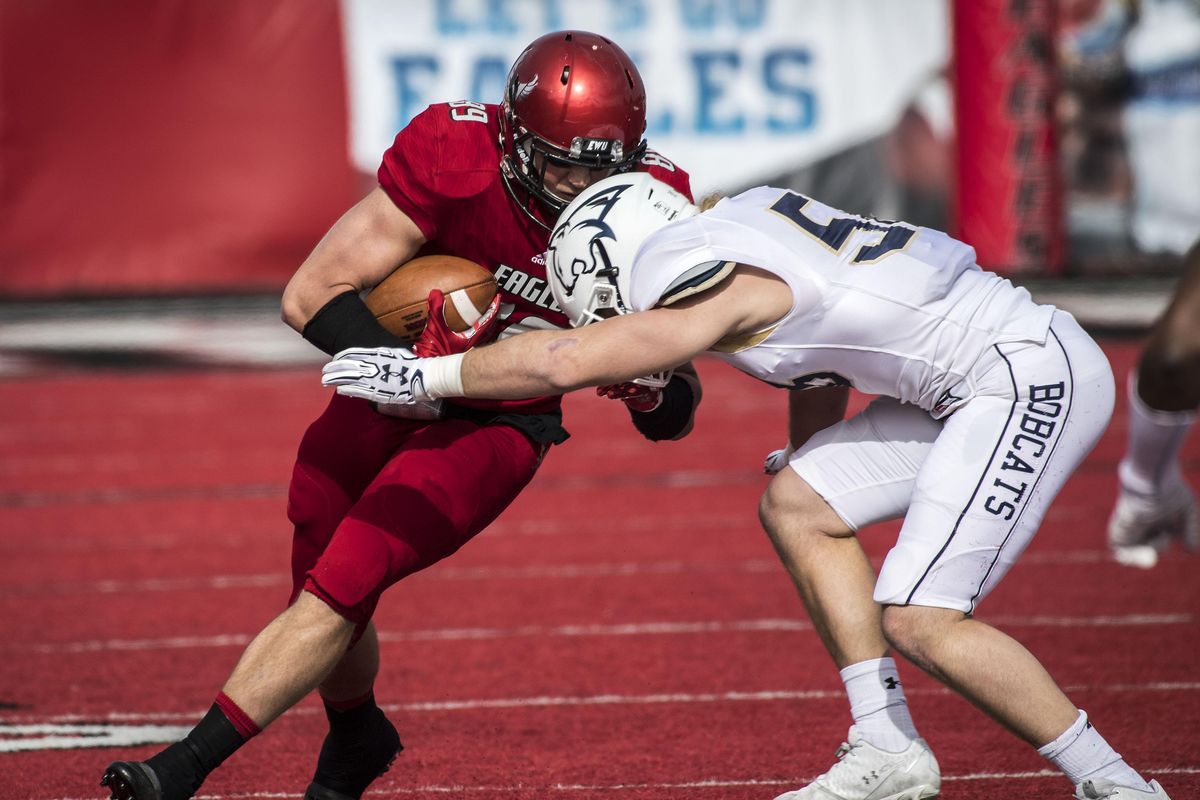 Eastern Washington tight end Jayce Gilder (89) tries to get by Montana State linebacker Josh Hill (58) during the first half of a college football game, Sat. Oct. 14, 2017, in Cheney, Wash. (Colin Mulvany / The Spokesman-Review)
This wouldn't be Eastern Washington football without another episode of "Life on the Edge."
Saturday's installment featured the Eagles and the underdog Montana State Bobcats, who provided enough drama to send Roos Field from the edge of a blowout to the precipice of a mammoth upset.
That alone was enough to keep a crowd of 11,301 – the fifth-largest in school history – on the edge of their seats.
However, the drama kings from Cheney overcame two late fumbles to outlast the Bobcats, 31-19.
"We withstood a few storms and made things interesting," allowed Eastern coach Aaron Best, whose team almost blew a 17-point fourth-quarter lead before improving to 5-2 overall and 4-0 in the Big Sky Conference.
This one was just as nailbiting as the 7-point win at Montana and last week's 41-38 comeback at UC Davis, but with a flip of the script.
This time the fourth quarter belonged to the other guys. Montana State (2-4 overall, 2-2 in the Big Sky) hadn't beaten the Eagles since 2011 and looked to be heading for another beatdown after running back Sam McPherson scampered 23 yards for a touchdown to give Eastern a 24-7 lead early in the third quarter.
However, Eastern's offense, plagued by three turnovers and a season-high 95 yards in penalties, struggled for most of the second half.
So did MSU's offense, which gained just 353 yards on the day, coughed up four turnovers and was just 7 for 16 on third down.
However, the Bobcats were in a gambling mood. Six times they went for it on fourth down, converting on all but one.
Three of them came on one drive, a 17-play, 80-yard odyssey that lasted almost eight minutes before MSU quarterback Chris Murray hit Logan Jones for a 9-yard score.
"That was frustrating," said Eastern defensive end Keenan Williams.
Murray's two-point conversion pass was incomplete, but Eastern's 24-13 lead didn't last long. Three plays later, Eastern quarterback Gage Gubrud was sacked and fumbled on the Eagle 22 and MSU recovered.
Eastern's defense appeared to hold, as MSU faced fourth-and-12 at the 24. Even with a stiff wind at their backs, the Bobcats disdained the field goal and went deep.
Improbably,Murray (10-for-22 for 135 yards) found Kevin Kassis for a first down at the 5. Two plays later Nick LaSane scored to make it 24-19 after another failed two-point try.
Needing some momentum, Eastern merely added more drama when Dre'Sonte Dorton fumbled the ensuing kickoff and MSU recovered. However, Murray returned the favor on second down and Eastern got a reprieve.
"I'm really excited how our team battled. There have been games in our seven-game season we've been up, we've been down and we've been tied. That's going to make us better as we forge ahead for our final push of the season."
On Saturday, the big push came on Eastern's final drive. Starting from their own 20, the Eagles used Gubrud's arm and the legs of Antoine Custer Jr. to reach the MSU 43.
That's when Eastern marched backward, losing 10 yards on a sack, five more for having an illegal receiver downfield and another yard when Custer was stuffed at the line of scrimmage
The next two plays showcased why Gubrud is the league's top quarterback. On third-and-26 from the Eastern 41, he found Talolo Limu-Jones with a needle-threading pass good for 22 yards.
That brought up fourth-and-4 at the 37 and the biggest play of the game.
Recalled center Spencer Blackburn, "I'm thinking 'Gage, don't roll out because they're spying the quarterback. Then he rolled out.' "
Evading one tackler on the edge, Gubrud sprinted for the left sideline, picking up seven yards and a critical first down.
"Those are big things that are kind of gut punches," Best said. "We're in attack mode no matter what quarter it is or how much time is left in the game."
At that point there wasn't much. Custer got the ball four straight times, for 10 yards, 14 and twice for three to get the clinching touchdown with 3:09 left.
"We took what they gave us on offense, and in those games where we don't have a ton of possessions, we want to make sure we are meticulous," Best said. "We have to kind of grind it out, which we did."
Local journalism is essential.
Give directly to The Spokesman-Review's Northwest Passages community forums series -- which helps to offset the costs of several reporter and editor positions at the newspaper -- by using the easy options below. Gifts processed in this system are not tax deductible, but are predominately used to help meet the local financial requirements needed to receive national matching-grant funds.
Subscribe to the sports newsletter
Get the day's top sports headlines and breaking news delivered to your inbox by subscribing here.
---