Sports > WSU basketball
From couch to Clippers: Ex-Washington State hooper Ike Iroegbu inks with LA, stars in preseason game
Oct. 14, 2017 Updated Sun., Oct. 15, 2017 at 11:07 p.m.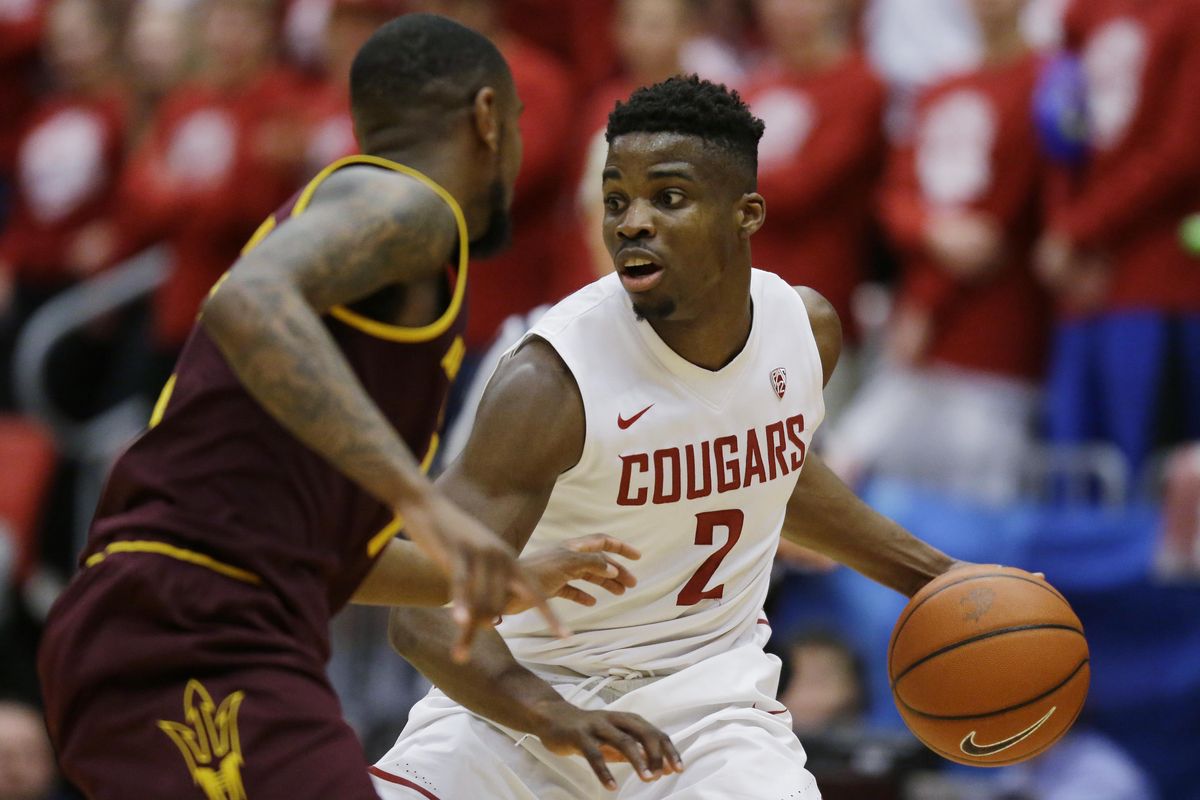 Former Washington State guard Ike Iroegbu will play for his hometown Sacramento Kings this week in the NBA Summer League. (Ted S. Warren / AP)
On Friday morning, Ike Iroegbu was unwinding on his couch in Sacramento, watching the re-run of an NBA preseason game that happened the night before between his hometown Kings and the Los Angeles Clippers.
Iroegbu is an aspiring pro who recently spent time with the Nigerian national team after wrapping up a four-year career at Washington State. It's natural for somebody like that to turn on an NBA game and fantasize about sharing the same piece of hardwood as the sport's headline players. In this specific instance, Iroegbu probably had an eye on the Clippers' Blake Griffin and DeAndre Jordan.
Later that same night, Iroegbu was living in his own fantasy – Griffin and Jordan had their eyes on him.
The former WSU guard was an NBA hopeful when the day began and a member of the Clippers franchise with one preseason game under his belt by the time it ended.
Friday afternoon, the Clippers signed Iroegbu to play with their developmental league team in Ontario. But that wasn't all: the club needed him for a preseason game at the Staples Center that same night against the Lakers.
The club's front office phoned Iroegbu's agent, who dialed his client just before noon to share the message. Iroegbu needed to act quickly, so he packed a bag with basketball sneakers and clothes, then caught a ride with his mother to Sacramento International Airport for a 3 p.m. flight to Burbank.
"Then that flight got pushed back," Iroegbu explained to Los Angeles reporters Friday night.
And Iroegbu's golden chance was nearly extinguished as a result.
"(My agent) told me if I can't make my flight then there's probably not a good chance I'm going to be able to make it (with the Clippers)," he said.
So Iroegbu improvised – something he's had quite a bit of practice with as one of the point guards in WSU coach Ernie Kent's up-tempo offense. Iroegbu had to make a decision on the fly. He talked his way onto another flight bound for Los Angeles International Airport, then spent a nervous hour in the air as he mentally prepared for his first NBA game.
"I was a little nervous, but then I told myself it's just basketall at the end of the day," Iroegbu said.
A Clippers assistant met him in Los Angeles with some film, "showed me a couple sets," Iroegbu said, "and the thing that's really nice about the Clippers is it's really not confusing. They've got the drag screens, lot of split actions, but basically it's just about reads and stuff."
Iroegbu arrived at Staples Center, was presented with a No. 19 jersey, took a stress test – "which was a little crazy," he admitted – then met the same players he'd seen on a TV screen in Sacramento earlier that day.
"Everyone was really cool, from Blake to D.J. (Jordan), Lou Williams and Pat (Beverley)," Iroegbu said. "They're really cool guys and I just felt really comfortable. Coach Doc (Rivers) said, 'Just play hard and go out there and play basketball.'"
Rivers had a brief visit with Iroegbu before tipoff in which he relayed a simple message.
"'Shoot it,'" the Clippers coach said. "'Every time, just make something happen. Don't worry about the plays, just be aggressive.' And that's what he was."
Iroegbu was told to be ready to play 45 minutes. He logged 17, but was effective in his short time on the floor, making 3-of-9 shots for seven points, grabbing five rebounds and dishing out one assist. On one play, Griffin and Jordan jumped out of their chairs as Iroegbu stuffed home a putback dunk in the second quarter.
"He's a guard, he's a scoring guard and I thought he did that," Rivers said.
Iroegbu was a three-year starter for the Cougars who played in 94 career games. The Sacramento native averaged better than 12 points per game his junior and senior seasons and was usually one of the most dynamic players on the court. The Nigerian-born Iroegbu recently represented his country at the 2017 FIBA Afrobasket tournament in Senegal and Tunisia. He scored 14.5 ppg, chipped in 5 assists and 4.5 rebounds, leading Nigeria to a third-place finish.
Iroegbu inked a deal with LA's G-League club in Ontario, the Agua Caliente Clippers. They open their inaugural season on Nov. 3 at home against the Santa Cruz Warriors.
The former WSU hooper was just glad he was around to pick up the phone Friday morning.
"That's how life works," Iroegbu said. "Just got to be ready."
Local journalism is essential.
Give directly to The Spokesman-Review's Northwest Passages community forums series -- which helps to offset the costs of several reporter and editor positions at the newspaper -- by using the easy options below. Gifts processed in this system are not tax deductible, but are predominately used to help meet the local financial requirements needed to receive national matching-grant funds.
Subscribe to the sports newsletter
Get the day's top sports headlines and breaking news delivered to your inbox by subscribing here.
---