News > Education
At GU, collaborative 'game show' pushes political antagonism to the sidelines
Oct. 16, 2017 Updated Wed., Oct. 18, 2017 at 12:17 p.m.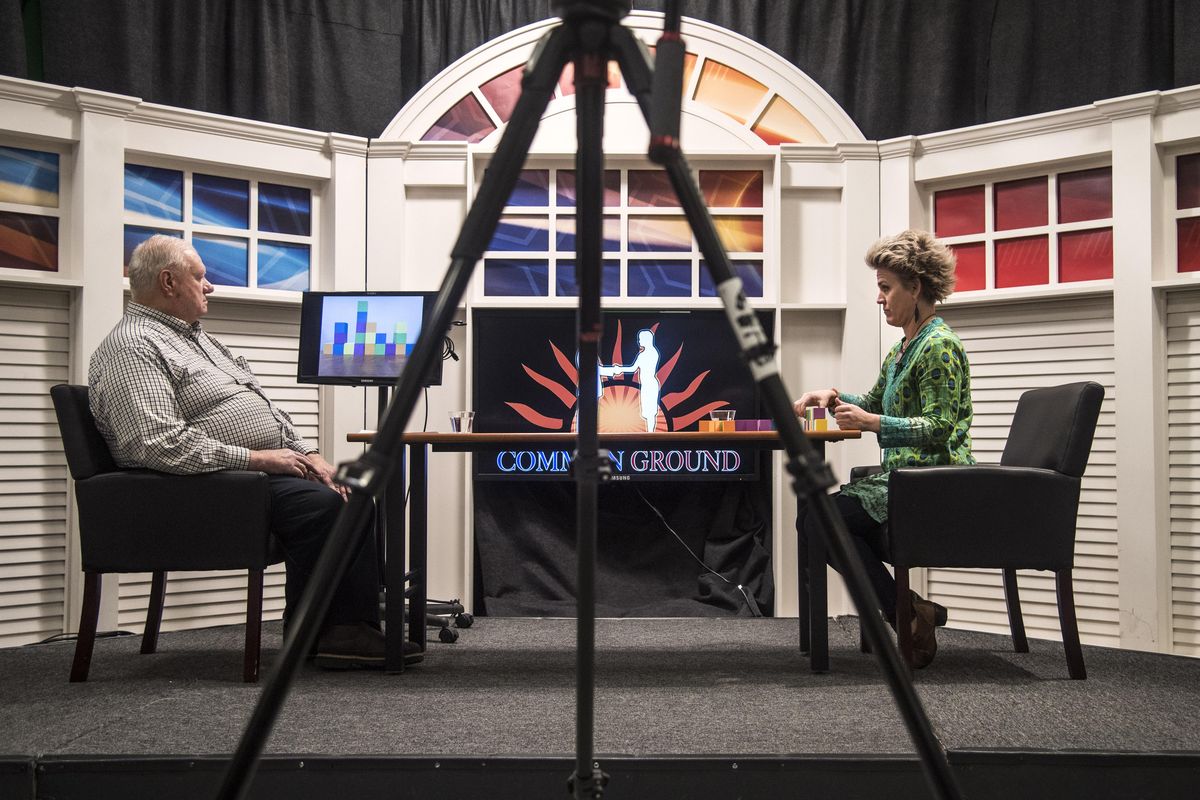 Mike Fitzsimmons and Amber McKenzie combine efforts during a block-building exercise as part of the "Common Ground" taping for GU-TV, Saturday, Oct. 14, 2017, on the Gonzaga campus. (Dan Pelle / The Spokesman-Review)
Red or blue. Donkey or elephant. Liberal or conservative.
For Dan Garrity and his broadcast journalism students, politics is looking awfully binary these days. Like two sports teams pitted against each other, the TV news reporter turned Gonzaga professor said the United States is as divided as he can remember – with lines drawn, and little effort to empathize with ideas on the other side.
"I think it's just so disheartening the kinds of conversations I hear when people disagree," he said last week. "All you have to read is four comments down in any social media venue. It's awful. And it's not doing anything to remedy the situation at all."
Rather than stand by while the rift widens, Garrity and his students are trying to turn those "ors" into "ands." Ahead of Gonzaga's International Conference on Hate Studies set to begin Thursday, the professor, who has years of experience working in TV, is putting a uniquely TV experience together: a game show.
Rather than pitting contestants against each other, they're going to have to work together. Even if it means putting politics aside.
"They're not opponents," explained student Emily Jung, the executive producer on the project, called "Common Ground." "They're partners."
The premise: two teams – one of adults, the other of Gonzaga students – with a conservative and a liberal on both. The goal is to earn the most points by agreeing and working together through a series of four games, each more complex and team-oriented than the next.
The team with the most points at the end wins.
"At first we wanted to have them debate," Jung said. "I thought it would be interesting. But the more we thought about it, the more we thought, no debating, no fistfights."
At a taping Saturday, Garrity and his crew of volunteers danced back and forth between rows of cameras, some in front of elaborate sets, capturing the four different games.
They'll record more of the game show next Saturday before it's set to air on Oct. 27, when the show will be livestreamed at 5 p.m. on watchgutv.com.
The contestants on the student side: Jordan Tolbert, a Democrat, and Jacob Dizon, a Republican. Among the adults, liberal magazine publisher and former Gonzaga professor Amber McKenzie, and Mike Fitzsimmons, a Gonzaga journalism professor and the conservative show host of KXLY Newsradio's News Scope.
The adults were up first for Saturday's taping. They quickly learned a bit about each other as they began filming the first game, during which they earned points by agreeing on the other person's answer to a topic.
The first topic was "proudest moment."
"When my first child was born," Fitzsimmons said.
"Me too!" McKenzie responded.
In the recording studio, Garrity pumped his fists in the air enthusiastically. His plan seemed to be working.
As their tasks grew steadily more complicated, the pair showed more accord than discord, sharing information and even showing a flair for Esperanto – the "universal" language created in 1887, and a twist to their second task.
The air of congeniality shivered only once: when McKenzie, explaining her response to a prompt, said she felt unrepresented by the country's commander in chief. "I guess I feel like he has some mental illness," she said of Trump.
That drew a retort from Fitzsimmons, who has staunchly supported the president since his election. "Oh, get over it," he shot back. "He won."
The sparks were quickly smothered, however, and throughout the tasks the contestants seemed largely of one mind. Asked to predict the others' responses to political prompts, they were more often on the mark than not, and when prompted to talk about their reasoning, ended up agreeing more than disagreeing.
During a post-game show confessional, the two said as much.
"It was enlightening," Fitzsimmons said. "It was an opportunity to share thoughts. But it was not something that surprised me. I don't think we're as far apart as folks think we are."
Their last task was to draft a manifesto on the question of what it means to be American. After spending more than 20 minutes discussing, the two had a pretty solid idea.
"We saw the problem is really complicated in America," McKenzie told the cameras. "We're not all right about what we think we're right about. As Americans, we need to admit some things. Our way is not the only way. And we need each other."
After the taping, Garrity said it was exactly what he had hoped for.
"Is this the game show that's going to save the country?" he said. "No, but there will be a lot of informed minds that will see, oh my God, you actually can agree civilly. And that's what we need."
Local journalism is essential.
Give directly to The Spokesman-Review's Northwest Passages community forums series -- which helps to offset the costs of several reporter and editor positions at the newspaper -- by using the easy options below. Gifts processed in this system are not tax deductible, but are predominately used to help meet the local financial requirements needed to receive national matching-grant funds.
Subscribe now to get breaking news alerts in your email inbox
Get breaking news delivered to your inbox as it happens.
---