News > Spokane
Party honors eight centenarians at Southside senior center
UPDATED: Wed., Oct. 18, 2017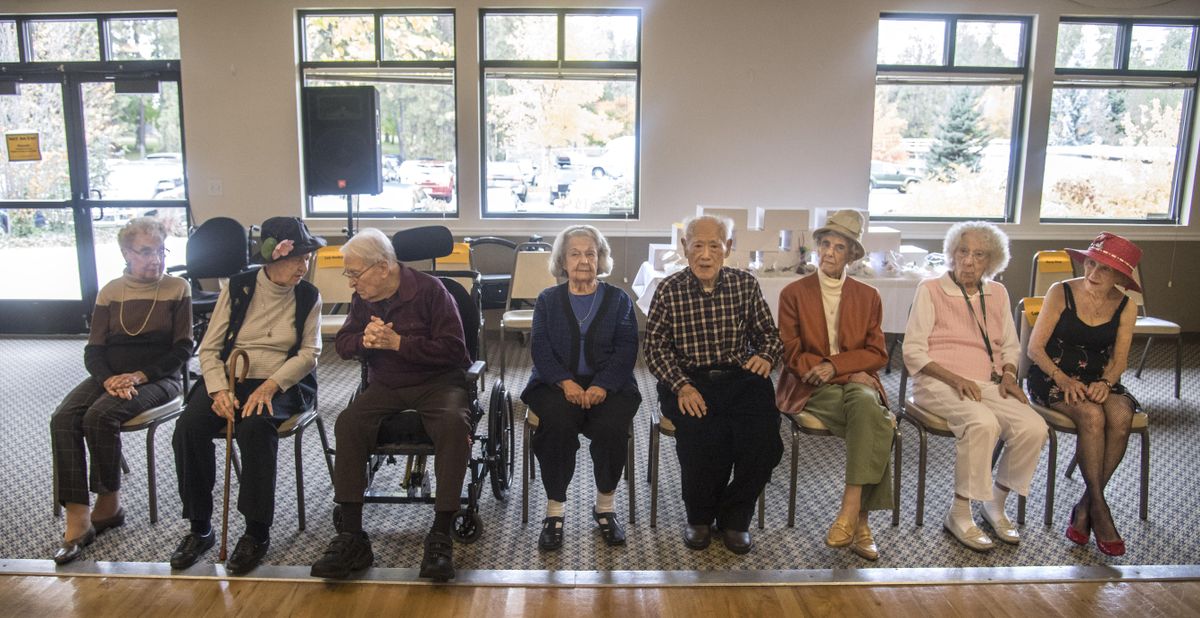 Centenarians, from left, Martha Lou Butler, Marie Pilgrim, Ray Garrett, Ruth Smith, Han Chung Meng, Ann Smith Babcock, Lucile Durkee and Catherine Child, gather before a luncheon to honor them, Tuesday, Oct. 17, 2017, at the Southside Senior and Community Center. (Dan Pelle / The Spokesman-Review)
On Tuesday afternoon, 800 plus years of collective wisdom gathered in one room when the Southside Senior and Community Center hosted a luncheon honoring eight Spokane residents who've reached the century mark – and then some.
"Because we cater to the senior community, the Southside center feels that it's important to recognize those who cross that special 100-year birthday line," organizer Kristin Watson said.
She's been helping with the event for the past five years.
"What I've found amazing is the general health and lack of medication with so many of these folks," she said. "It's such an honor to meet these folks, many of whom have a great sense of humor."
Each honoree was presented with corsages or boutonnieres, and received a decorated personal cake made by Southside center board member Mary Van Couvering.
Ray Garrett, 101, was hoping for German chocolate cake. That's what his mother usually baked for his birthdays.
"She was a good cook," he said.
Born on a farm in West Plains, Missouri, Garrett had three older brothers to help shoulder the work load.
After graduating from high school, he joined the Navy, serving for four years during World War ll.
"I was in the Navy and couldn't swim." he said laughing.
Garrett made the jump from ships to trains after the war, enjoying a career as an agent and telegrapher for the Great Northern Railway.
He said he didn't expect to live to be 100, but thinks his nightly shot of honey whiskey might have had something to do with it. That or his laid-back attitude.
"I took it pretty easy," he said.
No whiskey was served at the luncheon, but Garrett did get to sip his favorite beer – an icy cold Bud Light.
Marie Pilgrim will be 101 next month, and said birthday parties weren't a regular occasion when she was growing up in Montana. However, one birthday memory shines clear.
"I think I was 16 and we had some friends and neighbors over," she recalled. "I didn't want to get a birthday spanking, so the only boy there sat on my lap and wouldn't let anyone spank me."
No birthday spankings were mentioned at the luncheon which was emceed by local historian Richard Sola. Jesse Tinsley provided the musical entertainment, playing his ukulele and singing traditional Hawaiian melodies. Tinsley is also a photographer for The Spokesman-Review.
Pilgrim said the secret to longevity is to "keep moving."
Martha Lou Butler, 101, agreed.
"I still exercise. I walk every day," she said. "That's the secret – keep moving physically and mentally."
Butler grew up on a wheat farm near Walla Walla, and said she listens to books on tape to keep her mind sharp. Historical fiction is her preference.
She watches the nightly news to keep up with current events, but would still prefer to read the newspaper. When her eyesight began to dim she had to give up her subscription.
"I still miss it," she said.
However, when asked if she had any bad habits, she smiled and raised her eyebrows.
"I don't think the Spokesman needs to know about my bad habits," she said.
As she reflected on a century of living, she said her happiest years were on the shady side of midlife. She and her husband were married almost 70 years.
"I always tell younger people the late 60s and early 70s are the best time of your life," Butler said. "You and your spouse are in reasonably good health, your finances are stable and hopefully your kids are on their own. It's just the two of you, and you get reacquainted. It's time to cut loose and do what you want."
Smiling she said, "We had a lot of fun."
It's no wonder Watson looks forward to organizing the centenarian celebration each year.
"I always walk away humbled, inspired and enthused," she said.
Local journalism is essential.
Give directly to The Spokesman-Review's Northwest Passages community forums series -- which helps to offset the costs of several reporter and editor positions at the newspaper -- by using the easy options below. Gifts processed in this system are not tax deductible, but are predominately used to help meet the local financial requirements needed to receive national matching-grant funds.
Subscribe now to get breaking news alerts in your email inbox
Get breaking news delivered to your inbox as it happens.
---