A&E > Food
The 14 best places to watch Sunday morning football in Spokane and North Idaho
Wed., Oct. 18, 2017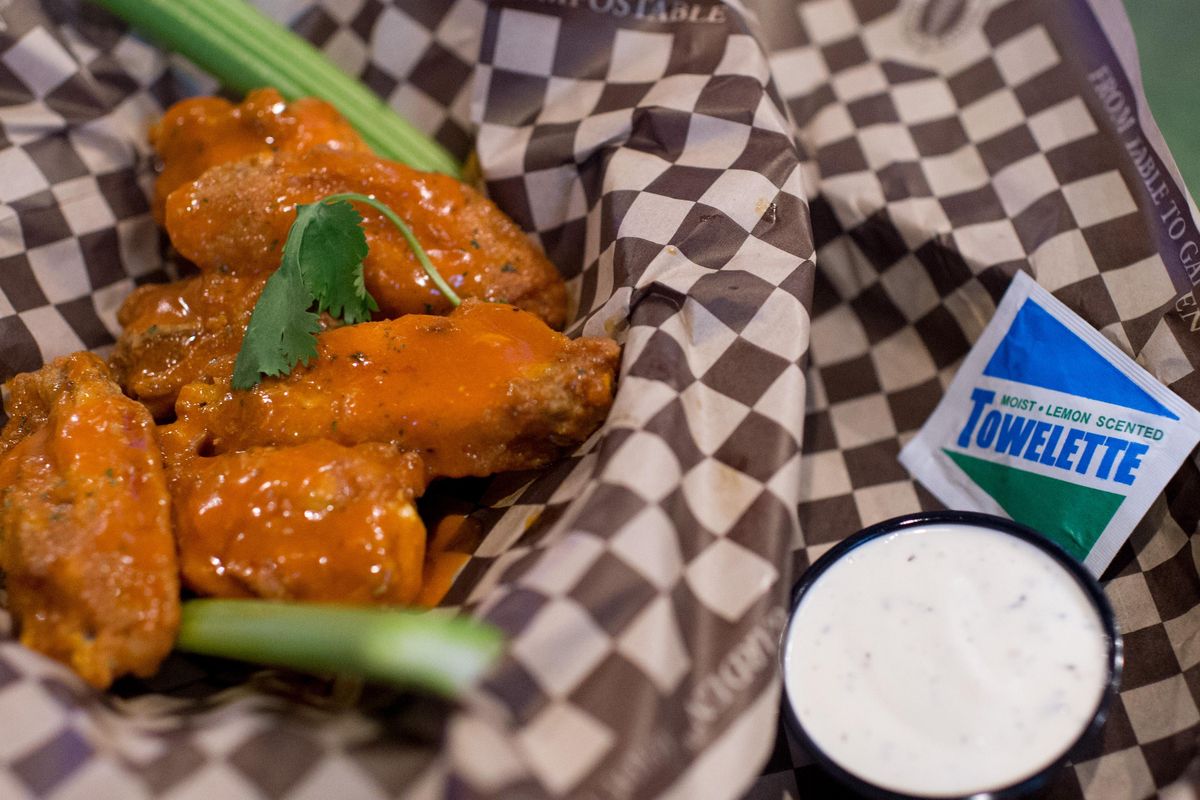 Chicken wings come with a wet nap at The Ref Sports Bar in Spokane Valley. (Tyler Tjomsland / The Spokesman-Review)Buy a print of this photo
For football fans who love brunch, it's the perfect pairing.
Sunday morning football makes it OK to nosh on chicken wings and loaded nachos before noon and have a beer or two for breakfast. Or, if you're fancy, a mimosa or bloody mary.
It's more fun to get your game on with other die-hard, jersey-wearing, giant-foam-finger-waving fans. And, it's even more fun when you don't have to prep the snacks or wash the dishes.
Here's a round-up of local watering holes for fans who don't want to miss a kick, throw, Hail Mary pass, touchdown dance or chance to collectively curse at refs during those 10 a.m. Sunday games this NFL season.
Go ahead. Get your game on.
The Ref Sports Bar
They really wing it at this place. That is, the Ref offers 31 flavors of chicken wings. Traditional Buffalo-style comes in six levels of heat – from mild to "tough-guy hot." Other flavors include pineapple bourbon, maple-honey-sriracha, Thai peanut, pesto, Dijon, cilantro lime, chipotle bacon, Asian orange and huckleberry barbecue. Buy them by the pound, half-pound or piece. They're available in six-, 12-, 24- or 50-piece sizes. Burgers, wraps, sandwiches, steak bites, mozzarella sticks, giant pretzels, pizza and macaroni-and-cheese round out the menu. Big-screen TVs above the bar are the focal point, and there are 20 TVs in all. Sundays during football season, The Ref opens at 9 a.m. Expect drink specials. 14208 E. Sprague Ave., Spokane Valley. (509) 315-9637. therefsportsbar.com.
The Swinging Doors
Get here on game day as early as 7 a.m. if you want. That's when the Swinging Doors opens – seven days a week. This longtime sports bar, opened in 1981, features more than 50 screens, including a 13-foot jumbo screen. Its top-selling entree is its broasted chicken, pressure-fried to perfection. Look, also, for beer-battered mushrooms, jo-jos loaded with white cheddar and bacon, garlic-Parmesan fries, jalapeño poppers, nachos, sandwiches, burgers, hot dogs, soups, salads and macaroni-and-cheese. Breakfast is served all day. There are eight kinds of omelets as well as a breakfast burrito, fried egg sandwich, French toast, biscuits with sausage gravy and something called the Albatross: an extra-large sausage patty on fresh-baked biscuits with hash browns and sausage gravy. Add two eggs and toast for another dollar. Pair it with a bloody mary. There are seven versions of it here, including the Spokane Mary made with Dry Fly vodka. 1018 W. Francis Ave. (509) 326-6794. www.theswingingdoors.com.
Red Lion BBQ and Pub
This is a Packers pub, but it gets crowded for Seahawks games, too. When either of those teams are playing, the Red Lion usually offers a breakfast buffet with French toast, sausage, eggs and bacon. During games that don't draw as large of crowds as Green Bay and Seattle, breakfast is made to order. The Red Lion usually opens at 11 a.m. But on Sundays during NFL season, doors open at 9 a.m. This is a longtime, legendary sports bar, decorated with memorabilia from Gonzaga and Washington State universities as well as the Spokane Chiefs. It isn't unusual to spot local coaches and assistant coaches here – and sometimes even a Spokesman-Review sports writer or two. 126 N. Division St. (509) 835-5466. www.redlionbbq.com/.
The Viking
It's all about helping yourself on Sundays at the newly revamped, family-friendly Viking. The Spokane institution reopened last spring after an extensive remodel. These days, the menu features upscale pub grub, including an assortment of burgers and sandwiches. Sundays, it opens at 9 a.m. for brunch and football. There's a breakfast buffet as well as mimosa and bloody mary bars. Plus, there are 24 rotating taps. 1221 N. Stevens St. (509) 326-6241.
Morty's Tap and Grille
The family-friendly South Hill hang-out serves breakfast from 7 a.m. to 1 p.m. daily. Sunday, it's happy hour all day. Flapjacks, Benedicts, steak and chicken-fried steak are all on the menu. Morty's is part of the locally owned Nelson-Phelps Hospitality family of restaurants, which includes Steelhead Bar and Grille, Selkirk Pizza and Tap House, The Barrel Steak and Seafood House, and Fieldhouse Pizza and Pub North and Liberty Lake. A sister restaurant, The Screaming Yak, 118 W. Francis Ave., opens at 8 a.m. Sunday and is also a good place to catch a football game. (And its signature spicy bloody mary is $5 on Sundays.) 5517 S. Regal St. (509) 443-9123. mortystapandgrille.com.
Rock City Grill
The top-selling appetizer at this South Hill spot is Italian nachos: pasta chips piled with olives, tomatoes, pepperoncini, sausage, Asiago cream sauce, mozzarella and Parmesan. "People lick the plate," said Rose Rhoades, who owns the restaurant with her husband, Jim. Another specialty: anything with the house-made Thai peanut sauce. In fact, the Thai pizza outsells the pepperoni pizza at this place. The recipe is so secret that even the head chef doesn't know it. Only three people have access: the owners and an employee who has worked at Rock City since it started. (He signed a non-disclosure agreement.) The rest of the menu is a mix of Italian and American favorites. Think panini, pizza and pasta, and burgers, wraps and sandwiches. Sundays – and Saturdays, too – Rock City serves breakfast from 9 to 11:30 a.m. Mimosas are $3. The "five-alarm" bloody mary is $6. And the bacon bloody mary is $7. Look, also, for pancakes, biscuits and gravy, chicken-fried steak and assorted omelets. There are 10 TVs. And if the kids aren't interested in football, that's OK; Rock City will let them borrow hand-held electronic devices loaded with games. When the Seahawks play, Jim Rhoades gives away Seahawks gear. Rock City opened 25 years ago this month. This is its third location. 2911 E. 57th Ave. (509) 455-4400. rockcitygrill.com.
Poole's Public House
Both locations of this restaurant and sports bar open at 8 a.m. on weekends. The north location features 18 taps, while the one on the South Hill has a dozen. The best part: it's happy hour all day Sunday – with domestic drafts for $2.50. Breakfast runs from 8 a.m. to noon, too. Have a bloody mary or mimosa for $3. The regular menu features elevated pub fare. Nosh on chili cheese fries, fried cheese curds, fried zucchini slices, bacon-wrapped grilled and stuffed jalapeños, beer-battered mushrooms, hand-battered pickle spears, Scotch eggs or Irish nachos with corned beef. Or, choose from 11 signature sandwiches and 11 burgers. Salads, chicken strips, fish tacos and corn dogs round out the extensive menu. Note: wings are known as Liza's Legs here. Both locations offer more than a dozen screens. Poole's Public House North has a 140-inch projection screen. North: 101 E. Hastings Road. (509) 413-1834. South: 5620 S. Regal St. (509) 368-9760. www.poolespublic house.com.
Brooklyn Deli
This downtown sandwich shop and bar opens early Sunday mornings during football season. Get here at 9 a.m. – as soon as the door opens – to secure the best seat. But, really, anywhere you sit, you'll be able to see. That's because at the center of this viewing party is an 8-foot projection screen. A special Sunday breakfast buffet runs from 9 a.m. until noon with a rotating egg bake every week, biscuits and gravy, bacon and apple-cranberry sausage. The buffet is $8 with an alcohol purchase. Try the bloody mary. Or, opt for a beer. PBR tallboys are $3. The regular menu – wings with Booey's Gourmet locally created sauce, loaded nachos, macaroni and cheese, assorted sammies – is also available. 1001 W. First Ave. (509) 835-4177. brooklyndelispokane.com.
24 Taps Burgers and Brews
This downtown family-friendly and super-spacious sports bar is easy to spot. Just look for the mural on the exterior west wall depicting characters from the 1998 cult classic film "The Big Lebowski." Like its name suggests, there are 24 taps featuring a mix of beers from local breweries as well as more widely distributed offerings. Nosh on gourmet burgers and sandwiches, including the Seahawker – a 1/2-pound of chicken breast, Swiss cheese apple wood-smoked bacon, tomatoes, onions and avocado. Pub grub is the specialty here. Wings and sweet potato fries come by the pound. Of course, you can always ask for a half-order. Look, also, for poutine, potato skins, mozzarella sticks, nachos, wraps, fried pickles and more. There's a heated patio at the corner of Lincoln Street and Riverside Avenue and almost as many TVs as there are taps. And, on Sundays during football season, 24 Taps opens early, serving breakfast from 9 to 11 a.m. 24 N. Lincoln St. (509) 309-3103. www.24taps.com.
Jack and Dan's Bar and Grill
This lively University District establishment, popular with students, opens at 11 a.m. on Sunday unless the Seahawks have a 10 a.m. game – and then it opens at 10 a.m. That happens once during the regular NFL season this year – on Dec. 10. Order off the regular menu, which features assorted sandwiches and wraps (Reuben, club, French dip, roast beef and chipotle melt, BLT, Fiesta Chicken) as well as appetizers such as hot wings, mozzarella sticks, nachos and mini jalapeño poppers. On the kids menu: grilled cheese, chicken strips, spaghetti and meatballs, and a corn dog. 1226 N. Hamilton St. (509) 487-6546. jackanddans.com.
Epic
The center of attention at this contemporary Northern Quest Resort and Casino sports hangout is the 30-foot-by-10-foot big screen over the bar. Its football brunch menu includes chicken wings, nachos, corned beef hash, biscuits and gravy, fish and chips, a pulled pork sandwich, Denver omelet, pizza and Belgian waffles. There's a build-your-own bloody mary bar on Sunday, too. Bases – vodka or gin – are $6 or $8.50. Then, choose a mix: regular, spicy or verde. Add-ons include a cheese quesadilla for $1.50, bacon for $2, mini cheeseburger for $2.50 and a sausage trio for $3. Pickled asparagus, olives, pepperoncini and citrus are included. Epic opens at 7 a.m. Sunday. 100 N. Hayford Road, Airway Heights. (509) 242-7000. www.northernquest.com/ resort/dining/epic.
True Legends
The center of attention at this Liberty Lake sports bar is a nearly 20-foot screen. Share or start with steamed clams, crab-artichoke dip, nachos, potato skins, onion rings or calamari. Wings come in packs of eight or 32 and up to four sauces. Choices include garlic herb, chipotle pepper, barbecue, Buffalo, teriyaki, Thai peanut, wasabi, Jamaican jerk and honey Sriracha. Pizza, calzones, fish-and-chips, pasta, ribs, steaks and assorted sandwiches, and salads round out the menu. It opens at 9 a.m. on Sunday. 1803 N. Harvard Road, Liberty Lake. (509) 892-3077. www.truelegendsgrill. com.
Capone's Pub and Grill
This North Idaho institution opens at 9:30 a.m. on Sundays during football season. Breakfast is served until 11 a.m., then it's time for the regular menu of assorted chicken wings, grinders, pizza and burgers. Started in Coeur d'Alene in 1991, Capone's was featured on the 2010 "Wings and Things" episode of Food Network's "Diners, Drive-In and Dives." There are three locations. Coeur d'Alene: 751 N. Fourth St. (208) 667-4843. Post Falls: 315 N. Ross Point Road. (208) 457-8020. Hayden: 9520 N. Government Way. (208) 762-5999.
Victory Sports Hall
This contemporary Coeur d'Alene sports bar, connected to its sister business Crafted Taphouse next door, opens at 10 a.m. Sunday – just in time for kick-off. Between both bars, there are 90 beers on tap. Victory has a few menu items, but guests can also get anything from the upscale pub menu at Crafted, too. Victory boasts two nearly 14-foot LED video walls. 519 Sherman Ave. (209) 292-4813. www.facebook.com/ VictorySportsHall.
Local journalism is essential.
Give directly to The Spokesman-Review's Northwest Passages community forums series -- which helps to offset the costs of several reporter and editor positions at the newspaper -- by using the easy options below. Gifts processed in this system are not tax deductible, but are predominately used to help meet the local financial requirements needed to receive national matching-grant funds.
Subscribe to the Spokane7 email newsletter
Get the day's top entertainment headlines delivered to your inbox every morning.
---