News > Spokane
Holocaust freedom fighter Carla Peperzak preaches empathy at Gonzaga hate studies conference
Sat., Oct. 21, 2017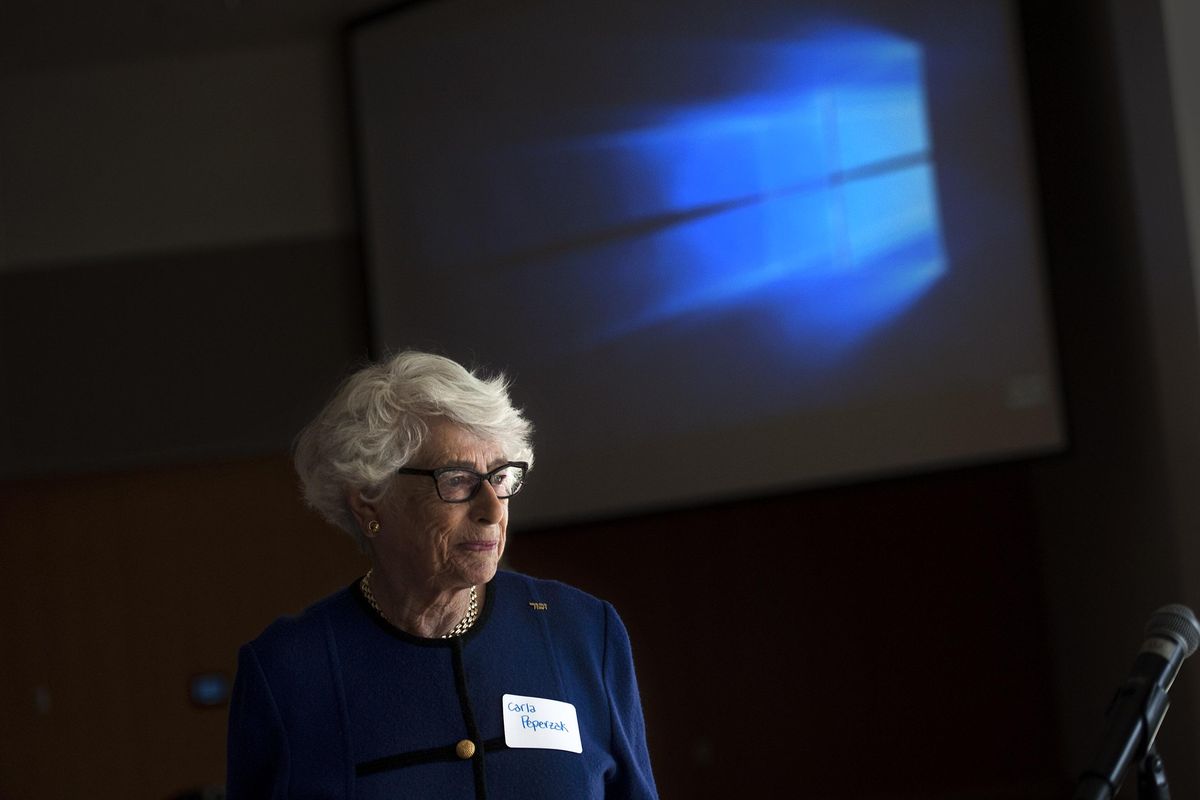 Holocaust survivor and member of the Dutch resistance movement Carla Peperzak pauses before addressing the crowd at Gonzaga University in Spokane on Friday, Oct. 20, 2017. Kathy Plonka/THE SPOKESMAN-REVIEW (Kathy Plonka / The Spokesman-Review)
Carla Peperzak spent her late teens and early 20s hiding Jewish friends and relatives from the authorities in Nazi-occupied Holland.
She's spent her 80s and 90s ensuring the hate that fueled the murder of millions of people isn't forgotten.
"In the beginning, there wasn't that much of a change," Peperzak, 93, told a gathering of about 40 listeners, including students, at Gonzaga University's International Conference on Hate Studies on Friday morning. "Of course, it didn't last very long."
The talk, one of several Peperzak has given in classrooms and lecture halls over the past decade, focused on the logistics of mounting resistance against a government practicing genocide. Peperzak, who moved to Spokane 13 years ago, also preached empathy as a way to avoid a recurrence of the violence she witnessed firsthand in war-torn Europe during the Holocaust.
"When I talk to schools, I always end with the word respect," Peperzak said. "Because I think if one can learn to respect one another, you can't kill."
Peperzak was finishing her final high school exams when the Nazis invaded her home country in May 1940. The family was forced to register as Jewish, obtaining ID cards and a yellow "Star of David" patch to wear on their coats – for which Dutch Jews had to pay 15 cents. Her Jewish father's clothing factory was seized by authorities.
"Everything was stolen," Peperzak said. "And, of course, we couldn't go to the police."
Peperzak joined the Dutch resistance, or "the Underground," after her father was able to register the rest of her family as non-Jewish. She spent the war forging identification papers and ration cards, pedaling on her bicycle to assist friends and family in hiding and huddling in closets with stolen radios to receive news uncensored by the Nazis that she would then reprint and circulate in pamphlets.
Peperzak's parents and sister knew nothing of her resistance work, said her daughter, Marian Cummings.
"They did not share with each other what they were doing," Cummings said. Peperzak's sister, Whilemina, focused on securing food so the family could eat, while Peperzak bartered stolen sugar for new bicycle tires so she could get around to the families she was helping.
Once, a pair of Nazi secret police interrogated Peperzak, she said. Finding nothing out of order, the agents offered to help her carry a briefcase out of her home – a case containing forged paperwork and the machinery necessary to manufacture it.
"If it had opened, by chance, I wouldn't be sitting here," Peperzak said.
The experiences rocked her faith. Immediately after the war, Peperzak said she "wanted nothing to do with Judaism," but has since returned to the religion. She can't forgive the Nazis for killing millions, but the hate has left her heart after all these years.
"I still have a hard time. If I see someone that looks like a Nazi officer, I try to avoid him," Peperzak said.
Peperzak was introduced by Jerri Shepard, a professor in Gonzaga's School of Education. Shepard has invited Peperzak to speak to her classrooms for the past several years, a tradition Shepard said will continue next month.
Sheard said it was important for students to see "what are some role models that we have, of people who did stand up and say something."
Peperzak spoke at Freeman High School in the spring, months before a shooter opened fire, killing a classmate and wounding three others. She said that kind of violence illustrated the need for respect and understanding.
"There's no feeling for people anymore," Peperzak said. "We're getting so immune to all those killings, this is another terrible thing."
The return of nationalist rhetoric, including those sympathetic to Nazis, in the political realm is difficult to watch, Peperzak said. She said the persuasiveness of propaganda prior to the Holocaust let hate in, and it was important to guard against that by teaching respect in schools and at home. That will keep the current political divide from fueling more violence, she said.
"We have to start trying to understand other people, and where they come from," Peperzak said. "We need to talk to people."
Local journalism is essential.
Give directly to The Spokesman-Review's Northwest Passages community forums series -- which helps to offset the costs of several reporter and editor positions at the newspaper -- by using the easy options below. Gifts processed in this system are not tax deductible, but are predominately used to help meet the local financial requirements needed to receive national matching-grant funds.
Subscribe now to get breaking news alerts in your email inbox
Get breaking news delivered to your inbox as it happens.
---