Sports > WSU football
Vince Grippi's three takes: Cougars bounce back with some new faces
Oct. 21, 2017 Updated Sat., Oct. 21, 2017 at 11:57 p.m.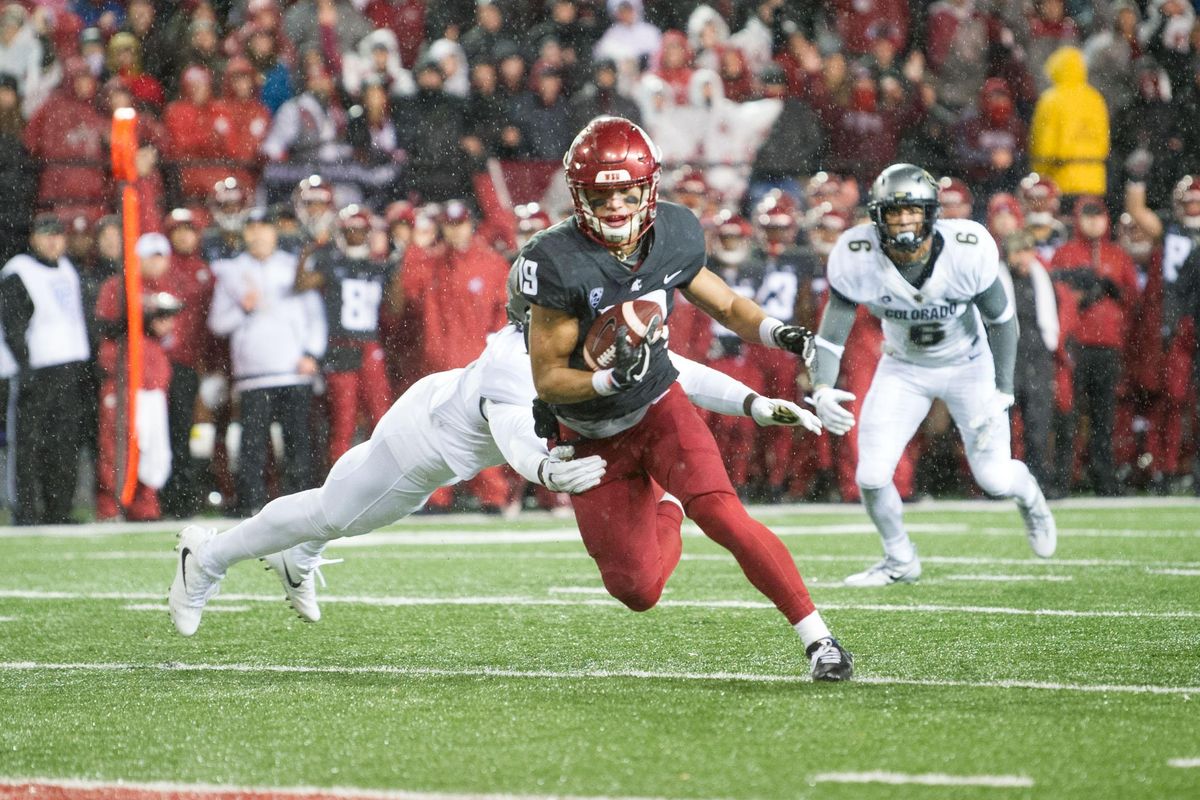 Washington State Cougars wide receiver Brandon Arconado (19) runs the ball in for a touchdown during the first half of a college football game on Saturday, October 21, 2017, at Martin Stadium in Pullman, Wash. (Tyler Tjomsland / The Spokesman-Review)
Following Washington State's first loss of the season at California, the Cougars returned to Martin Stadium on Saturday night trying to avoid a second.
They did, thanks to a handful of firsts.
A couple of first touchdown catches. A couple of firsts for Luke Falk's legs. And a first win for an interim athletic director.
But first things first. The 15th-ranked Cougars outlasted Colorado and a pouring rain for a 28-0 victory, their sixth this season at home.
A big part of the success, at least early on, was due to two receivers who had never caught a touchdown pass at WSU.
The first came courtesy of Tay Martin, a freshman from Houma, a town of some 34,000 in Louisiana, located in the bayou near the Gulf of Mexico. It was raining there Saturday night as well, though the temperature was 30 degrees warmer.
No matter for Martin, who was replacing another Martin, Tavares, the junior wideout suspended after an outburst following the Cal loss.
The younger Martin got behind Colorado's All-American corner Isaiah Oliver early in the second quarter, gathered in Falk's on-target pass and raced in for a 50-yard score.
To add injury to insult, Oliver seemed to pull a muscle and never returned.
Which might have played a part in the next score.
It came courtesy of redshirt sophomore walk-on Brandon Arconado, who played his high school ball at the same place as 1970s standout receiver Brian Kelly, Bishop Amat in Southern California.
Arconado turned a short slant into an 18-yard touchdown catch by breaking three tackles.
The two scores never could have happened, though, if not for Falk acting like Russell Wilson for the first time.
OK, that might be stretching it – a lot – but he did show a propensity to tuck and run. Just before the touchdown pass to Martin, Falk dropped back, waited, waited, and then scrambled for 16 yards. It was the longest run of his career.
He also had runs of 8 (twice) and 6 yards (also twice).
Falk finished with 41 on nine carries, eclipsing his career rushing high of 29 yards at Rutgers in 2015. He was sacked two times, losing 15 yards. So the seven times he decided to take off, he gained 56 yards, an 8-yard average.
Maybe not Wilson, but certainly not Falk-like either.
Shuffle at the top
The mood around Bohler Gym this week was a bit somber, almost as if someone had passed.
In a sense, Bill Moos had.
Moos, the Washington State alum who was hired in April 2010 to resurrect the athletic program, left last week to take the athletic director position at Nebraska. Which, last time we checked, was not his alma mater.
Moos cleared out his Bohler office this week, an office that most of his adult life he lusted after – and then gave up in what was a surprise to even his closest allies at WSU.
That was part of the somber mood. But there was more.
A week ago the Cougar football was ranked eighth nationally, undefeated and its head coach knew he was answering to "the best (athletic) director" he had ever met. And everything changed over the course of a weekend.
According to reports from Lincoln, Moos agreed to take the Husker position on Friday. That night he was in Berkeley and saw Washington State lose in a disappointing manner, to put it nicely.
The 37-3 loss could be considered either the last game of the Moos era or the first of interim athletic John Johnson's, though no one, not even Johnson, knew it at the time.
If it is Johnson's to own, it is still better, maybe, than the first WSU game in Moos' tenure. That would be a 65-17 loss at Oklahoma State.
If the loss was Moos', then Johnson's tenure – a short one as he's not a candidate for the permanent job – began with a win.
Homecoming all wet
Not that there were many people to see it, at least after halftime. The 31,461 in attendance must have been soaked to such a point that most decided not to return.
The student section almost emptied out. So did the Crimzone, the east end zone seats and the main grandstand to the south.
The consistent rain turned WSU's homecoming game into "let's head home early."
Local journalism is essential.
Give directly to The Spokesman-Review's Northwest Passages community forums series -- which helps to offset the costs of several reporter and editor positions at the newspaper -- by using the easy options below. Gifts processed in this system are not tax deductible, but are predominately used to help meet the local financial requirements needed to receive national matching-grant funds.
Subscribe to the Cougs newsletter
Get the latest Cougs headlines delivered to your inbox as they happen.
---