News > Spokane
A year after the 'Trump wall,' WSU navigates issues of speech and diversity
Sun., Oct. 22, 2017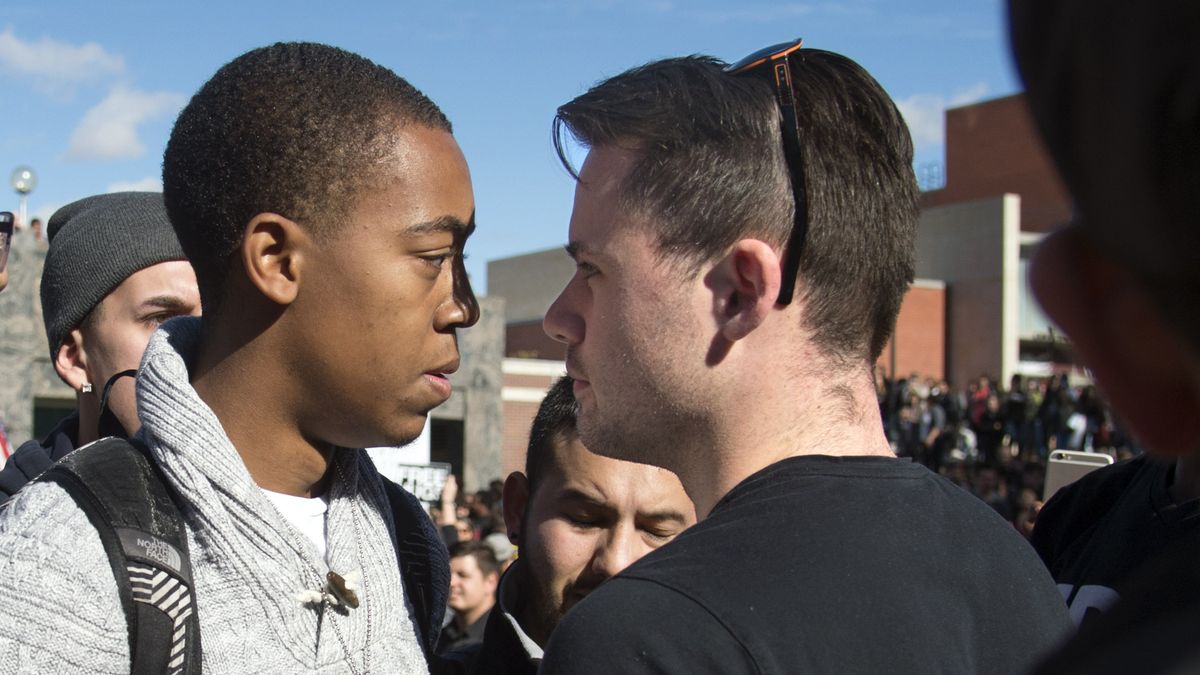 FILE - WSU student Orion Welch, left, talks to James Allsup during the WSU College Republicans Trump Wall demonstration and Unity Rally counter protest on the WSU campus, Oct. 19, 2016. (Colin Mulvany / The Spokesman-Review)
In spring 2016, when Jacob Heinen joined the College Republicans chapter at Washington State University, the club had only about half a dozen members.
Within months, though, club meetings had swelled, and routinely hosted around 40 attendees. Heinen said many new recruits were drawn to the incendiary brand of conservatism that was coming to be known as the alt-right.
On Oct. 19, 2016, less than three weeks before Donald Trump secured the presidency, Heinen stood atop a set of stairs in front of a growing crowd of WSU students, uncapped a can of shimmering gold spray paint and wrote "TRUMP" across a plywood wall in the center of the Pullman campus.
Heinen, now 20, became the vice president of the College Republicans and played a key role in organizing a controversial "Trump wall" demonstration, which symbolized the candidate's signature proposal on border security. As an agriculture technology student, Heinen said he was one of a few club members who had experience "building stuff," so he constructed the wall at his house and towed it to campus on a trailer.
"I originally was skeptical of the wall idea because I knew the disruption it would cause, and I'm not a very provocative person," Heinen said, "but it was kind of around that time that I had to make a choice about the wall and my support for Trump."
In what turned out to be WSU's largest display of student activism in years, hundreds filled the Glenn Terrell Mall to protest the Trump wall during the three hours it was allowed to stand. Heinen said he had "really great conversations" with some of the protesters. But the wall, perhaps unsurprisingly, served to divide people.
"I look back now, and I spent most of my time that day trying to defuse the yelling and hateful remarks from both sides, but that seemed counterintuitive considering I built the wall," Heinen said.
"We were on a mission to promote conservative values, to promote capitalism, to promote strong immigration reform – things that we all stood for – and we did that," he said. "But because of the way that we were promoting our ideas, it came off in a very insensitive, a very demeaning manner, which was not received well by people on the other side."
This March, Heinen left the College Republicans.
On Thursday evening, exactly a year after the Trump wall demonstration, he delivered a PowerPoint presentation in a sleek new classroom glowing with fluorescent lights and wall-mounted computer screens. He wore a gray T-shirt featuring the preamble to the Constitution, the words "We the People" large and legible on his chest. His audience was a small group of fellow students with views across the political spectrum.
This was the fourth meeting of the school year for WSU's Political Science Club, which Heinen helped create after leaving the College Republicans. He's the club's secretary and remains a staunch conservative, although some of the club's other officers lean far to the left. The club is devoted to civil discourse, he said – not provocation.
"I got tired of hating the other side, of always being at war with them," Heinen said. "We can get along, and we don't have to choose the path of division like we've seen with antifa and the alt-right."
What's free speech?
The Trump wall and accompanying protests thrust WSU into the latest chapter of the national debate about free speech on college campuses.
Before and after the demonstration, students accused WSU President Kirk Schulz of giving a platform to white nationalists. In an interview this week, Schulz said he needed to "step back" from "personal feelings about the appropriateness" of the proposed demonstration and let the College Republicans exercise their First Amendment rights.
"Talking with the senior leadership team, we felt that it did need to occur, even though we knew it would be divisive," he said. "At the end of the day, I think that was a much more effective way to deal with that situation than some sort of prolonged legal battle over whether or not a recognized student club can do a particular thing on campus."
Last month, a group of Democratic state lawmakers called on the university to pull recognition and funding from the College Republicans. The lawmakers said the club had a "record of hate speech" and noted that its president, James Allsup, had marched with white supremacist groups at the violent rally in Charlottesville, Virginia, where a counterprotester was killed.
Schulz resisted that call, too, saying the university can't shut down a student organization because of the actions of one member. Allsup resigned from the club shortly after Charlottesville.
Schulz said his administration has encouraged students to stage counterdemonstrations. He noted that students turned out en masse for the Trump wall, and for a large sit-in outside his office in August. Students also marched across campus that week in response to the events in Charlottesville. In each instance, students have worked with campus police to coordinate security in advance.
"I've been very proud of our students for coming forward with things they feel very passionate about, but doing it in a professional way," Schulz said. "I actually think that, so far, the student activism at WSU has been relatively modest compared to some of our peer institutions across the country."
In the past year, student demonstrations and appearances by controversial speakers have resulted in many violent clashes, and some universities have spent hundreds of thousands of dollars per event on extra security. At the University of Washington on the night of Trump's inauguration, for example, protests erupted during a speech by right-wing provocateur Milo Yiannopoulos, and one man was shot in the abdomen. Yiannopoulos had been scheduled to speak at WSU a day earlier, but that event was canceled due to icy roads.
"I believe that people should be able to say whatever they want within the constraints of federal law that has been decided (by courts)," said Jordan Frost, WSU's undergraduate student body president. "If you're directly threatening someone's life, that's a problem. If you're openly inciting violence, that's a problem. But other than that, we can't start to do this filtering of people's words and what they say. … That can quickly turn around on you."
Frost said he encourages students to speak out against hatred and racism, but that it's often unproductive to engage with students who rely on "trolling" and antagonism.
"They are trained to say things to get you really mad," he said of such tactics. "They don't want to provide a solution. They want to get people upset and make people look irrational, and make people look crazy."
Frost said racism and free speech issues are systemic and can only be solved through policy change. Simply expelling James Allsup or shutting down his club, as many students demanded, would not solve anything, he said.
"You've got to dig to the root of some of these issues," he said.
Attention is 'addictive'
James Allsup denies he's a racist.
He also denies he's a white nationalist. The term is "not very descriptive" and "used as a slur term by the media to label people as something that they know is unpopular," he said in an interview. "I prefer the term American nationalist."
But it's difficult to square Allsup's preferred label with his stated belief that America is a place for those of European descent, whom he called "the founding stock" of the country. Diversity, he said, is not an inherent good.
"You get more taco trucks and cultural demonstrations and more people who don't look like you. And if that's what you want, then fine, but you lose when you bring that in," he said. "You lose a sense of national identity."
Allsup, 23, has tirelessly built his public image. He spearheaded the Trump wall demonstration, opened for one of Trump's speeches in Everett, interviewed the white supremacist Richard Spencer for a YouTube video, gained national attention for his appearance in Charlottesville and garnered tens of thousands of followers on YouTube and Twitter.
Allsup insisted none of his political positions "are coming from a place of hate or dislike."
"I think that other cultures have a place," he said. "I value other cultures, and I think that other cultures have a right to exist, and other people's. But they can exist in their own countries."
Allsup has pointed to the works of Richard Lynn, a British professor who for 50 years has employed eugenics to explain racial and gender inequality. He asserts that men, whites and Asians are genetically superior groups, and that the wealth and power of nations depends on their racial "homogeneity."
Lynn has given interviews for racist and far-right publications. The Southern Poverty Law Center describes him as a white nationalist. His research, much of which relies on IQ scores, has been criticized as "deeply flawed" in at least one leading scientific journal.
Allsup asserted that a "neoliberal, egalitarian mindset" prevents many people from "looking into that research because they're scared of that research and they're scared of where that goes."
"It's not politically popular to suggest that biology has something to do with how successful people are," he added.
Heinen, the former College Republicans vice president, said he became uncomfortable when other club members, including Allsup, began making "the eugenics argument."
"That's when I started getting messages from some of my conservative friends telling me they're worried about me in this group," he said.
Yet Heinen doesn't believe Allsup or the others actually believe the "outrageous" things they often say.
"None of those kids are actually racist. None of those kids are actually sexist," he said. "They're just caught up in the attention, because the Trump wall and the big events that we did on campus got a lot of attention, and it was kind of an addictive deal, and we never wanted to stop."
Heinen said the College Republicans have also vocally endorsed specific policies they don't genuinely believe in.
"Nobody actually believes in deporting 12 million people. That's impossible," he said. "Instead of talking about a rational way to deal with the immigration problem in the United States, they just said crazy things."
Yet Allsup spoke passionately about how he would handle undocumented immigrants.
"I am frustrated that we haven't seen wholesale militarized deportation forces, to be honest with you. I am disappointed that we're not seeing every single DACA illegal rounded up and thrown in the back of an ICE van and sent back wherever they came from," he said, referring to Deferred Action for Childhood Arrivals, an Obama-era program that protected undocumented immigrants who were brought to the United States illegally as children.
Allsup said he's done trying to cause a stir on campus.
"The whole, like, triggering people or whatever, I think that's kind of run its course for me," he said. "I could go and I could get a huge campus reaction. I already proved that."
Allsup said he's focused on graduating from WSU and launching his own media company. He hosts a podcast with Nicholas Fuentes, a former Boston University student who left the school saying he had received death threats for his support of Trump. Fuentes was once secretly recorded saying that race-mixing is "degenerate."
Given the decline of traditional media, Allsup believes he has an opening to bring his message to a national audience.
"I'm in a position now – I think I'm right at the right age, too, and in the right place at the right time – to be one of the people who fills that gap," he said.
The new president of WSU's College Republicans, Amir Rezamand, said membership remains high and campus events are in the works.
"We're going to have some big things coming up," he said.
'What do these people think of me?'
The Trump wall was not the first or last event to fuel concerns about racism and xenophobia at WSU.
In a similar demonstration in 2006, the College Republicans erected a 24-foot chain-link fence on the Glenn Terrell Mall to show support for a congressional bill to build a fence along the U.S. border with Mexico. One professor responded by cursing at students – using a combination of "white" and a vulgar noun – and the incident ignited a political firestorm that made headlines on Fox News.
In early 2015, a student was kicked out of a WSU fraternity after allegedly shouting racial and misogynistic slurs at black women attending a house social event. Christina Sessoms, who was president of WSU's Black Student Union, said it was not an isolated incident but an example of a systemic problem at the university.
"All of us have to now watch our back in fear of backlash and potential harm because we are the ones who are addressing a serious problem that is embedded in WSU culture," Sessoms said at the time. "How is that fair?"
Some students believe that vicious and overt forms of racism have been cropping up more frequently since Trump hit the campaign trail.
Last September, a student said she found racist graffiti on a desk in a WSU library – the N-word penciled above "TRUMP 2016."
In February, flyers urging people to report "illegal aliens" to immigration authorities were found on the WSU campus. They appeared to be the work of a white supremacist group called American Vanguard.
In May, a racist video targeting black WSU students surfaced on social media. The video featured clips that Allsup, the former College Republicans president, shot at the Trump wall protests and uploaded to his YouTube account. He said his footage was edited and shared without his permission to include racist messaging, yet used the occasion to mock universities as "nothing more than bubble-wrapped safe space havens that need a good popping."
Frost, the student body president, is black. The 22-year-old said he's always been hyper-aware of how others might perceive him because of his skin color.
"Even when I was elected, I was kind of worried to go around places publicly," he said. "Not that I thought I would get hurt, but I just wondered as I looked around, 'What do these people think of me?' "
Lately that discomfort has grown into fear. Frost said he often wonders if any of his classmates quietly sympathize with white nationalist or white supremacist views.
"There's probably people on this campus who believe that, because of my skin color, I'm inferior, or that I shouldn't be in this country, or even that I shouldn't be alive," he said. "And that's what scares me."
David Leonard, a professor in WSU's department of critical culture, gender and race studies, writes about the intersections of race, sports, media and pop culture. In an interview, he said social media and the rhetorical tactics of the alt-right have only added new dimensions to a long history of racism at WSU and across the country.
"If you look at the demands from the Black Student Union from the late '60s and early '70s, they're very much the same demands we're hearing today about racism, and freedom of speech, and a lack of diversity in the faculty and administration," Leonard said. "So there's a lot of continuity in this struggle, and I think that's where a lot of the frustration comes from."
"What we've seen in the past year is part of a larger history," he said. "How will the university respond to those voices, those protests, that pain, but also that larger history, which has been one of failure?"
Racists 'not welcome' on campus
Schulz is an active Twitter user, so when racist or otherwise controversial incidents happen at WSU, the university president said he often learns about them immediately from students on that platform.
When the racist video surfaced in May, for example, Schulz promised in a series of tweets to launch an investigation. He followed that with an open letter on his website.
"The attitudes, the behavior and the language expressed in the video are not acceptable," the letter reads. "Individuals with those beliefs are not welcome in our community."
Campus police said they hit a dead end later that month and could not identify whoever created the video.
But Schulz promised other actions, including the formation of several committees to work on issues of diversity and inclusion; the reorganization of several offices that oversee those issues; the hiring of an outside team to assess progress and make recommendations; and the creation of a new administrative position, the "associate vice president for community, equity and inclusive excellence."
Schulz said he has pushed for diversity in other administrative roles, too.
"We didn't have a very diverse leadership team. It was mostly Caucasian males," he said. "And in the last year, we've added two women of color to our leadership team who have walked in some of the same footsteps that our students have walked in."
Those women are Stacy Pearson, WSU's vice president for finance and administration, and Mary Jo Gonzales, the vice president for student affairs, who oversees multicultural programs and has worked to reform the student conduct code.
In a list of top concerns, the university says it may change course requirements and reporting procedures for harassment and discrimination, require more cultural competency trainings and begin requiring annual progress reports from WSU departments about faculty and staff diversity. Schulz has been taking part in public forums on diversity. A comprehensive report of that work is due next summer.
"We are making some progress that we said we were going to make," he said, "but it's never as fast as everybody would like."
Frost, the student body president, said that work likely will never be finished, but he's encouraged to see more diverse leadership.
"Seeing that change at the top is really important," he said, "because it shows people who are looking to come work at WSU that they have support and they have voices that can advocate for them at the highest levels of the university."
Still, some worry that the new vice president job will come at the expense of lower positions such as retention counselors, who work face-to-face with students to help them stay in school. On Wednesday, Gonzales told the student government that some retention counselor positions would be eliminated due to budget constraints.
Professor Leonard said the move "sends a terrible message to students of color" that "their day-to-day health and success isn't essential."
But Schulz said some of those positions always were intended to be temporary, and that many parts of the university are facing cuts.
"We're doing a complete budget review at the university," he said. "We overspent by $30 million last year. A lot of vice presidents are looking at personnel in their particular areas, and starting to try and make decisions on who we're going to move forward with."
Frost said Schulz has shown "a commitment to having discussions about diversity and acknowledging voices that have long not felt like they've been heard."
'Different values'
The Political Science Club gathers every other Thursday and devotes each hourlong meeting to a single political issue or current event. This week's topic was gun control.
"It's been almost three weeks since the Las Vegas shooting," Heinen said, pulling up a PowerPoint slide with a list of key facts about the recent mass murder, including how many guns the shooter had, how they were modified and what was known about the shooter's past.
"We're just going to talk about the very basic facts," Heinen told the club members. "No speculation."
The dozen students who attended the meeting split into two groups and engaged in civil, intellectually challenging discussions.
Tyler Sabin, a 22-year-old organic agriculture student with a prominent libertarian streak, compared the government's efforts to regulate guns to children begging for more candy: "Sorry kids, no more candy. You don't have a say on this."
Elsa Miller, a freshman studying English and political science, countered: "There's no example of a utopia where the government has completely stepped back and said, 'OK, guys, you do what you want,' and everything has been fine."
Heinen said the club bases all of its discussions on the "moral foundations theory" developed by social psychologist Jonathan Haidt and popularized by his 2012 book "The Righteous Mind: Why Good People Are Divided by Politics and Religion."
"As conservatives and as liberals, we adhere to different values which directly affect our political positions," Heinen said. "And in order to change somebody's mind, or to speak to somebody about a certain issue, you have to shoot toward those values. If you don't, they'll never listen to you because you're talking about the same topic but you're coming from two completely different areas."
Schulz said it will take a lot more work to heal the campus after what has been a tiring and tumultuous year.
"We're committed to having a diverse and inclusive campus, and we're going to do everything we can to get it there," he said. "It's going to take a while."
Local journalism is essential.
Give directly to The Spokesman-Review's Northwest Passages community forums series -- which helps to offset the costs of several reporter and editor positions at the newspaper -- by using the easy options below. Gifts processed in this system are not tax deductible, but are predominately used to help meet the local financial requirements needed to receive national matching-grant funds.
Subscribe now to get breaking news alerts in your email inbox
Get breaking news delivered to your inbox as it happens.
---