News > Spokane
Angela Davis' GU talk draws critics, but no try at shutdown
UPDATED: Sun., Oct. 22, 2017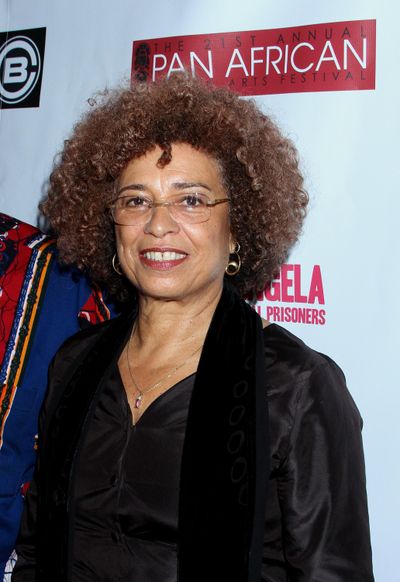 College students across the country have staged protests and spoken out against controversial speakers on their campuses, but often those speakers have represented far-right political views.
A different kind of discussion has taken place at Gonzaga University in anticipation of civil rights icon Angela Davis' planned speech on Wednesday.
News of the talk, hosted by Gonzaga's Center for Public Humanities, prompted the school's College Republicans chapter to make and distribute flyers calling attention to her social activism and her connection to an armed courthouse takeover in 1970 – for which she was acquitted on all counts.
Brian Cooney, an English professor and director of the Center for Public Humanities, said Davis "has an impeccable academic career" and offers valuable perspectives on what she calls the "prison-industrial complex."
"The two most concrete complaints are her former membership in the Communist Party and her criminal trial in the early '70s," he said. "And I think that those two, in combination with the general sense of the arc of her career, have led some people to just deem her as overly controversial."
Cooney said the Center for Public Humanities is eager to showcase a wide range of perspectives and has asked other faculty members for suggestions, to little avail.
"I've had people contact me with objections (about Davis' speech) but in each instance I've invited them to participate in the overall program, and they've declined," he said. "I certainly have heard some of the objections, but I can't get anyone to commit to a public program that outlines those objections."
Cooney said he works with multiple funding sources, and his total budget for the Davis speech was about $10,000. He said he couldn't disclose how much she charged for the appearance, but said that other academics and political figures charge massive speaking fees.
To give an example, Cooney said he looked into the possibility of hosting Niall Ferguson, a conservative historian at Harvard University, but quickly looked elsewhere after being met with a $100,000 price tag.
"Speaker fees are one of the little-known elements of all this," Cooney said.
Gonzaga is a private Jesuit university, and Cooney said he must consider the school's values of compassion and inclusivity when picking speakers. So someone like Richard Spencer, the white nationalist leader from Whitefish, Montana, is probably out of bounds, Cooney said.
Plus, he said, "we can't pay $600,000 for security."
That's how much the University of California, Berkeley, paid for extra security in anticipation of protests when conservative author Ben Shapiro came to visit in September. This week, the University of Florida paid about $500,000 to secure the campus for an appearance by Spencer.
Both of those schools are public institutions, and because of a 1992 Supreme Court ruling, they were required to let Spencer and Shapiro speak while picking up the tab for security.
Cooney said he reached out to student groups, too, while organizing Davis' speech.
"I've spoken with (the College Republicans') adviser, and I've emailed the College Republicans president on a few occasions, starting earlier in the semester, but I haven't heard back," he said. "I would love to have their participation. I would love to have participation from all sides on campus."
Nick Gervasini, the president of Gonzaga's College Republicans, said he received at least one email from Cooney but didn't respond to it. He said his club is working to schedule a February visit by Steve Forbes, the magazine publisher and two-time GOP presidential candidate.
In February 2016, the College Republicans brought conservative author Dinesh D'Souza to speak in Gonzaga's Hemmingson Center. Officials originally declined to open the talk to the public, as they are doing for Davis.
The club president at the time, Ben Dubois, claimed school officials wanted to stifle D'Souza's controversial message. (He once wrote, "The cultural left in this country is responsible for causing 9/11.")
The school ultimately reversed its decision, and the author spoke before a mixed audience that included students and community members.
D'Souza was not the first speaker to cause controversy at Gonzaga.
When Archbishop Desmond Tutu, the anti-apartheid hero and Nobel laureate, was invited as the commencement speaker in 2012, hundreds signed a petition protesting the appearance because of Tutu's support of gay marriage and abortion rights.
"The Vagina Monologues," a play about violence against women and objectification of female sexuality, was banned from campus until GU President Thayne McCulloh overturned the decision in 2009.
Gervasini said his club made the flyers not to protest Davis' speech, but to inform students about the activism she took part in before becoming an academic.
"No one seems to be paying any attention to her past life with the Communist Party and as a member of the Black Panthers," he said.
Gervasini said at least one student has ripped down many of the flyers from bulletin boards on campus. They featured a mugshot of Davis and the words "Wanted by the FBI."
"When we released this flyer, some students were just so angry about it," Gervasini said. "I find it kind of offensive that people don't think I have a right to distribute some information. … I think it's really bad that we are scared to talk about some things."
Davis' speech, at 7 p.m. Wednesday in the Hemmingson Center, is sold out. Cooney said the 780 available tickets were gone within minutes of going on sale.
This story was corrected on Oct. 22, 2017. Due to a reporter's error, a previous version indicated that D'Souza's talk was closed to the public. While it was originally planned to be a students-only event, Gonzaga officials reversed the decision and D'Souza spoke before an audience that included students and community members.
Local journalism is essential.
Give directly to The Spokesman-Review's Northwest Passages community forums series -- which helps to offset the costs of several reporter and editor positions at the newspaper -- by using the easy options below. Gifts processed in this system are not tax deductible, but are predominately used to help meet the local financial requirements needed to receive national matching-grant funds.
Subscribe to the Coronavirus newsletter
Get the day's latest Coronavirus news delivered to your inbox by subscribing to our newsletter.
---