News > Business
Front & Center: Newport driller works hard not to come up dry
Sun., Oct. 22, 2017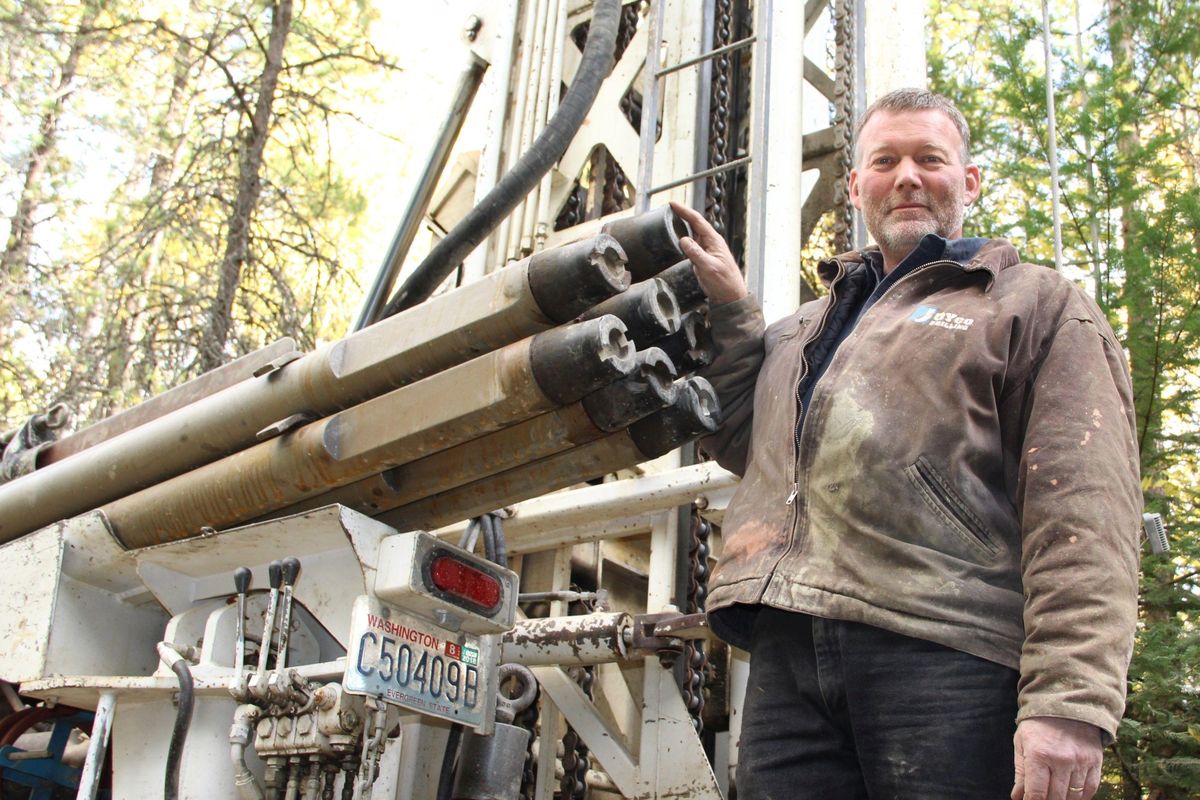 Morgan Joy got his first taste of well drilling when he was 12, and has been hooked ever since. "I'm living the dream," he says. (MICHAEL GUILFOIL/FOR THE SPOKESMAN REVIEW)
NEWPORT – Morgan Joy drills for water.
Fortunately for clients, his wells are rarely as dry as his humor.
When asked what he thought of water dowsing – using a forked stick or other device to locate underground water – Joy joked, "It works really good if the water is there."
What's the deepest dry well he's ever dug?
"We don't call them dry wells," Joy replied. "We call them wells where people just ran out of money."
One client's wallet ran dry at 860 feet.
Yet other wells hit more than enough water a few dozen feet below the surface.
"When my wife, Cheryl, and I purchased property adjacent to our home, we expected to dig 400 feet for 5 gallons per minute, like what we have at home. But the new well is only 54 feet deep, and gives us 30 gallons per minute," Joy said.
"I've been doing this almost 40 years, but I still can't see farther down than anyone else."
During a recent interview, he discussed guarantees, gambling and grandchildren.
S-R: Where did you grow up?
Joy: In Elk (30 miles north of Spokane).
S-R: What were your interests as a youngster?
Joy: Drilling. I'm living the dream, because my grandpa was a driller, and so were my dad and my uncle.
S-R: Do you recall the first time you worked at a drilling site?
Joy: When I was 12, I worked one summer with my grandfather. I ran the rig and he was my help.
S-R: Did he know that?
Joy: Yep. (laugh) He got a kick out of it.
S-R: How much did you earn?
Joy: He paid me more than was fair – probably $20 a day.
S-R: Where did you attend high school?
Joy: Riverside.
S-R: Did you have a favorite class?
Joy: I pretty much liked everything.
S-R: How about activities outside the classroom?
Joy: I was really into dirt bikes and played guitar in a country music band. I met Cheryl 25 years ago while playing in a bar in Yellowknife during a six-week tour in Canada. The music thing went by the wayside in 2005 when we started our own company, Joyco.
S-R: Did you have a mentor?
Joy: I'd say my grandfather, Herb Sams. I worked 23 years for him. He taught me if you knuckle down, you'll do OK.
S-R: What appealed to you about drilling?
Joy: It's challenging, just like life. You appreciate things more if they don't come easy.
S-R: Have there been tough times?
Joy: Business slowed way down in 2008, because nobody had any money. Then three years ago, we had a $200,000 drill rig catch fire. We were insured, but like any insurance, you don't find out how good it is until you have to use it, and ours wasn't good enough. We spent all of our savings and had to sell a few things just to stay in business.
S-R: When a client runs out of money before you find water, do they ever balk at paying the bill?
Joy: Not very often, because it's their decision to keep drilling, and we have a good contract that protects both us and our customer. But we don't guarantee water, nor the quality of water.
S-R: How much does it cost to have a well drilled?
Joy: It's by the foot, but there are so many variables, like location and the difficulty of drilling. We give people an estimate, which can vary anywhere from $4,000 to $20,000 or more, based on other wells in their area. But you never know. Right now, we're drilling in sand and gravel, when just across the road it's mostly granite.
S-R: How do you decide where to drill on a particular property?
Joy: It's a combination of things: where the house is going, the septic system and other utilities. Sometimes clients have a preference. Others leave it to us.
S-R: When you find water, do you also install the pump?
Joy: No. It's not ideal to install the pump with a drilling rig, so we refer customers to companies that specialize in that.
S-R: Is there much competition in your trade?
Joy: No. This is kind of a dying profession. One reason is it's tough to find young people who want to be drillers. Like any profession where you get dirty, a lot of guys don't want to do it. There's also regulations, the journeyman hours needed to get licensed, and continuing education that's required.
S-R: What sort of person is best suited for this career?
Joy: Someone who likes a different challenge every day.
S-R: Is drilling lucrative?
Joy: You can do as well at this as at anything. Cheryl and I pay ourselves a salary, and put everything else back into the company.
S-R: Last year, the Washington Supreme Court issued the so-called Hirst decision, which said new development can't diminish water supplies to senior right-holders, or cause stream flows to drop below environmental targets set by the state. The ruling prompted a stampede of drilling permit applications in Spokane County before the ruling took effect last Oct. 27. Did that affect your business?
Joy: At first we weren't sure how it would impact our business, so we got licensed to drill in Idaho. But it's turned out we are extremely busy in Washington. We had a record year in 2016, and this year will be even better. Before Hirst, customers would call and their first question was, "How much does it cost?" Since Hirst, their first question is, "How far out are you?"
S-R: What do you tell them?
Joy: Right now, we're booked out a year, but things can change in a hurry. We encourage people to get in line and hope for the best.
S-R: What do you consider your territory?
Joy: We'll drill anywhere within a 100-mile radius of Newport. Pend Oreille and Stevens County aren't bound by the Hirst decision because they're low-growth areas. But people there are worried restrictions will come sooner or later.
S-R: When are you busiest?
Joy: Summer.
S-R: What's a typical workday?
Joy: It's not unusual for Cheryl and me to work 14 to 16 hours – her in the office, and me in the field with a helper.
S-R: What do you like most about your job?
Joy: Being my own boss, and learning something new almost every day.
S-R: Any downside to owning your own company?
Joy: Everything is more urgent. I can't just go home and forget about it.
S-R: You don't have a 12-year-old grandson eager to take charge?
Joy: Well, we have 17 grandchildren, and they're getting up there. But I'm not sure what the insurance company would say about it.
S-R: Are there any common misperceptions about your business?
Joy: People assume our rigs are the size of pickups and think we just punch a hole in the ground and water comes gushing out. They don't realize how complicated this is until they see it done.
S-R: What's the mood of clients as they watch you drill?
Joy: Apprehensive. One guy said it's like standing there tossing $100 bills down a hole.
S-R: What do you tell them?
Joy: I say whether you think you're a gambler or not, you gamble when you drill a well.
Writer Michael Guilfoil can be contacted at mguilfoil@comcast.net.
Local journalism is essential.
Give directly to The Spokesman-Review's Northwest Passages community forums series -- which helps to offset the costs of several reporter and editor positions at the newspaper -- by using the easy options below. Gifts processed in this system are not tax deductible, but are predominately used to help meet the local financial requirements needed to receive national matching-grant funds.
Subscribe now to get breaking news alerts in your email inbox
Get breaking news delivered to your inbox as it happens.
---