A&E > Books
Pie & Whiskey: One part pie, one part whiskey, one part literature is a recipe for a fun night
Sun., Oct. 22, 2017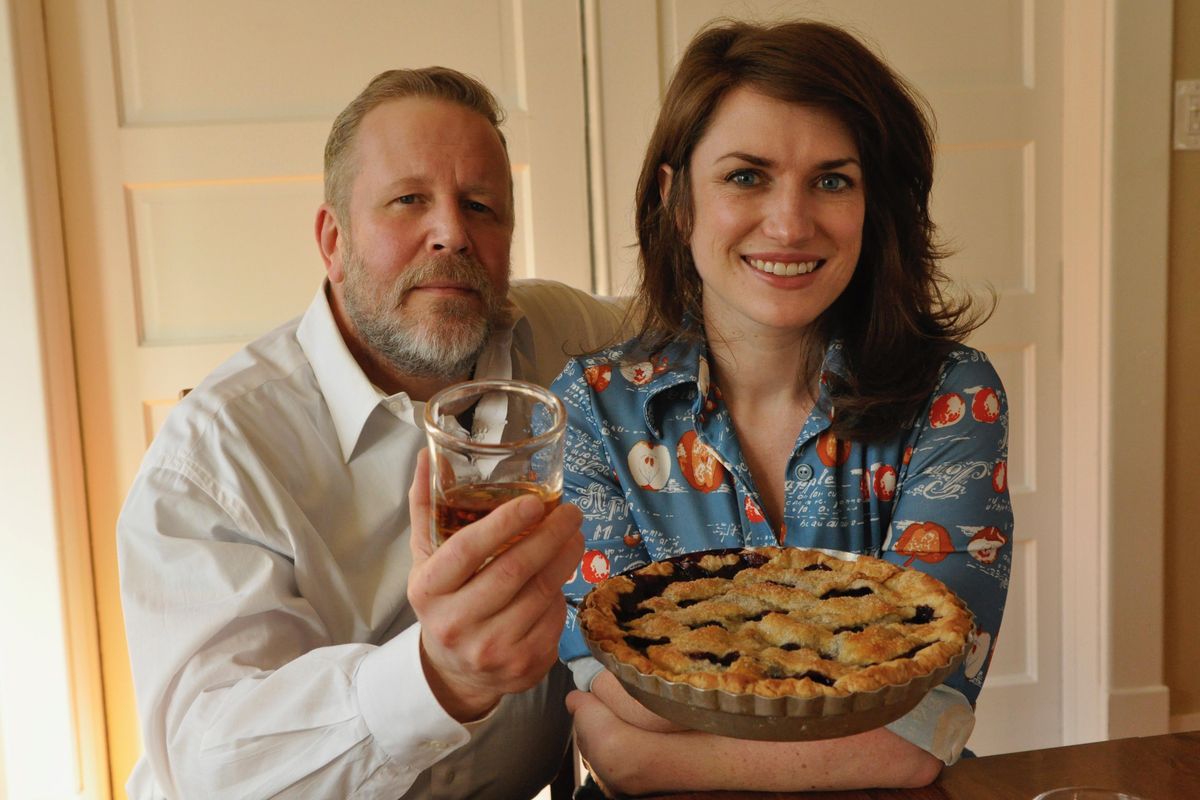 Sam Ligon and Kate Lebo have created the beloved Spokane literary event Pie & Whiskey. Now it's a book, and is being celebrated with an evening of - you guessed it - pie and whiskey. (Courtesy photo)
Her father made pies. Or he owned the corporation that did, anyway. Every convenience store carried them: Heavenly Peach, Heavenly Lemon, Heavenly Cherry Berry. Twice as Nice in Paradise. They came in four-ounce double-serving portions sealed in jade-green wrappers, and the H in Heavenly was drawn like a hurdle with a winged pie flying over the crossbar.
– "Heavenly Pies," by Anthony Doerr
Kate Lebo has done the math. Figured out the geometry. Knows that 12 half-sheet pans of pie – roughly 2,700 square inches of butter, flour, salt, sugar and fruit – will be enough to feed 300 people.
No more circular pies for her. Rectangular slab pie is the way to go when you're feeding a crowd. Same amount of ingredients can feed bigger pieces to 25 percent more people.
It's like magic, in the way that math and geometry can seem like magic.
Sam Ligon, meanwhile, has the booze part dialed in: 24 bottles of Dry Fly whiskey – two cases donated by the distillery's owner, Don Poffenroth – will pour 384 shots of golden, throat-warming alcohol.
It is in many ways a perfect match. Pie is Sunday school and light and sweet and happiness. Whiskey is strong and smooth, and a little devilish, not churchy in the least.
Throw in some words stitched together by some of the region's best writers – writers under the influence of butter and booze, as they say – and it's a recipe for a night of literary celebration.
But pie crust's like skin, both salt and sweety, / and the word whiskey derives from aqua vitae. / That's the water of life, friends, and it's fierce and strong, / and the crust makes pie perfect, if I'm not wrong.
–"Pie and Whiskey," by Robert Wrigley
Typically, Pie & Whiskey is a spring thing, held annually in April in conjunction with the Get Lit festival. But 2017 demanded two Pie & Whiskeys. A fall one, set for Thursday night, is to mark something special: The release of "Pie & Whiskey," the book.
Featuring a handful of the super-short works created for previous editions of Pie & Whiskey, the book is divided into eight chapters – like there are eight slices in a pie, Lebo pointed out. Each chapter features four works created for earlier editions of Pie & Whiskey by writers such as Anthony Doerr, Kim Barnes, Shawn Vestal, Thom Caraway, Rachel Toor and Nance Van Wickel. Lebo and Ligon each wrote a new long piece, and they commissioned six others, from Robert Lopez, Steve Almond, Jess Walter, J. Robert Lennon, Sherrie Flick and Nina Mukerjee Furstenau. Each section also includes a pie recipe from Lebo, and a whiskey cocktail recipe created by Ligon.
Each year, there's a chapbook of the evening's works, so attendees can come away with copies of the stories they've heard.
"Pie & Whiskey is three fantastic hours in the night, and at the end you get this (chapbook) to take away from it, and the rest is ephemeral," Lebo said.
Taking the pieces from the previous chapbooks is a natural next step for a project that inspires the creation of so much good writing. The book, a hardback edition from Sasquatch Books meant to evoke a old-school grammar book, comes out on Tuesday and will sell for $19.95.
Finding the right mix of pieces from a pool of more than 100 was a challenge. Especially since the pool was so deep.
"We were surprised by the quality of the work that came in," Ligon said. "We knew the writers were good, we only picked writers who were good, whose work we liked. But maybe because of the chapbook or maybe just because of who they are, they gave us work that was surprising in how strong it was, both on the page and on the stage."
Most of the writers are from Spokane or the surrounding area. And even though there are writers from Idaho and Kansas and Pennsylvania and elsewhere, "Pie & Whiskey" is very much a Spokane thing.
"It really is like a cool Whitman Sampler," Walter said. "You can read around and pull out a great poem or a wonderful story. Sam's recipes are just hilarious. And Kate's essays are terrific. It's fun to sample the whole thing."
The square root of whiskey is water.
– "Story Problems," by Maya Zeller
Both Ligon and Lebo are writers. He teaches in Eastern Washington University's MFA program and is the author of two novels, "Among the Dead and Dreaming," and "Safe in Heaven, Dead," and the story collections "Wonderland" and "Drift and Swerve." She is a baker and author of "Pie School" and "A Commonplace Book of Pie."
Pie & Whiskey, the event, was conceived at the Port Townsend Writers Conference, when Lebo and Ligon started baking pie and serving drinks for their friends.
When "The Commonplace Book of Pie," was released, the idea of a pie-and-whiskey themed reading crystallized. There was also an element of making author readings more fun. Booze seems like an obvious choice to loosen thing up, and who doesn't like pie, right?
The first Pie & Whiskey was born in April 2012 as a late-night party featuring the authors participating in Get Lit. Those participating writers were asked to bring a short work that evokes both pie and whiskey, and read it aloud in five minutes or less.
The night was an immediate hit. "It was gigantic," Ligon said. "We had 10 pies and six fifths, and we ran out of everything almost immediately. I thought everybody was going to leave, but they didn't leave."
Pie & Whiskey has a reputation for being a rambunctious night. The stories are often funny, but can be heartbreaking. Aimed at a strictly grown-up crowd – the presence of booze keeps it to 21 and older only – Pie & Whiskey is certainly R rated. There are stories about sex and language that might make some blush. There can be darkness as well.
Still, the night typically draws a diverse crowd, Lebo and Ligon said. Women in their 80s. Ranchers. Book people. Others who like pie, or whiskey, or pie and whiskey.
"Here is a chance for people to come together, to let off some steam, be together, have a good time, then go out and go back to work the next day," Lebo said. "Pie and whiskey are substances that everybody likes. In these polarized times, these are things we can all agree on."
Most importantly, "It's a reading that isn't boring," Ligon said.
For writers, there's a lot of appeal to this free-wheeling night of literature.
"It really just shows how fun readings can be and how fun literature can be," said Walter, who is one of only three writers to have read at every Spokane Pie & Whiskey, along with Lebo and Ligon. "Sam and Kate from the beginning have done a good job of giving it a nice rowdy feel."
He added, "I've been telling my friends in (Portland and Seattle) and in New York about how great this event is."
And please pour me two drafts / of Skip-in-My-Step and a shot of What-Matters-Most / with a twist of No-Wisdom, No-Regret, No-Gotta-Be, / and to finish, something smooth yet harsh, a whiskey/ to sip slowly with eyes closed, warm as the womb.
– "Happy Hour," by Tod Marshall
Those who attend the book launch on Thursday can expect some surprises.
First is an addition to the pie and whiskey menu: Chocolate Pecan Pie Whiskey Shots inspired by Walter's story, "Whiskey Pie." Or, rather, inspired by the pecan pie in the story spiked with so much whiskey it refused to set. Lebo developed the recipe with assistance from Mika Maloney of Batch Bakeshop, where Lebo bakes all the pies for Pie & Whiskey.
A Chocolate Pecan Pie Whiskey Shot is a caramel cup painted with chocolate and dipped in pecans. Drink your whiskey then eat the glass.
"Those are unbelievable," Ligon said. "It's fantastic."
Walter joked, "I feel like my great contribution to literature is an actual whiskey shot pie. Whatever else I do is nothing compared to that."
Lebo generally doesn't decide on the pie flavors until just before the event. She has a freezer stocked with tart cherries, huckleberries, plums and apples from Green Bluff. She knows she'll make one recipe from the book, Raspberry Walnut Mascarpone Hand Pie, converted to the slab format.
Also, don't expect Walter to read from "Whiskey Pie" or his other story featured in "Pie & Whiskey," called "Cross the Woods." He's told those stories to Spokane before. So he's written three new ones, and will read one of them on Thursday. Ligon said Walter writes pie and whiskey stories as a palate cleanser.
Walter doesn't disagree. "When I get stuck, I keep writing them," he said with a laugh.
Also expected to make its Pie & Whiskey debut is Tod Marshall's poem, "Happy Hour," despite the fact it was featured in the chapbook for the first event in 2012.
"The first Pie & Whiskey, Tod walked into the room and he goes, 'Hey, I'm going to read something else," Ligon recalled. "And I'm like, 'No, you're not.' What are you talking about?"
As Ligon tells it, Marshall – now Washington's poet laureate – read this " 'Howl'-length poem, 600 lines," instead of the 14-line piece he'd submitted called "Happy Hour."
"Happy Hour," incidentally, made the book. The question remains: Will Marshall read it Thursday?
"We hope so!" Lebo and Ligon say in unison, and Ligon added, "because I've never heard him read it."
Some people remember their granny making this pie with raisins only, and some remember it as sour cream and raisin with a layer of meringue. I found a recipe that calls for a raisin layer with a vanilla pudding layer on top, and another asked me to chop the raisins in a food processor so they'd make a smoother custard. All attempts to gussy up this pie failed to make it taste better.
– "Funeral Pie," by Kate Lebo
There's a rumor that persists that this will mark the end of Pie & Whiskey.
Not true, say Lebo and Ligon. So if you hear one or both of them say at the end of the night, "Oh, we're never doing this again," know it's the exhausting talking. They don't mean it.
"Now it's an institution that seems to have its own energy," Ligon said. "We've gotten so much support from the community that we can do things to make it easier for us."
Pie & Whiskey is such an institution, that it's spreading. They've already done it in Missoula three times, baking pies in a three-story walk up above Shakespeare & Co. bookstore. To coincide with the book launch, they're taking Pie & Whiskey on the road for a Pie & Whiskey brunch ("Why not?," Lebo asked) in Portland on Nov. 12, in conjunction with Wordstock, and to Seattle's Washington Hall on Nov. 15. "And we're bringing Spokane with us," Ligon said. Walter and Vestal will read at both Seattle and Portland, and Marshall will stop by the Seattle event.
Plans are in the works for Pie & Whiskey: New York City, and Ligon said they think it would be great to take it to places like Pittsburgh and Providence, Rhode Island, and Omaha, Nebraska – "cities that are hungry and cool and not insanely full of themselves."
Local journalism is essential.
Give directly to The Spokesman-Review's Northwest Passages community forums series -- which helps to offset the costs of several reporter and editor positions at the newspaper -- by using the easy options below. Gifts processed in this system are not tax deductible, but are predominately used to help meet the local financial requirements needed to receive national matching-grant funds.
Subscribe to the Spokane7 email newsletter
Get the day's top entertainment headlines delivered to your inbox every morning.
---