Sports > Outdoors
The hunt: First-time hunter, 45, bags trophy buck with first shot
Sun., Oct. 22, 2017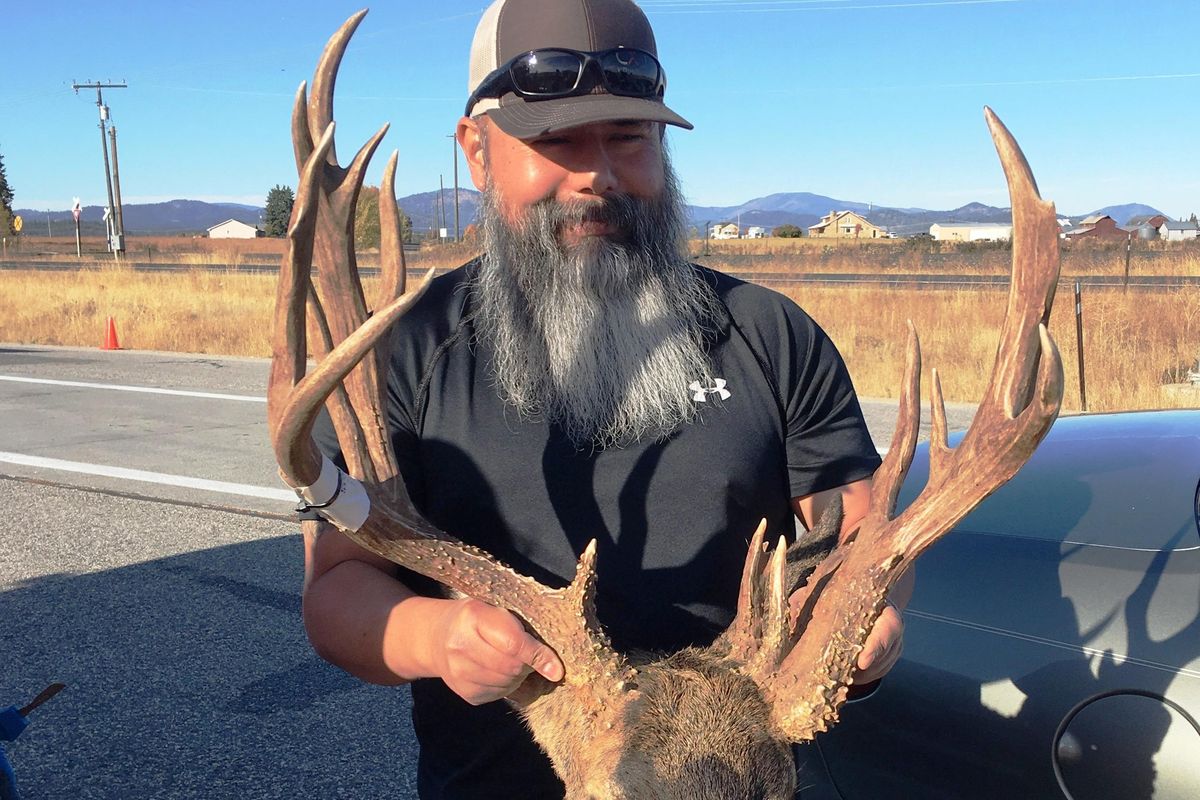 Michael Zavala dropped a trophy buck on his first shot during his first-ever hunt. (WASHINGTON FISH AND WILDLIFE DEPARTMENT)
While most deer hunters devote years to bagging the buck of their dreams, Michael Zavala dropped a trophy with his first shot – that is, his first shot ever at a deer.
"I've wanted to hunt since I was a little boy, and this was my first opportunity," said Zavala, 45, who moved to Eastern Washington recently from southern California and bought property in the Nine Mile area.
"It's the biggest mule deer buck I've ever seen come through our (Deer Park) check station in more than 20 years I've been around," said Dana Base, Washington Department of Fish and Wildlife biologist based in Colville. "We've probably had mule deer bucks with wider racks, but not with that many points. It was an 8 by 7."
Zavala spotted the buck on his property in August.
"I saw it lying down with two other bucks, all in full velvet," he said. "I thought, this is my chance."
He said he set up a game camera to monitor the buck's movements.
"My 7-year-old daughter would help pick apples to put down for him from our apple tree," he said.
While banned in Idaho and many other states, baiting is a legal method of hunting deer in Washington.
In mid-September, the buck would disappear and wouldn't come around for days.
"I had many sleepless nights thinking a bowhunter got him or a poacher," Zavala said, noting that he had to wait for the Oct. 14 opening of the modern rifle deer season.
Meanwhile, he befriended Tim Farrand, a local experienced hunter and a co-worker who helped Zavala buy a hunting rifle and zero in the scope.
"When I told him about my passion for hunting, Tim said he would take me under his wing and teach me what I needed to know," Zavala said.
The closest Zavala had been to hunting was watching videos, he said.
"I'd been practicing all along and on opening day, I was by myself on my property, but the buck didn't show up," he said. "On the second day, it did.
"I was prone when he showed up. I waited until he was within about 30 yards and got him with one shot."
Then Zavala was confronted with another first.
"I called Tim and he quickly drove out and guided me me through the process (of field dressing and caping the buck)," he said.
Base said it's rare for a buck to live long enough to achieve such size in the relatively well-populated areas of Mount Spokane Unit 124.
"But there are some places with limited access, allowing a buck like this to live to a ripe old age," he said.
Perhaps the previous property owners weren't hunters.
The buck was probably 6-to-8 years old, Base said.
"It had worn teeth, but we didn't do any cutting on the cheek because the hunter had it caped for mounting," he said.
An incisor tooth was pulled and sent to a lab for analysis, he said.
"We'll know next summer," he said.
Local journalism is essential.
Give directly to The Spokesman-Review's Northwest Passages community forums series -- which helps to offset the costs of several reporter and editor positions at the newspaper -- by using the easy options below. Gifts processed in this system are not tax deductible, but are predominately used to help meet the local financial requirements needed to receive national matching-grant funds.
Subscribe to the sports newsletter
Get the day's top sports headlines and breaking news delivered to your inbox by subscribing here.
---