News > Spokane
Getting There: New East Sprague transit stops cut bus 'dwell time'
Oct. 23, 2017 Updated Tue., Oct. 24, 2017 at 10:49 a.m.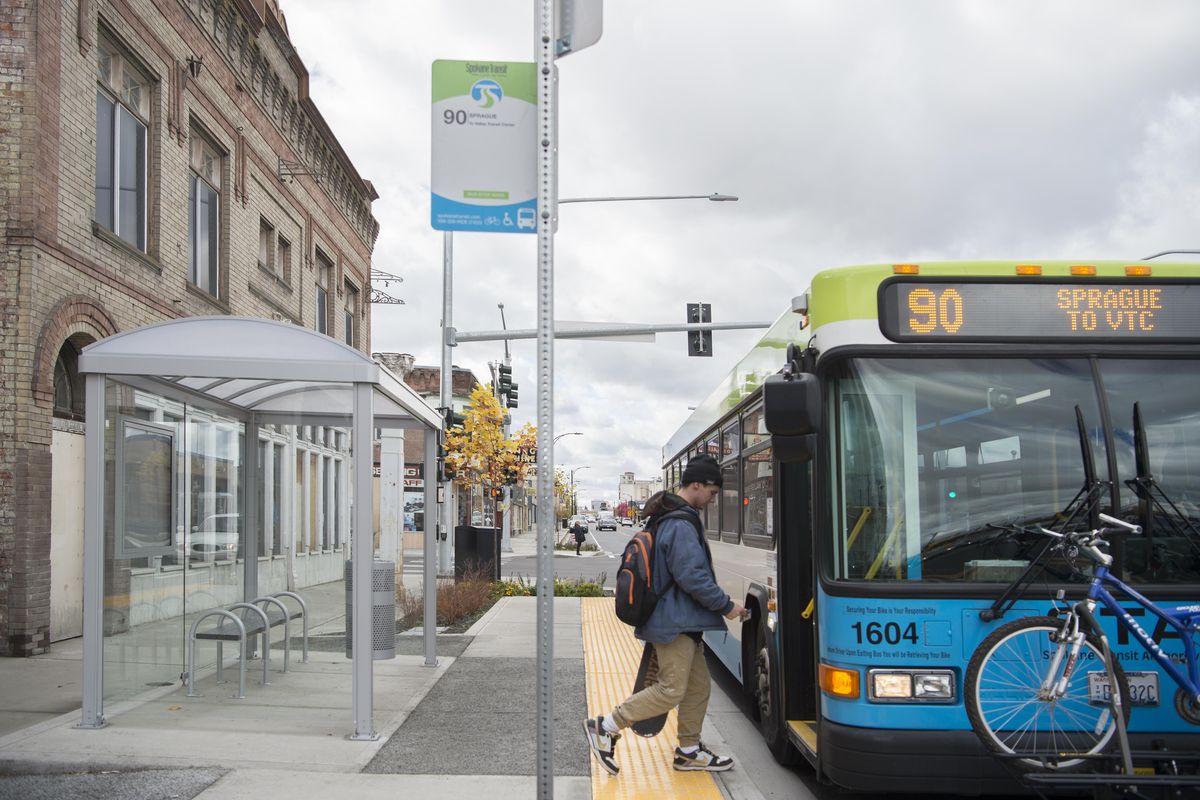 A passenger gets on an STA bus at the East Sprague Avenue bus stop at Napa Street Friday, Oct. 20, 2017. Buses stop in the lane of travel in the newly-completed traffic improvements on the stretch of Sprague that includes stops at Madelia and Napa. To minimize dwell time which blocks traffic, buses will now use both front and rear doors to load quickly during busy periods. (Jesse Tinsley / The Spokesman-Review)
The future's on East Sprague Avenue, and it's fast.
You may have seen them. The new transit stops on East Sprague, the glassy affairs sitting atop the high curbs. They look great, but it's what they're doing that has people at Spokane Transit Authority and the city excited.
By design alone, the stops have cut the "dwell time" for East Sprague's buses more than in half. In other words, the amount of time the bus is stopped with its doors open has been sliced in two.
Dwell time measures how long the doors are open at each stop, providing a set of data that is collected by STA's computer-aided dispatch and automatic vehicle location systems. In 2016, the three stops on East Sprague upgraded during the street's recent rehabilitation had a median dwell time of 34 seconds. In the first three weeks following the street's opening last month, the median dwell time plummeted to 12 seconds.
"It's a dramatic savings in time," said Karl Otterstrom, director of planning and development at the transit agency.
It's also a signal that STA's plan to revamp its "high performance transit" lines will bear fruit. In coming years, the system's busiest and most popular routes will begin to have transit stops that look like East Sprague's. This includes the Central City Line connecting Browne's Addition to Spokane Community College, as well as the Cheney route to Eastern Washington University and the West Plains Transit Center.
Perhaps most interesting is that the new stations are decreasing dwell time without even having usual key elements of high performance: allowing people to board at front and back doors, and requiring people to buy tickets at a kiosk before they board. Instead, the waiting time dropped so precipitously due to design of the stops. The high, 10-inch platform eliminates the need for the bus to kneel, the platform's long enough for people to comfortably and quickly exit from both back and front doors; and the bus stays in the lane of travel, letting it move as soon as passengers are aboard, without having to merge with traffic.
"The all-door boarding is the main objective," Otterstrom said. "That's where we'll see the biggest benefit."
For Otterstrom, it's all about "corridor performance" and efficiency of the route. But as he said, those translate into happy riders, and happy riders turn into increased ridership.
"We are seeing really significant savings and also improvements in reliability of the route, which is an important thing for our customers," he said.
Though the new stops are the work of STA, Otterstrom credits the city for its efforts toward collaboration in its integrated approach to street work. Such integration allowed the transit agency to build its stops soon after voters approved its ballot measure in November.
Three days after the STA measure passed, partly funding expansion of its high-performance routes, Otterstrom was at City Hall discussing STA's role in the city's street projects.
One project is the North Monroe renovation, which will see the new transit stops when its redesign and lane reduction are complete next fall.
The city has asked STA to include high-performance transit elements on Monroe when the street opens.
"We've asked STA to be ready with everything when Monroe is open," said Marlene Feist, director of strategic development for the Public Works and Utilities Department. "We want to see pre-ticketing and everything when Monroe is open."
Otterstrom said all-door boarding will be part of Monroe, but STA is just beginning a project looking at its overall fare system, part of which will work on upgrading the ticketing technology.
The Monroe project has created controversy among some business owners, who fear the eight-month construction project may impact their commerce and decry the loss of vehicle lanes. Some pushback has come from the lack of pull-outs for buses.
In the southbound direction, the three stops won't allow buses to leave the lane of travel. Going northbound, two of the three stops will have pull-outs for buses. One pull-out will be at Montgomery Avenue. Another will be at Dalton Avenue, but Feist said this is where a second lane for uphill traffic begins, effectively allowing the bus to pull out without impacting traffic. The stop at Grace Avenue will keep the bus midlane and in the lane of traffic.
The street redesign eliminates one pair of Monroe's four-pair configuration of bus stops.
Controversy over midlane stops reared up during Sprague's rehabilitation, when some business owners approached the city about designing pull-outs for buses over fear of causing traffic congestion. To address their concerns, the city designed the street with both possibilities, the high-performance stations and bus pull-outs.
"Ultimately, we concluded that the support was there for the original design" of keeping the buses in the vehicle lane, Feist said. "Where we would have considered a pull-out, it's now on-street parking."
Fears of Monroe's new design probably aren't going away, and there will surely be calls for pull-outs. But with STA's new numbers regarding the drastic drop in dwell time, the city has new reason to argue in favor of its plan.
Have a transportation question you want answered? Write nickd@spokesman.com.
In the city
Strong Road from Elm Street to Nettleton Court will be closed through Friday for paving work.
Portions of North Freya Street at Empire, Longfellow and Rich avenues will be closed for street maintenance and curb ramp installation.
Work to seal cracks on arterial roads continues, with work this week on East Montgomery Avenue, from Division to Ruby streets.
Crews will resume work to install sidewalk ramps on Assembly Street from Nine Mile Road to Winston Court. Drivers can expect obstructions.
Work to reduce the number of lanes on Crestline Street between Euclid and Francis avenues goes on. Southbound traffic is reduced to one lane between North Foothills Drive and Empire Avenue. When this work is done, crews will move to the northbound lanes from North Foothills to Empire, and eventually to the section from Empire to Wellesley Avenue. The $510,000 project will be complete in late fall and will include lane striping and sign installations.
Riverfront Park work goes on
Post at Spokane Falls Boulevard will be closed on Thursday to allow asphalt trucks to enter and exit the new ice ribbon location.
The right lane of Spokane Falls between Stevens and Wall streets will remain closed, but the center lane is planned to reopen Friday. The bike lane on the north edge of Spokane Falls is expected to reopen Nov. 17.
In the Valley
Single lane closures for utility work will impact traffic at North University Road and East Montgomery Drive; Indiana Avenue east of North Park; and Evergreen Road north of Wellesley.
Argonne Road between East Indiana and East Montgomery avenues will have intermittent road closures for a paving project Tuesday through Friday, from 7 p.m. to 5 a.m. Flaggers will be on-site.
A road and sewer project on North Barker Road at its intersection with Euclid Avenue has fully closed the road through Wednesday. Local access is available on Barker north and south of Euclid.
Euclid between Tschirley and Barker roads is still closed for a road and sewer project until Nov. 9. Detour signs are posted and local access varies depending on excavation location.
Coeur d'Alene seeks input on block grant dollars
The city of Coeur d'Alene wants input on how to spend federal dollars over the next five years. The city is building its 2018-23 Consolidated Plan, which will guide how it spends its allocation of Community Development Block Grant dollars, which is doled out by the federal Department of Housing and Urban Development.
The public participation workshops have been scheduled for noon on Nov. 2 at the Coeur d'Alene Library, 702 E. Front Ave.; and at 6 p.m. Nov. 30 at the Boys and Girls Club, 925 N. 15th St.
A final public hearing will be held before the City Council to present the Consolidated Plan goals, proposed activities, estimated annual funding the city expects to receive and the expected beneficiaries. It will be held at 6 p.m. Jan. 16 at the Coeur d'Alene Library.
Regional transportation plan open house
The Spokane Regional Transportation Council is holding an open house to discuss its long-range transportation plan, called Horizon 2040.
The plan sets forth how the area transportation system will develop between 2018 and 2040. The plan recently has been updated with new goals, strategies and programs. It includes $9.9 billion in projects.
The council is responsible for doling out federal funding for regional projects. It is federally required to update its long-range plan every four years. It bases its plan on projections for population growth, housing and jobs, and it looks at all modes of transportation, including private vehicles, public transit, bicycling, walking, freight movement, air and rail.
The open house will be from 4 to 6 p.m. Nov. 1 at the Paulsen Center, 421 W. Riverside Ave. Those interested can stop by anytime during those hours.
Editor's note: This article was changed on Monday, Oct. 23, 2017 to correct an error related to pre-board ticketing. That service is not currently available; the previous version indicated it was.
Local journalism is essential.
Give directly to The Spokesman-Review's Northwest Passages community forums series -- which helps to offset the costs of several reporter and editor positions at the newspaper -- by using the easy options below. Gifts processed in this system are not tax deductible, but are predominately used to help meet the local financial requirements needed to receive national matching-grant funds.
Subscribe now to get breaking news alerts in your email inbox
Get breaking news delivered to your inbox as it happens.
---