A&E > Books
Words to walk by: Former Spokane Valley resident Eric O'Grey releases book about his weight loss story
Mon., Oct. 23, 2017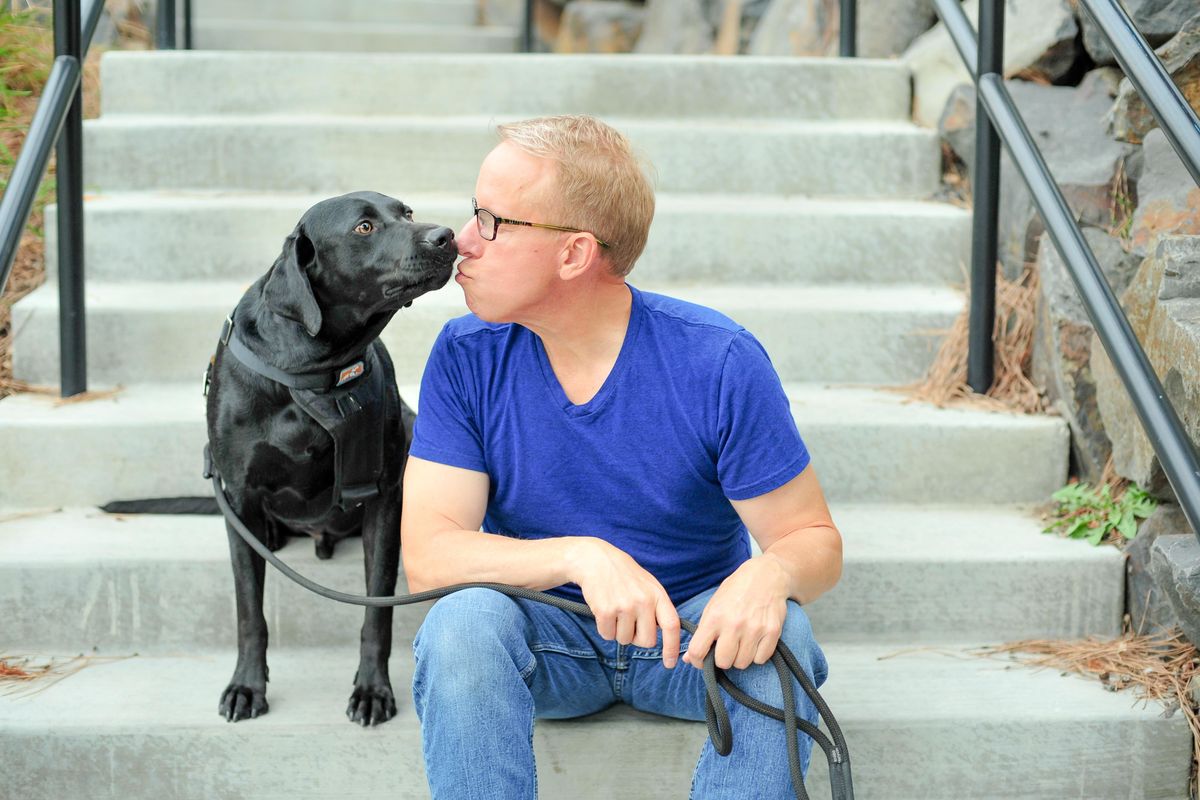 Eric O'Grey poses with his new rescue dog, Jake. (Vanessa Mathisen)
Eric O'Grey moved to Boise following the release of "Walking with Peety," which describes his transformation after adopting a shelter dog. But the book – his first – was "written entirely" while he lived in Spokane Valley.
O'Grey moved to the Inland Northwest from Seattle in late 2015 and filmed a 6-minute movie about Peety a month later. It went viral. And the book was born.
O'Grey partnered with New York Times best-selling author and former People magazine senior writer Mark Dagostino last year to write "Walking with Peety," which was released earlier this month. On Nov. 3, O'Grey will read excerpts during an appearance at Auntie's Bookstore in downtown Spokane.
O'Grey said he had "always wanted to write a book," but wasn't sure about how to begin let alone go about it. Working with Dagostino, he said, "really provided me with a world-class education on writing a book.
"I had sketched out a book proposal, but in my beginner thinking, I wrote it straight chronologically," O'Grey said. "Mark came in and mixed everything up, Quentin Tarantino-esque, and really brought the characters and scenes to life."
The book details some of the lowest points in his life, including a flight he took when he was 140 pounds overweight and was sitting in the middle seat. The plane was delayed while the airline tried to find a seat-belt big enough for him. The man seated next to him told O'Grey he was going to miss his connecting flight because O'Grey was "too fat."
O'Grey, who spent $1,000 a month on medications and had a 52-inch waist, was also depressed and reclusive. Following doctor's orders, he adopted a dog in 2010. Together, they went for walks, lost weight, found companionship and reclaimed their lives.
Along with Peety, O'Grey credits a plant-based diet for his transformation, which he discussed on "The Rachael Ray Show" last year and "Megyn Kelly Today" this month. Now, he's looking forward to being back in Spokane, where he narrated the audio book for "Walking with Peety" at Perfechter Recording & Music Publishing.
It's the aspect of the entire book-writing experience of which he's "most proud," he said. "I was given artistic license to narrate the book and so decided to read it dramatically, exactly as I remember the conversations and scenes from real life," said O'Grey, who recently married his high school sweetheart, Jaye, whom he coached through her own plant-based weight-loss.
Here's a quick Q&A catching up with O'Grey.
What has the response to the book been like so far?
The book was just released, but we are already getting some great reviews. I'm told it is difficult to get on ranking lists, such as the NY Times and Amazon lists, but I'm doing everything I can think of to try and stimulate interest in the book. We got some great early praise book jacket reviews from some really notable people. I'm told that "Walking with Peety" is a great holiday gift book and am hoping for a sales lift during the holidays.
How did you reconnect with Jaye? Where was she living and what was she doing when you re-met after all of these years?
Jaye and I were high school sweethearts and dated from the ages of 15 to 17. We lost touch for 40 years after I joined the Army at 17. She found me based on the "Eric & Peety" film, which was also filmed in Spokane and lead to my book. She was living in Reno when we reconnected and was managing a grocery store there. We are thrilled to be back together again and are very happy together.
What was it like to coach her through her own plant-based weight-loss journey?
Jaye and I got back together in September 2016, and by following the same plant-based nutrition and walking plan that I followed to lose my weight, she dropped from 197 pounds to 115 pounds in fewer than 10 months. She says she has never felt healthier or been happier, and that her weight loss felt fairly effortless. She also says, like me, that she prefers the new food she eats over her previous omnivore diet.
What are you up to now? What new projects, races, speaking engagements and media do you have in the works?
I took a few months off from running races based on all the activities involved in the book release. But now I'm back to registering for races. In addition to my recent appearances on the "Today Show" and People.com, I'm confirmed to be interviewed on the Hallmark Channel on Nov. 15. I have at least a few interviews scheduled each day, from websites, newspapers, magazines and radio stations for about the next month. I also have several speaking engagements scheduled through the end of year, including at Farm Sanctuary in New York for its Thanksgiving program.
What's your workout/exercise/running routine these days?
I'm running about 30 miles per week and supplementing that with basic gym workouts. I plan to scale that up to 50 miles per week or so again after the beginning of the new year.
Why move to Boise?
I was transferred to Boise by my employer, the Whirlpool Corporation. I loved Spokane, but at the present, writing and speaking are side gigs and in field sales, I must go where my employer needs me.
Local journalism is essential.
Give directly to The Spokesman-Review's Northwest Passages community forums series -- which helps to offset the costs of several reporter and editor positions at the newspaper -- by using the easy options below. Gifts processed in this system are not tax deductible, but are predominately used to help meet the local financial requirements needed to receive national matching-grant funds.
Subscribe to the Spokane7 email newsletter
Get the day's top entertainment headlines delivered to your inbox every morning.
---