A&E > Food
10 ways to (pumpkin) spice it up in and around Spokane this fall
Oct. 24, 2017 Updated Wed., Oct. 25, 2017 at 11:42 a.m.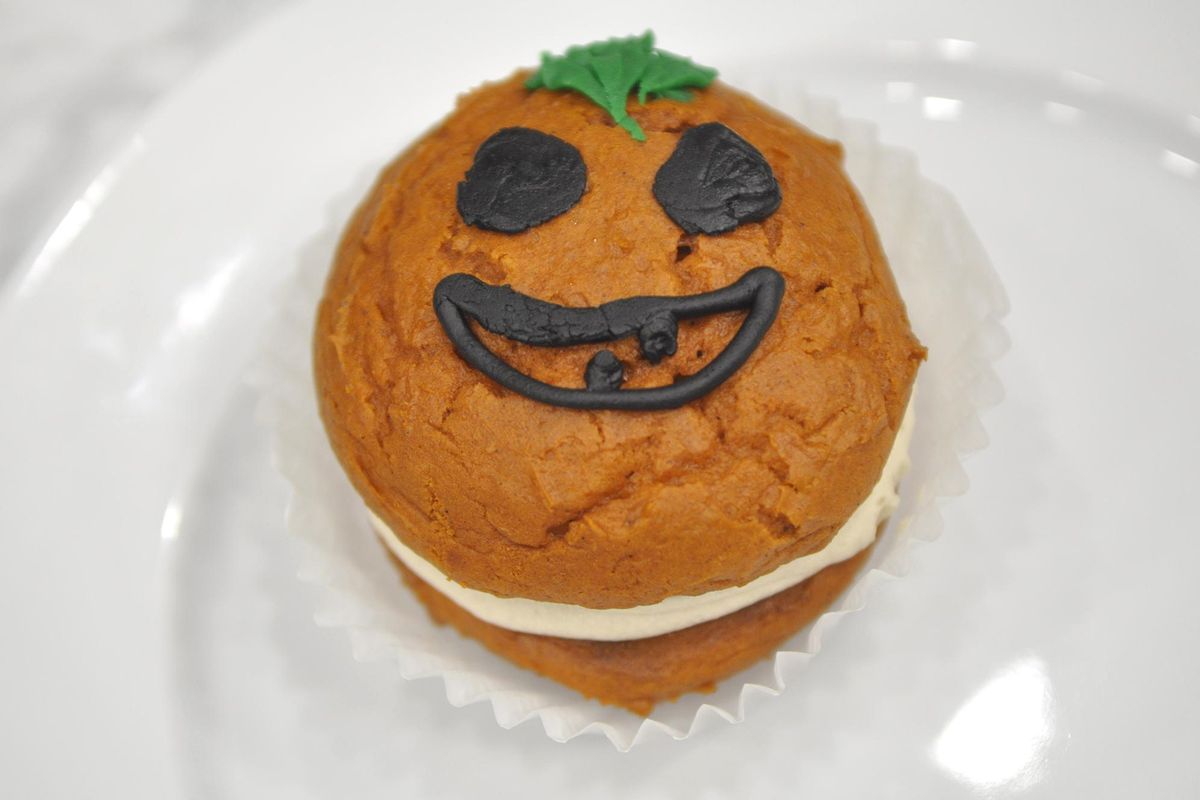 Doris Sandstrom of Doris Bakes created this pumpkin-spice whoopie pies last year. (Adriana Janovich / The Spokesman-Review)Buy a print of this photo
Classic warming spices offer a taste of home and Americana, evoking autumn along with nostalgia, coziness and holiday dinners.
They're the flavors and scents associated with Thanksgiving, pumpkin, pumpkin pie and now – love it or hate it – pumpkin spice.
That blend of cinnamon, nutmeg, ginger and allspice begins showing up on shelves and coffee shops at the end of August – when temperatures in Spokane hover in the mid- to upper 90s – and doesn't dissipate until the scents and flavors of Thanksgiving give way to the cool mint of Christmas.
The fad started with the Pumpkin Spice Latte, the Starbucks concoction that captured a cult following. It debuted in 2003 and is the chain's most popular seasonal drink. Today, @TheRealPSL has some 115,000 followers on Twitter. And that blend of warming spice – or some synthetic version of it – can be found in products from ice cream and pancake mix to peanut butter – even potato chips.
"As soon as you hear pumpkin spice, you think 'fall' right away," said Ella Piskun, who owns miFlavour bakery with her husband, Max. "It just tastes good."
Pumpkin spice has proven it has staying power, even as it's sparked headlines, debate, jokes, criticism, commentary, stigma and even stigma about that stigma. Despite its popularity, the iconic fall flavor is sometimes disparagingly described as "basic."
Meanwhile, on supermarket shelves, there are Pumpkin & Spice Triscuits, Pumpkin Spice Twinkies, Jet-Puffed Pumpkin Spice Mallows, Pumpkin Spice Latte Flavored Peeps, Pumpkin Spice Mini Wheats, Pumpkin Spice Lindor Truffles, Pumpkin Spice Chobani Greek Yogurt, Pumpkin Spice Cheerios, and Pepperidge Farm Milano Pumpkin Spice Cookies.
Look, also, for pumpkin-spice tea, beer, bread, bagels, baking chips, tortilla chips, chicken sausage, apple cider, kettle corn, biscotti, granola, gum, roasted nuts, even candles, deodorant and air fresheners. (Earlier this month, pumpkin spice made headlines when a Baltimore high school was evacuated because of a "strange odor." The source of that smell turned out to be an aerosol plug-in pumpkin-spice air freshener.)
It wasn't always this way. There was a time in the not-so-distant past when pumpkin spice simply meant pie on Thanksgiving at Grandma's. The blend was popularized in the 1950s, when McCormick combined ginger, allspice, nutmeg and cinnamon marketed it as "pumpkin pie spice." It was originally meant for flavoring, as its name suggests, pies.
Today, McCormick's webpage encourages sprinkling the spice blend "on roasted vegetables including sweet potatoes, carrots or acorn squash."
Spokane barista Joaquin Levitt makes his own. "It's fall in a cup," he said. "It reminds me of Grandma's Thanksgivings, where she made everything."
Pumpkin spice pulls on our heartstrings – our purse strings, too. Sales of pumpkin-flavored products are slated to soar to $414 million this year, according to estimates from the market-research firm Nielson Holdings, which tracks what consumers buy. That's 6 percent higher than last fall and a record high. But it's less growth than last year and the year before that, which each saw increases of 10 percent.
People pay more for pumpkin-spice products. According to MagnifyMoney, which analyzed some 200 pumpkin-spice items, consumers shell out an average of almost 8 percent more for anything pumpkin-spiced compared to regular versions of the same products. Some so-called "pumpkin spice taxes," run as much as 133 percent.
We did a quick look-around and found some Spokane-area businesses who are on board with the pumpkin spice trend. Here are a few of the beverages, pastries and other goodies we found.
Pumpkin Spice Latte at &Kup
Levitt, the sole barista at this coffee shop tucked just inside the front door of the downtown boutique &Kloth, grinds the organic spices for his pumpkin spice syrup in-house. "That's the key," he said. "You need to grind them yourself. That's where all the flavor comes from." He also uses organic pumpkin puree. And he makes his simple syrup with raw, organic sugar. He lets that entire mixture – with allspice, cinnamon, nutmeg, cloves, vanilla bean and fresh ginger – simmer for about 8 to 10 minutes. "It's super simple," he said. But, "There's a mile of difference between (artificial) pumpkin-spice flavor and real pumpkin spice." His expects to have his house-made pumpkin-spice syrup available through the end of November. 875 W. Main Ave. (509) 290-6821. andkloth.com/kup/
Pumpkin-shaped pumpkin-spice "Merigold" macarons from miFlavour
Piskun uses organic pumpkin puree in the scratch-made butter cream that fills these meringue rounds, spiced with cinnamon, ginger, nutmeg and cloves. She cooks down the pumpkin with brown sugar before adding it to the creamy filling that's gently sweet but not cloying. The flavor is subtle; the texture, exceptional – crispy on the outside, chewy in the center. Piskun hand-pipes the meringue onto baking sheets in sections, letting each segment dry about 15 minutes before adding layers to get the look of the pumpkin just right. She uses royal icing for the leaf and vines and fondant to make the stem. French macarons are one of the specialties at miFlavour. Since launching their online bakery in January, they have expanded, adding wholesale orders to their web-based retail business. These pumpkin-spice macarons are available at Huckleberry's, Rocket Market, &Kup coffee shop and My Fresh Basket through Thanksgiving. Orders can also be placed online at miflavour.com. (509) 426-5596.
Pumpkin-Spice Whoopie Pies from Doris Bakes
Doris Sandstrom of Doris Bakes decorates her pumpkin-spice whoopie pies to look like jack-o'-lanterns. "I think it's more fun," she said. She uses real pumpkin as well as the pumpkin-spice blend from Trader Joe's along with a little food coloring "so it gets more orange." The filling is cream cheese with maple extract. "Nobody here really sells whoopie pies," said Sandstrom, who's been baking professionally for eight years, including one year in Coeur d'Alene. Originally from Germany, she moved to North Idaho from California last year. "I made (pumpkin-spice whoopie pies) for the first time last year and people just loved them. I can't bake them quick enough." Find them at the Culinary Stone, Coeur d'Alene Coffee Co. and Caruso's Sandwich and Artisan Pizza. The Culinary Stone is at 2129 Main St., at Riverstone in Coeur d'Alene. (208) 277-4116. Coeur d'Alene Coffee Co. is at 418. E. Lakeside Ave. in Coeur d'Alane. Caruso's has three locations. Find them at carusosandco.com.
Pumpkin Waffle with Chai "Butter" at Boots Bakery and Lounge
The gently spiced pumpkin waffle – warm, delicate, available all year – at this vegan and gluten-free bakery enjoys a cult following. People line up weekend mornings for this brunch delight. 24 W. Main Ave. (509) 703-7223. bootsbakery.com.
Pumpkin-chai cupcake at Sweet Frostings Blissful Bakeshop
The early bird gets the pumpkin-chai cupcake at this locally owned bakery, with three locations. On a recent afternoon, the special fall flavor was sold out. This time of year, the rotating daily baker's special at Sweet Frostings might be pumpkin chai or pumpkin spice or pumpkin pie. Customers can always call ahead to see which one of those cupcake flavors is the special that day – or to make sure it hasn't already sold out. http://www.sweetfrostingsbakeshop.com/
Pumpkin Cheesecake Swirl Muffin from Celebrations Sweet Boutique
Creamy swirls break up the spongy cake-like texture of these subtly-flavored and gently sweet moist pumpkin muffins. Find them at the two Celebrations locations and the new Lilac City Bakery in the University District as well as Wake Up Call Fine Coffee and Espresso shops throughout the region. Celebrations is at 713 W. Garland Ave. (509) 327-3471. Celebrations in Spokane Valley is at 315 S. Sullivan Road. (509) 315-5973. Lilac City Bakery opened Friday at 1215 N. Ruby St. For Wake Up Call locations, visit www.wakeupcoffee.biz/locations.php.
Pumpkin cake and pumpkin cheesecake at Just American Desserts
Since 1986, pastry chef and baker Eva Roberts has been specializing in celebration cakes, including seasonal favorites such as pumpkin. Her version features a hint of warming spices. Same goes for her pumpkin cheesecake. She also has a favorite offering for those who enjoy warming spices but not pumpkin. Humbles are the bakeshop's signature soft cookie. The top-selling, gently sweet spiced cookie offers a taste of autumn without the orange fruit that has come to symbolize it. Humbles are topped with white vanilla icing. Just American Desserts has three locations. Find them online at http://www.justamericandesserts.net/.
Pumpkin doughnuts, multiple locations
Loyal customers wait in long lines for these treats at Beck's Harvest House in Green Bluff, where the Fall Harvest Festival is an annual tradition and the World Famous Pumpkin Donuts are trademarked. Waiting a half hour or 45 minutes for freshly made, still-warm creations on a busy fall weekend is not unusual – they enjoy that much of a following. At Retro Doughnuts, look for an old-fashioned, sour cream cake doughnut spiced with cinnamon, cloves and ginger and made with real pumpkin. Toppings include cinnamon and sugar, Madagascar vanilla-bean glaze and cream-cheese icing. "They're amazing," said proprietor Jon Fine. "We can hardly keep them in. We make them, and they keep disappearing. We're selling several dozen a day." He plans to keep them available until the Wednesday before Thanksgiving. Casual Friday Donuts also offers seasonal pumpkin-spice doughnuts made with real pumpkin. Its pumpkin doughnuts come glazed, dipped in cinnamon sugar and with chocolate-vanilla swirl icing. Beck's Harvest house is at 9919 E. Green Bluff Road. (509) 238-6970. Retro Doughnuts is at 10925 N. Newport Highway. (509) 315-9502. Casual Friday Donuts is at 3402 N. Division St. (509) 328-1764.
Ice cream, multiple locations
The Scoop on Spokane's South Hill is famous for its ice cream-making method: using liquid nitrogen to flash freeze ingredients. The Scoop uses as few as possible – no preservatives, gum, egg yolk or other stabilizers or emulsifiers. This time of year, look for pumpkin cheesecake, pumpkin spice cookie made with pumpkin pie ice cream and speculoos cookies, and pumpkin pecan pie. Ice cream-makers toss an entire pecan pie into the pumpkin pie ice cream base to make it. Like The Scoop, Sweet Annie's Artisan Creamery also makes ice cream in small batches. Sweet Annie's uses dairy products from the 100-percent grass-fed Pure Eire Dairy and Creamery in Othello. Its autumnal offering is spiced pumpkin. Pints are available at Rocket Market and My Fresh Basket. Brain Freeze Creamery has two locations in Spokane – and a bunch of seasonal pumpkin ice creams. Look for pumpkin, pumpkin caramel, pumpkin cheesecake, pumpkin pie and pumpkin spice latte. In Coeur d'Alene, Abi's Artisan Ice Cream makes a gluten-free pumpkin pie offering. The Scoop is at 1001 W. 25th Ave. (509) 535-7171. http://www.thescoopspokane.com/. Brain Freeze is at 1238 W. Summit Parkway in Kendall Yards. (509) 321-7569. On Spokane's South Hill, find Brain Freeze at 1230 S. Grand Blvd. (509) 309-3830. brainfreezecreamery.com. Find Sweet Annie's online at anniesicecreams.com. Abi's is at 112 N. Fourth St. in Coeur d'Alene. (208) 930-0699. abisicecream.com
More macarons, multiple locations
Traditional French macarons, those charmingly chubby sandwich cookies with a crisp shell and chewy interior, are made from almond flour and whipped egg whites. Patricia Hebert Jenks, a professional baker who was born and raised in Normandie and moved to Coeur d'Alene from Paris, puts a hint of warming spices in her pumpkin macaron shells. "I shouldn't tell you this," she said. "The rule in real macarons is you color the shells and the flavor comes from the filling, not the shells. But I think it's interesting to give some flavor to the shells." She debuted her pumpkin spice macaron earlier this month at the Culinary Stone in Coeur d'Alene. "I love my French flavors, to tell you the truth," said Hebert Jenks of Patricia Culinary Services. "But I also try to understand where I live and what people like, so I thought, 'I'm going to try pumpkin spice macarons.' We don't do that in France, you know. But I'm willing to adapt to American culture, and I know what people like: seasonal flavors. They're very attached to them." Sweet Frostings Blissful Bakeshop offers three spiced pumpkin macarons: pumpkin pie, pumpkin spice and pumpkin spice latte. The latter includes espresso butter cream. Common Crumb provides two kinds: pumpkin spice latte and pumpkin cheesecake. All offer a melt-in-your-mouth, cloud-like quality. But the entire experience is over in about two bites. Might want to buy several rounds. For Sweet Frostings locations, visit sweetfrostingsbakeshop.com. Common Crumb is at 19 W. Main Ave. (509) 315-4948. commoncrumb.com. Culinary Stone is at 2129 Main St. in Coeur d'Alene. (208) 277-4116. culinarystone.com.
Local journalism is essential.
Give directly to The Spokesman-Review's Northwest Passages community forums series -- which helps to offset the costs of several reporter and editor positions at the newspaper -- by using the easy options below. Gifts processed in this system are not tax deductible, but are predominately used to help meet the local financial requirements needed to receive national matching-grant funds.
Subscribe to the Spokane7 email newsletter
Get the day's top entertainment headlines delivered to your inbox every morning.
---