News > Business
GSI's 2-inch-thick proposal for Amazon HQ2 emphasizes Spokane's 'talent pipeline'
Oct. 24, 2017 Updated Wed., Oct. 25, 2017 at 9:41 a.m.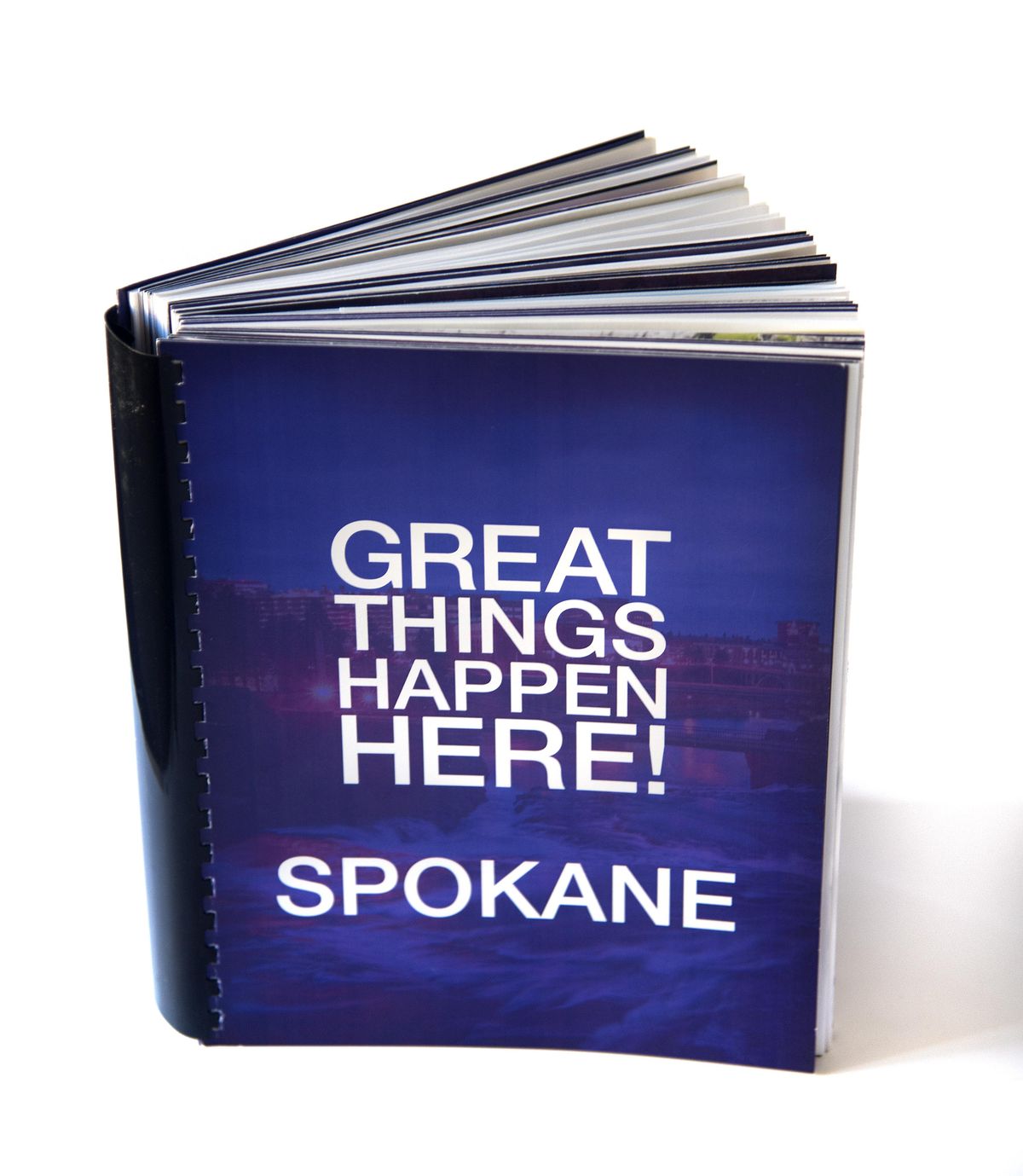 Greater Spokane Incorporated's proposal to to Amazon. (Dan Pelle / The Spokesman-Review)
Spokane's business leaders played up the area's colleges and universities as a "talent pipeline" in their pitch for Amazon's second headquarters.
About 65,000 students attend a college or university within a short drive of Spokane. Coupled with computer science programs at local high schools, the Spokane area can make a strong case for its ability to train the tech workers Amazon would require, said Todd Mielke, CEO of Greater Spokane Incorporated.
"When you look at the near-term workforce of 65,000 students being produced in the Spokane market, and the next generation of workers, that's one thing that really stands out," he said.
Spokane was among 238 metro areas in the U.S., Canada and Mexico that sent proposals to Amazon last week. The e-commerce retailer announced in September that it was looking for a second headquarters site, which Amazon officials said would be equal to its existing Seattle headquarters. The company expects to make a decision next year.
The chance to land 50,000 new jobs over 15 years and $5 billion in capital investment is considered the ultimate economic development sweepstakes, despite the growing pains that landing Amazon would bring to any community. In Seattle, Amazon's rapid growth is blamed for contributing to skyrocketing housing prices and high rents.
When asked whether he thought Amazon would give serious consideration to the Spokane area for a second headquarters, Mielke replied, "I have no idea."
"They believe they have saturated the commercial property market in central Puget Sound," he said. "I think they believe they have saturated their ability to get talent in the Central Puget Sound market."
An Amazon executive was recently quoted as saying the company is unlikely to look to Washington for a second headquarters.
If geographic diversity is Amazon's goal, Toronto is often mentioned as a prospective headquarters site, Mielke said. A Canadian metro area also would allow Amazon to continue to attract top tech talent from around the world even if the U.S. clamps down on immigration, he said.
There's also speculation about Amazon looking for a different political environment, Mielke said. "The Seattle City Council is considered the most liberal and anti-business in the nation," he said.
But familiarity could be beneficial in the application process, Mielke said.
"Amazon knows Washington, they know the tax structure and they know how much their workers love the Pacific Northwest," he said.
GSI listed what it considers the area's strengths in the 2-inch-thick proposal and sought to mitigate areas where Spokane doesn't meet the company's criteria. Amazon's preferences include a metro area with a diverse population of 1 million or more; an international airport; mass transit; and government incentives.
While the Spokane metro area doesn't meet the 1 million population threshold, the Spokane-Coeur d'Alene Combined Statistical Area exceeds 700,000 and the population will continue to grow, Mielke said.
"When we look at projections over 15 years … … we get pretty darn close," he said.
The area also lacks a major airport and a mass transit system. The proposal plays up proximity to Seattle-Tacoma International Airport, which is a one-hour flight from Spokane, and a commute for most Spokane workers that is less than 30 minutes.
GSI listed five prospective sites for the new headquarters, all but one of which met Amazon's request for a minimum of 100 acres.
The proposal includes 280 acres at the Spokane International Airport and the 400-acre Freeway West Business Park, which is privately owned.
The 405-acre Crossroads development near Mead, which is owned by Kaiser Aluminum Corp., is in the proposal. So is an 88-acre parcel owned by Centenntial Properties near South Mirabeau Parkway, and Liberty Lake acreage that includes Greenstone Corp.'s Telido Station property and additional property owned by Centennial Properties.
Centennial Properties is a subsidiary of Cowles Co., which also owns The Spokesman-Review.
The proposal contains a confidential list of incentives offered by the state of Washington, which is prohibited by its constitution from giving or loaning money to companies to locate in Washington. But the Legislature can offer tax breaks and help companies pay for employee training. Local governments have the ability to expedite the permitting process and pay for infrastructure in the public right of way.
Compared to many urban areas, Spokane offers affordable housing and a lot of buying power for the average $100,000 salary Amazon is promising, Mielke said.
"Happy employees are productive employees," he said. "If (Amazon) brought those workers to Spokane, it would be like giving all of them a $35,000 raise."
This story was updated to correct Todd Mielke's title.
Local journalism is essential.
Give directly to The Spokesman-Review's Northwest Passages community forums series -- which helps to offset the costs of several reporter and editor positions at the newspaper -- by using the easy options below. Gifts processed in this system are not tax deductible, but are predominately used to help meet the local financial requirements needed to receive national matching-grant funds.
Subscribe now to get breaking news alerts in your email inbox
Get breaking news delivered to your inbox as it happens.
---