News > Spokane
Religion notebook: Watoto Children's Choir returning to area for two concerts
UPDATED: Wed., Oct. 25, 2017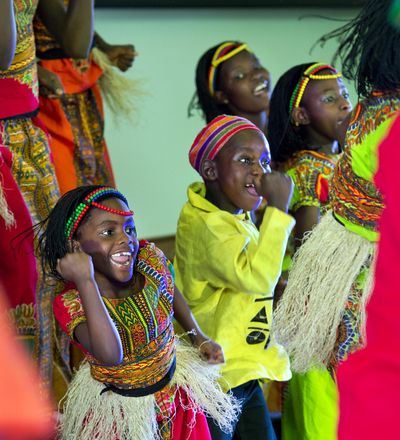 The stars of Watoto Children's Choir have grown up with poverty and loss. Each child has lost at least one parent to civil war or AIDS and is now living in a Watoto village: neighborhoods outside of Kampala, Uganda made up of children living in a family-style environment instead of institutions.
This weekend, the choir will perform in two locations in the Spokane area.
On Friday, it will perform at Prince of Peace Lutheran Church, 8441 N. Indian Trail Road, at 7 p.m.
Janet Robel, music director of the church, said the choir has performed at the church about five or six times in the last 10 years.
"They stay with host families," she said. Two children and a chaperone stay with a church family. They will arrive at the church Friday afternoon, set up and will have dinner at the church with their host families. On Saturday, the family will have breakfast with the children and pack them a lunch before the choir moves on to the next show.
Opportunity Christian Church (Disciples of Christ), 708 N. Pines Road, Spokane Valley, will host the choir at 3 p.m. Saturday.
The church partnered with Greenacres Christian Church to sponsor the show.
"The Watoto Children's Choir is a unique reaching-out tool to help raise an understanding of the plight of Africa's orphans," said Rev. Chris Hayward of Greenacres Christian Church in a news release. "The experience of traveling with the choir helps each child develop confidence and boldness, as well as broadening their worldview, which will help develop them into the next generation of Ugandan leaders."
In a news release, Opportunity's pastor, the Rev. John Loucks, describes the show as "a blend of native African rhythms, contemporary gospel music and ethnic dance."
Both shows are free. The choir will, however, accept donations.
"It's a really wonderful cause," Robel said.
The choir travels to Grandview, Washington, for its Sunday performance.
Jubilee International Marketplace
For 29 years, First Presbyterian Church, 318 S. Cedar St., has presented its Jubilee International Marketplace as part of its mission outreach. Since it began in 1988, the event has raised almost $900,000.
Volunteers and shoppers can support economic justice and fair wages for the artisans, many of whom are from developing countries. All proceeds benefit the participants.
This year's event will be Nov. 3 from 10 a.m. to 7 p.m. and Nov. 4 from 9 a.m. to 4 p.m.
Shoppers can enjoy a soup lunch and refreshments from Christ Kitchen and browse handmade products from more than 30 vendors who work directly with the artisans who lack local outlets to sell their work. Items for sale are from Guatemala, Nepal, Thailand, Ethiopia, Kenya, Mexico, Peru and Chile.
For more information, visit www.spokanefcp.org, or call the church office at (509) 747-1058.
Spiritual Exercises sampler
Gonzaga Preparatory School, 1224 E. Euclid Ave., will present a sampler of the 500-year-old Spiritual Exercises of St. Ignatius Dec. 2, from 9 to 11 a.m. at its Chapel of the Three Companions.
This program includes meditations, prayers, considerations and contemplative practices to help those of the Christian faith to breathe new life into everyday life.
Traditionally, there are three different ways to practice the Exercises: over a period of about 30 days in a silent retreat away from home, an eight-day retreat based on Ignatian themes or in the midst of daily life over a period of several months.
This mini-retreat will include prayer, imagining, meditation, reflection and being quiet with God.
The event is free, open to the public and there is no registration.
For more information, contact Barry Barfield at (509) 483-8511 or bbarfield@gprep.com.
Local journalism is essential.
Give directly to The Spokesman-Review's Northwest Passages community forums series -- which helps to offset the costs of several reporter and editor positions at the newspaper -- by using the easy options below. Gifts processed in this system are not tax deductible, but are predominately used to help meet the local financial requirements needed to receive national matching-grant funds.
Subscribe to the Coronavirus newsletter
Get the day's latest Coronavirus news delivered to your inbox by subscribing to our newsletter.
---