Sports > High school sports
Central Valley routs Lewis and Clark to sew up GSL 4A title
Oct. 27, 2017 Updated Fri., Oct. 27, 2017 at 10:47 p.m.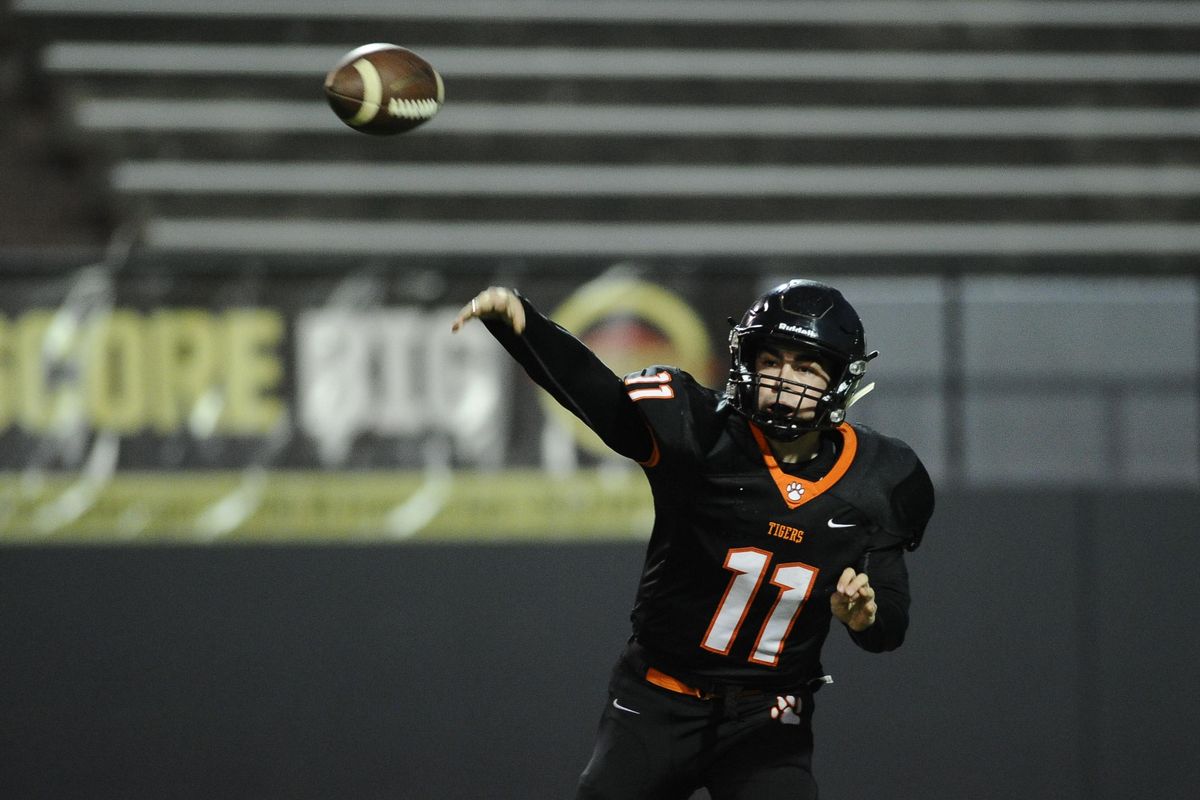 Lewis and Clark quarter back Michael Flaherty (11) throws a pass against the Central Valley during a high school football game, Friday, Oct. 27, 2017, at Albi Stadium. (James Snook / For The Spokesman-Review)
Central Valley entered play on Friday against Lewis and Clark with the Greater Spokane League 4A title all but sewn up.
But the Bears put an emphatic exclamation point on their league title with a convincing win against the Tigers.
CV led 31-0 after three quarters, Grant Hannan rushed for two short touchdowns in the second quarter and went 18 of 29 for 187 yards with a TD pass and Central Valley coasted to a 44-15 win over Lewis and Clark at Albi Stadium.
Considering it's been nine years since Central Valley last hoisted the GSL title trophy and first time since 1995 the Bears have gone undefeated in league play, coach Ryan Butner didn't mind the Gatorade bath with about 2 minutes left on the chilly evening.
"Honestly I didn't see that coming at all. I was trying to get our guys in the game, was still trying to coach our guys. I'll take it though."
"It's only the fifth time in CV history that we won (the league title), so that's pretty cool to be part of history like that," said Hannan. "We've got a great group of guys so it's nice to be included in the record books."
CV will host Hanford, the Mid-Columbia Conference third-place team, on Friday in the District 8 playoffs.
"It feels really good," Hannan said about making the playoffs. "We put a lot of work into it so it's nice to finally get to what we were working towards."
Lewis and Clark, which finished 2-3 in league, will play in a three-way mini-playoff on Tuesday against Mead and University to determine the third seed to the District playoffs, following CV and Gonzaga Prep.
U-Hi will play LC, with the winner advancing to face Mead later that day for the final playoff spot. Each game will be two quarters.
The winner plays at Richland three days later.
After a ragged first quarter, CV picked up a long punt return early in the second from Austin Tomlinson down to the LC 18. Hannan hit Correy Quinn for 9 yards to set up first-and-goal. Two plays later, Hannan ran a quarterback draw and wrestled his way into the end zone for a 7-0 lead.
CV forced a three-and-out deep in LC territory and after the punt took over on the Tigers' 43. Hannan connected with Tomlinson down to the LC 2. On the next play Hannan went right, found a wall of defenders, changed course and outsprinted everyone to the near pylon for a touchdown.
"He's been such a competitor entire year," Butner said of his senior signal caller. "What he's been able to provide our offense – the versatility, how dynamic he is, and what he brings to our offense – is pretty incredible. Which has allowed us to put a lot of points on he board each week and be competitive."
On LC's second play after the touchdown, Michael Flaherty overthrew a receiver on the left side and CV's Jase Edwards gathered it and returned the interception down to the 1. On the next play Ryan Harper swept right for the touchdown and a 21-0 lead.
On the first play of the second half from the CV 48, Hannan hit Edwards in stride down the right sideline and the two-way standout was finally hauled down at the 1. Again.
"I just gotta get… in the end zone," Edwards said. "I just got a chance to go in and I'm having a lot of fun playing with my teammates."
On the next play, Hunter Chodorowski plunged in to put the Bears up 28-0.
"He's been a three-year starter for us and he's just an incredible athlete and even better person," Butner said of Edwards. "He's a hard worker and I wish he would have been able to punch at least one of those in just for his sake."
After a short punt, CV took over again at the LC 46 and worked its way down to the 13. After a couple of penalties the drive stalled and the Bears settled for Landon Rehkow's 38-yard field goal.
Late in the third, Lewis and Clark got the ball back on a fumble recovery at the CV 45. The Tigers drove to the 22, where Flaherty threw a fade to Xavier Guillory in the corner of the end zone to break up the shutout. The extra point made it 31-7 with 11:33 left in the game.
Central Valley took the ensuing drive 60 yards on nine plays, culminating with Chodorowski's 23-yard touchdown catch-and-run.
The Tigers turned it over on downs on the next possession, and Central Valley put out the second string, and it continued the Bears' dominance. A steady diet of Jaren Thomas marched CV down the field and when Thomas plowed in from the 1 CV led 44-7 with 2:37 left.
But there was no quit in the Tigers. Anthony Duenas busted runs of 17, 28, 18 and 14 yards before forcing his way in from the 3 to give LC a more-than cosmetic touchdown with 25 seconds left.
Duenas finished with 86 yards on eight carries.
Edwards, who had three catches for 74 yards, had the final word. "We're ready for the playoffs. We're ready to end some seasons."
Local journalism is essential.
Give directly to The Spokesman-Review's Northwest Passages community forums series -- which helps to offset the costs of several reporter and editor positions at the newspaper -- by using the easy options below. Gifts processed in this system are not tax deductible, but are predominately used to help meet the local financial requirements needed to receive national matching-grant funds.
Subscribe to the sports newsletter
Get the day's top sports headlines and breaking news delivered to your inbox by subscribing here.
---