News > Home and garden
Haunted house Kings change theme each year
Oct. 27, 2017 Updated Fri., Oct. 27, 2017 at 7:37 p.m.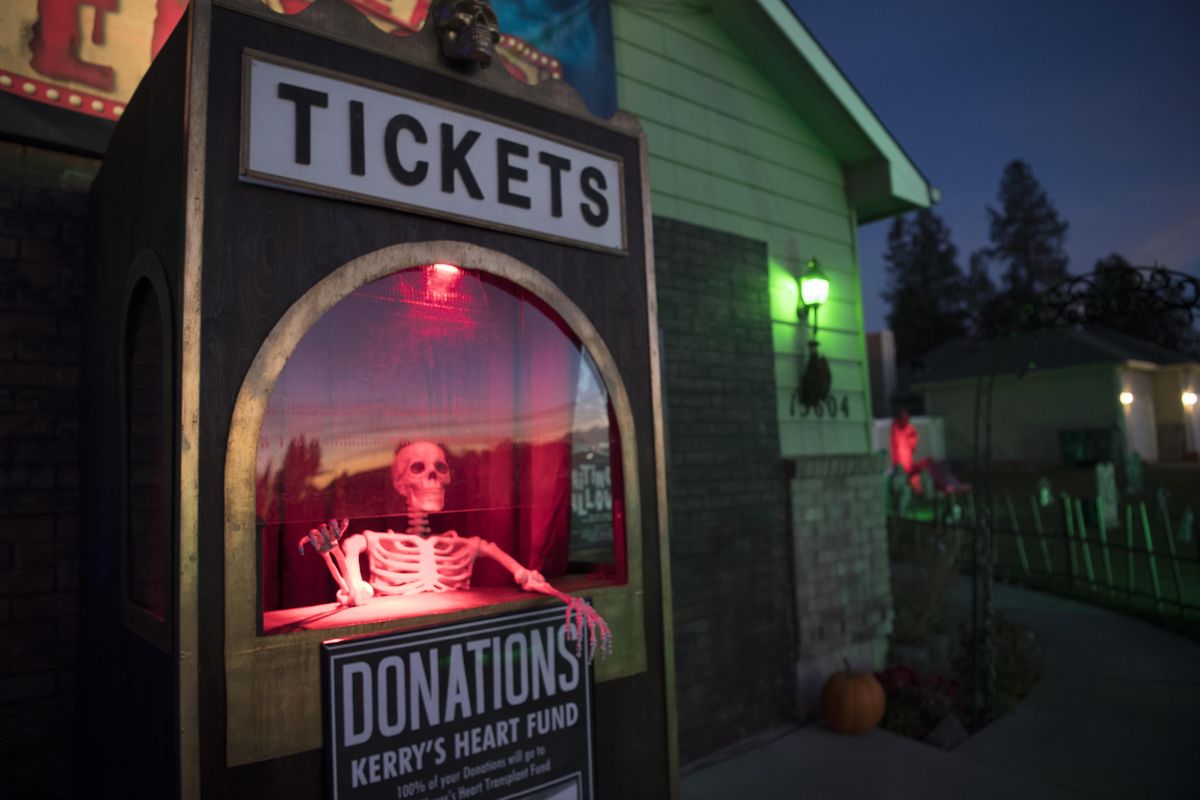 The King family haunted house, at 15604 N. Freya in the Mead area, is elaborately decorated and advertises a theater where visitors can watch one of movies made by the King family. Photographed Monday, Oct. 23, 2017. (Jesse Tinsley / The Spokesman-Review)
The King family gets a little theatrical around Halloween.
Relatives transform Kevin King's home north of Mead into a different haunted theme each year. It's now the King Family Theater of Terror, inviting visitors to watch two short Halloween movies.
Beware. The theater is haunted, so scary stuff happens. King gives few details about what looms in the dark, keeping surprise part of the fun. An outside graveyard has special effects to entertain people waiting in line, and two skeletons sit in a hearse parked nearby.
"We love to hear people scream, and then laugh," King said. "It's family-friendly. We give it a PG-13 rating."
After starting mid-October, the Kings' show continues 7-9 p.m. Saturday, Sunday and Monday, but it will be closed on Halloween itself – that's reserved for family to enjoy.
He credits brother Derrick King as equally involved in plotting ideas and building props months ahead. Numerous family members help, including Kevin King's two children: Adam King, 22, and Emily King, 21. Now in its seventh year, the King Family Haunted House is at 15604 N. Freya St.
Admission is free, while any donations go to a cause. This year, funds will support medical costs for a relative awaiting a heart transplant.
Three King brothers and a sister grew up in Chattaroy and helped host a haunted house for a few years, so when Kevin King's kids got too old for trick-or-treating, they renewed the tradition.
Nearly a year ago, he bought church pews for theater seating. The family often searches out eccentric props online, the hearse included.
"Where do you get everything that's weird?" King said. "Craigslist."
Another year, his wife drove to North Idaho to pick up a "used casket," one that only held a body for a funeral service before the remains were transferred into a less expensive casket for burial.
"She drove back with a coffin sticking out the back," he said. "She got some pretty weird looks."
After a one-time use as a prop, it went back on Craigslist for renewed life in another theatrical way. "Actually, 'Z Nation' bought it; their special effects people called within about two hours."
Local journalism is essential.
Give directly to The Spokesman-Review's Northwest Passages community forums series -- which helps to offset the costs of several reporter and editor positions at the newspaper -- by using the easy options below. Gifts processed in this system are not tax deductible, but are predominately used to help meet the local financial requirements needed to receive national matching-grant funds.
Subscribe now to get breaking news alerts in your email inbox
Get breaking news delivered to your inbox as it happens.
---