A&E > Food
North Idaho's Candle in the Woods offers a singular dining experience that has fans coming back for more
Tue., Oct. 31, 2017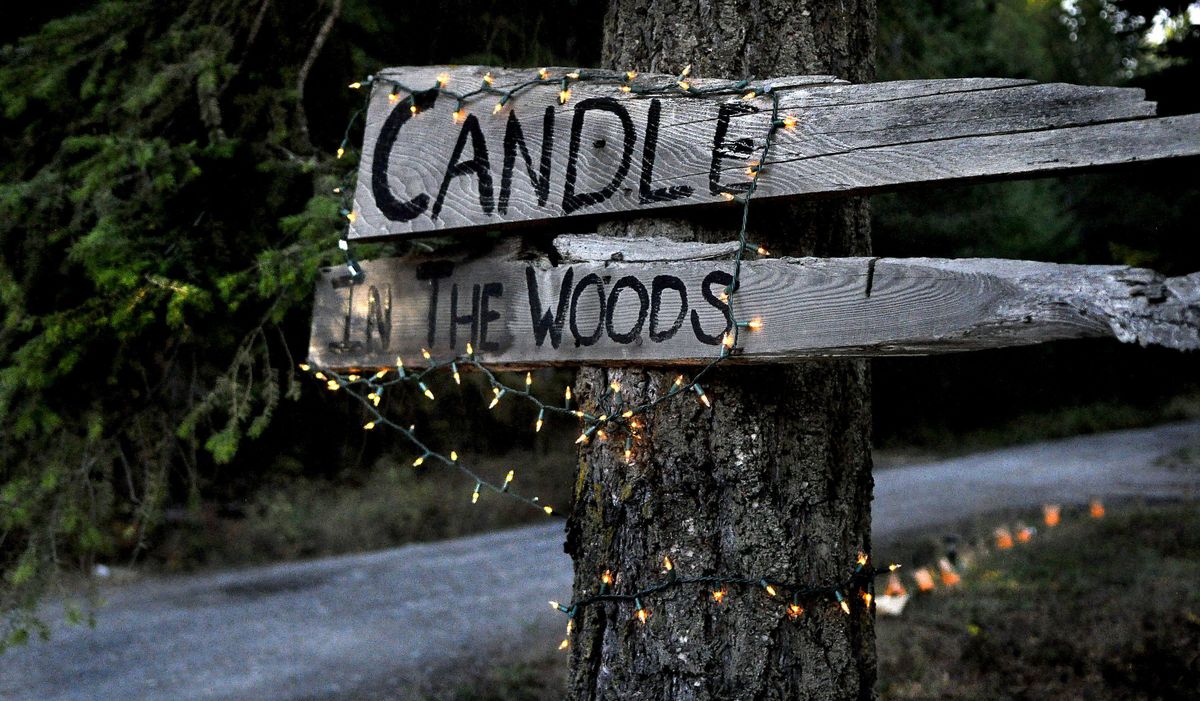 Dave Adlard owns and runs Candle in the Woods, a dining experience in which eight to 12 guests come to his log cabin home outside Athol for a 10-course dinner with wine pairings. Adriana Janovich/THE SPOKESMAN-REVIEW (SR)
This must be the place. A rustic wooden sign, tacked to the trunk of a tree and brightened with strings of little lights, signifies arrival. Still it feels like a secret, passing fields and forests to come for dinner and drinks at Candle in the Woods.
At this place, a modest log home tucked among the evergreens outside of Athol, the proprietor – who is also the chef, server, sommelier and, at times, entertainer – greets guests with sangria, ready and waiting in glasses that appear to be on the march. Tonight, there are 12 – for six couples, most of whom are strangers.
Coming for dinner at Candle in the Woods – at least, for the first time – is like going to a dinner party at a friend's house – except you don't know the friend and have never met the other guests. The menu – fixed price, all small plates, each paired with wine – is also a surprise. There are several staples, but the owner of the unconventional restaurant proudly tells guests he's never repeated an entire multi-course menu.
This arrangement, chef-and-owner Dave Adlard said, lets him get creative and allows guests to sample an abundance of offerings – a succession of little surprises. "Guests just love it," he said. "They get to so many tastes of things. Nobody ever leaves hungry or saying that they didn't get enough wine."
In fact, Adlard said, "the meal usually ends in applause."
***
Adlard, 55, introduces each course as he delivers plates to a communal table, set in his living room with personal place cards with the date as well as name of each guest. But diners won't receive a printed menu – more of a souvenir, really – until the end of the night, some four hours later. They'll receive hand-written thank-you notes, too.
"It's part of whole experience," Adlard said.
And it's proven popular. By early October, seatings for half of December were already sold out. Basically, Adlard said, with the exception of just a few cancellations, "we haven't had an empty seat since May."
The evening starts at 6 p.m. with libations – sangria, followed by sparkling wine – while waiting for the rest of the guests to arrive. Some drive themselves. But many opt for the limo.
Adlard bought one last summer to add to the Candle in the Woods experience, noting it can be difficult to get a Lyft or Uber in the woods of North Idaho late at night. He charges $25 round-trip to and from Post Falls, Coeur d'Alene, Rathdrum and Hayden. For rides to and from Sandpoint and Spokane, the price goes up a bit.
After a brief introduction, Adlard leads his guests into a well-stocked basement backroom, brimming with a portion of his 4,100-bottle wine collection. Its strengths, according to Wine Spectator, which bestowed Candle in the Woods with a Best of Award of Excellence last year, are wines from California, Washington, Bordeaux and Italy. Its variety of port – a quaff of which usually ends a meal here – is another.
The wine library at Candle in the Woods includes 140 ports, 50 ice wines and more than 200 late harvest wines. There are also special offerings, such as a 2012 Chateau Lafite Rothschild Bordeaux for $1,080 and a 1985 Moet & Chandon Dom Perignon Champagne for $800.
Each of the eight to 10 courses comes with a wine pairing; they're included in the price – $120 per person. But for an additional fee, Adlard provides more expensive wines. All guests must collectively agree before dinner service if they would like the upgrade. Candle in the Woods typically hosts groups of eight to 12, but can accommodate around 20. And, Adlard said, most guests, some 75 percent, opt for the upgrade – "when I remember to mention it."
***
Adlard – gregarious, hospitable, welcoming – has enjoyed cooking since he was a kid. Growing up in Edmonton, Alberta, he "was sick a lot." Staying home from school, he watched Graham Kerr in "The Galloping Gourmet" and Julia Child in "The French Chef" – and was inspired.
He didn't, however, go to culinary school. Instead, he attended the University of Alberta, where he studied physical education and started coaching gymnastics.
"I loved cooking. I loved having people over," he said. But, "It was always a hobby."
Adlard's coaching career spanned more than 30 years and took him to Vancouver, British Columbia, and California, Ohio, Indiana and beyond. He traveled the world hosting gymnastic clinics and seminars before settling in North Idaho with his wife, Lisa, also a gymastics coach. Today, they have an 8-year-old daughter, Delaney, who – Adlard said – also does gymnastics and likes to help Dad in the kitchen.
"I walk 12 feet to work," he said. "That's one of the reasons I love what I do."
***
Not long after moving to the area, some 17 years ago, Adlard hosted a birthday dinner for a friend who suggested he start a restaurant. "I was coaching full-time," Adlard said. "But I liked the idea of doing private dinner parties."
That idea evolved into hosting private dinners in their living room every few weeks, cooking for guests as he does now: on a single electric range in his home kitchen. At first, Adlard said, dinners were fairly traditional: appetizer, soup, salad, entree, dessert. They featured typical portion sizes and included mains such as stuffed chicken en croute, lamb chops and salmon in parchment paper. Throughout the years, meal service expanded to three or four times per week, featuring the small and creative plates for which Adlard is now known.
People usually hear of his place through word of mouth. The name comes from the log house itself. "When you drive up at night," Adlard said, "because of the shape of the window, it looks like a candle in the woods."
Most guests are repeat customers. The idea, Adlard said, is that they arrive as strangers and leave as friends. A recent group of eight, he said, for example – four sets of couples who hadn't all met until that night – left planning a reunion dinner. Others bring enough friends to fill all of the seats.
That's what Alan Neff and wife Diane did. They learned of Candle in the Woods through Facebook earlier this year and have dined there "four or five times" since then. "It's never the same thing twice," said Alan Neff, a retired product development consultant who splits his time between the StoneRidge Golf Community in Blanchard and Palm Springs. "We thought it was so unusual that we decided to go back with a group of people from StoneRidge. I think there were eight of us."
The Neffs have taken the limo twice, done the wine upgrade once and returned with even more friends.
"It's a unique atmosphere with unique surroundings," Neff said. "It's way out in the woods. The wine-and-food pairing is excellent. The wine cellar is chock full of very interesting wines."
"And," he said, "it's very unusual to eat in a chef's home. It's kind of fun and eclectic. Dave brings a lot to table. He's very personable."
Neff said he couldn't pick a favorite, but has been impressed with all of Adlard's lamb dishes. "You'd be hard-pressed to narrow it down to just one or two say this is better than that."
Guests have to trust the chef and expect surprises. "We've never duplicated an entire menu," said Adlard, who honed his skills working part-time at Angelo's Ristorante in Coeur d'Alene. That experience, he said, "clarified which direction I wanted to go, culinary-wise."
The first course on a recent Friday night was one of his staples: steak s'mores. The meat, medium-rare, perches atop a Biscoff cookie – served on airplanes and so popular it has its own emoji – along with chocolate and a marshmallow.
The other two signature dishes – something Adlard calls "lamb-scicles" and ravioli in Sambuca cream sauce – arrive later in the evening. The Frenched lamb chops are served with espresso sauce and prosciutto-wrapped asparagus with chevre. The Sambuca sauce for the ravioli is lighted on fire, making for a dramatic display.
"Day in and day out, this has been our most favorite," said Adlard, who teaches cooking classes for children and adults at the Culinary Stone in Coeur d'Alene and is working on a cookbook. He's also hoping to make another appearance on Food Network.
Last fall, he competed on – but didn't win – "Cooks vs. Cons," in which a home cook tries to outdo a professional chef and take home a $10,000 prize. "I made a technical error," Adlard said. "I ended up with too many things in a strange oven." Now, he's hoping to have the chance for a redo on that – or another – show.
***
He's also hoping to expand. Adlard wants to build a commercial kitchen and larger dining room – along with a trio of cabins – on the same 10-acre property where his log home sits southeast of Athol. The idea is – instead of a bed-and-breakfast – a "dinner-and-bed." Of course, he said, breakfast or brunch could also be arranged – and has in the past. Guests who don't want to drive home after a 10-course meal with 10 wine pairings can arrange in advance to stay overnight in the guest room.
Even if the business grows, and Adlard is hoping to start construction within the year, if possible, "We're sensitive about keeping the intimacy of what we do."
Prep starts around 10 a.m. the morning of the dinner. For bigger parties, Adlard usually enlists a chef friend to help. He also employs a couple of others to help with plating and service.
Sorbets are made in-house. So are the sauces and bread.
"I believe in a lot of contrasts," Adllard said. "All of our plates have some sort of contrast – between savory and sweet, hot and cold, spicy and sweet, acidic and sweet. There's always a contrast. Even the corn shakes have a contrast."
The corn shakes, an amuse bouche, feature the sweetness of corn and the smokiness of mesquite. Look, also, for cornets resembling ice cream cones filled with savory mousse and tuna poke or tuna tartare served on a frozen block of pink Himalayan salt. A popular main is braised short ribs with mashed potatoes, asparagus and wasabi foam.
In between courses, there are two scheduled breaks, or intermezzos, during which guests can retire to the game room or patio for conversation or darts. But, Adlard said, they must leave the table. And they must return when the dinner bell rings.
Other than that, there aren't too many rules at Adlard's little house in the North Idaho woods. In fact, he told guests during a recent dinner, "Licking the plate is perfectly fine."
While no one followed through on the offer on that particular evening, the invitation to do so was definitely discussed.
Local journalism is essential.
Give directly to The Spokesman-Review's Northwest Passages community forums series -- which helps to offset the costs of several reporter and editor positions at the newspaper -- by using the easy options below. Gifts processed in this system are not tax deductible, but are predominately used to help meet the local financial requirements needed to receive national matching-grant funds.
Subscribe to the Spokane7 email newsletter
Get the day's top entertainment headlines delivered to your inbox every morning.
---