Luke Falk stays patient, utilizes variety of Washington State playmakers in win over Montana State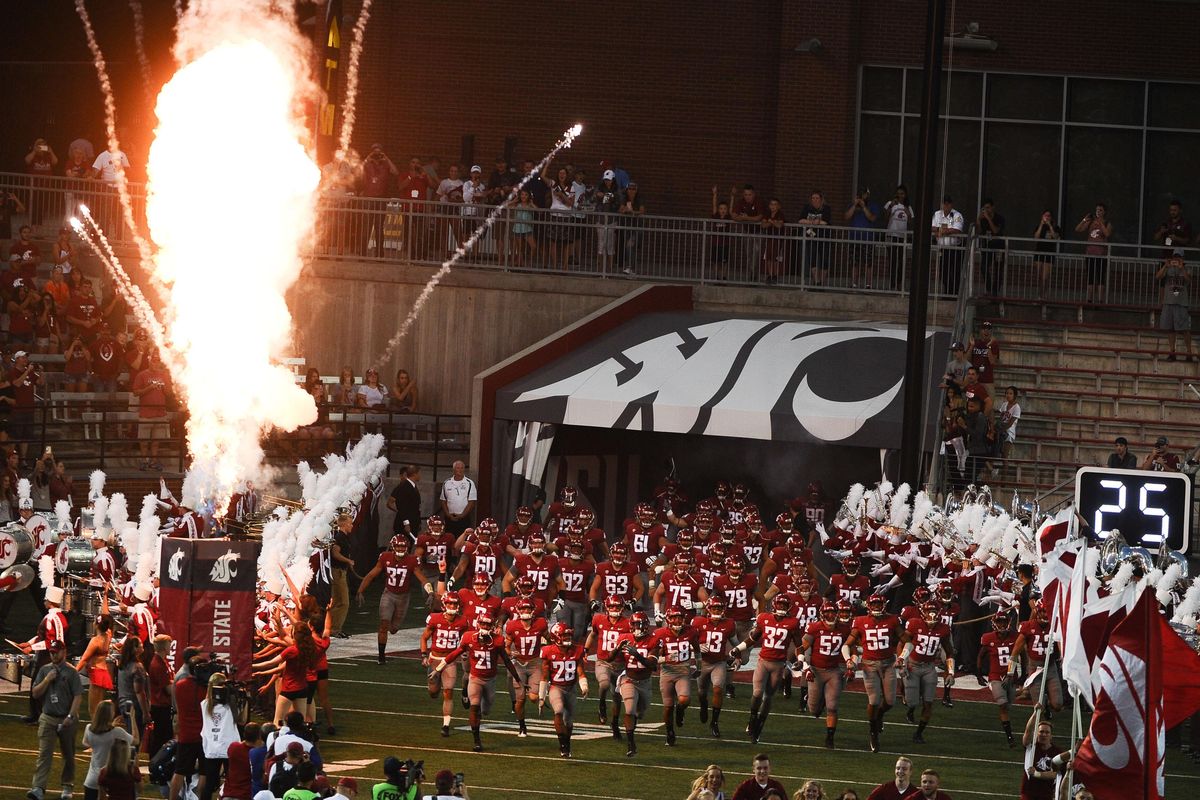 PULLMAN – Luke Falk vs. the record book: To be continued.
Falk vs. Montana State's defense: No contest.
Washington State's quarterback opened his senior season with an accuracy clinic, completing 33 of 39 attempts in a systematic 31-0 dismantling of Montana State on Saturday at Martin Stadium.
It required Falk to stay patient above all else.
"They dropped eight," said Falk, who completed all 20 of his first-half passes. "Our whole offense is just based off what's the leverage, what can we get into that's a good play. (Against MSU) it wasn't the deep ball or anything down the field.
"The beauty of this offense is if we can get it to a guy in space, this offense is great. It can be a running back, slot or outside guy, if doesn't really matter."
The Bobcats rarely blitzed and were content to sit back and keep the ball in front of them. That's what unfolded, but the Bobcats paid a price when defenders had to deal with WSU receivers in space – and the Cougars often had a lot of space to work with.
That's a function of timing between quarterback and receiver.
"I think we've gotten better at yards after the catch," coach Mike Leach said. "That's not just strictly on receivers, part of it is getting them the ball at the appropriate time. There's a difference between throwing to a guy standing wide open and then the defense says, 'Oh, he's wide open,' and the quarterback says, 'Oh, he's wide open.'
"But just as you start to hit the space, that's when he's most open and can get yards after the catch. The throw can help or hurt it."
Falk feasted on MSU's soft coverage with an assortment of screens, underneath routes and check-downs to a cadre of playmakers. His high-percentage 2-3 yard throws often resulted in 8-10 yard gains, led by running back James Williams' 13-catch, 163-yard performance. Williams generated 37 yards on three shovel passes.
On one play in the third quarter, Williams hurdled defensive back Damien Washington for an 8-yard gain. On the ensuing down, he juked a defender and flashed his speed on a 21-yard reception.
"Last year I wanted to do it but (running backs coach Jim) Mastro was like, 'If you hurdle, you're getting out,' " Williams said.
And Saturday? "He didn't yell at me when I came off," Williams said. "The only thing he said was (about) the little celebration I had. I got carried away."
Falk broke Connor Halliday's school record for touchdown passes, and Halliday's top spot for passing yardage will likely fall next Saturday against Boise State.
Falk pays little attention to the record book and was unaware he'd completed his first 20 passes until pointed out by reporters in postgame interviews.
The Cougars are working in some new faces at receiver after the graduation of prolific tandem Gabe Marks and River Cracraft. BSU, and numerous others on WSU's schedule, will pose a tougher challenge for Falk and company.
"Those guys (Marks and Cracraft) were great players," Falk said. "The guys we have right now are great players. They just went out and did their job. I'm really confident in this group."
---