A&E > Food
Personal Foodstory: Shawn Vestal makes – and listens to – his own bread
Tue., Sept. 5, 2017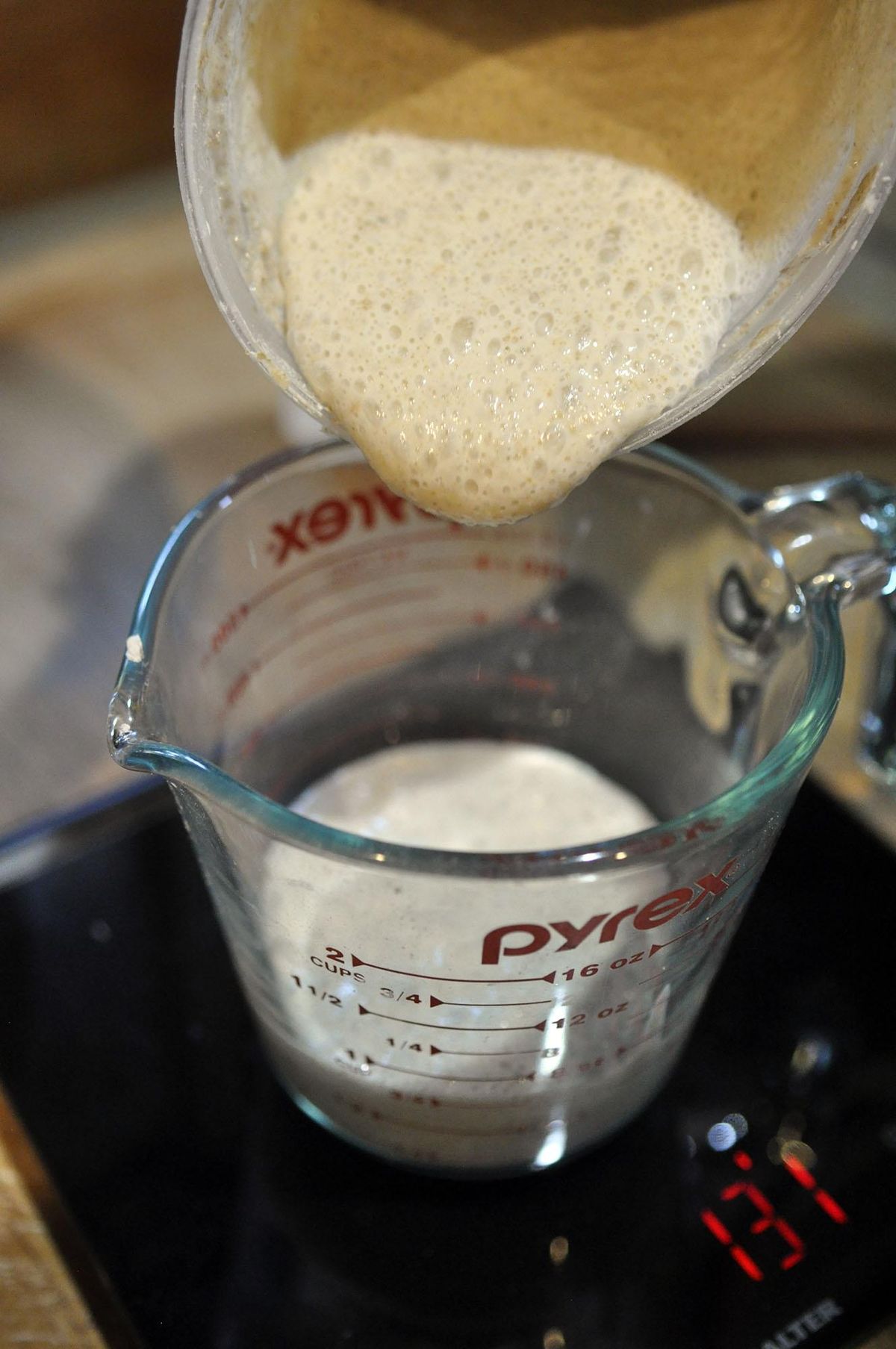 Shawn Vestal measures and weighs sourdough starter in his kitchen Friday afternoon. (Adriana Janovich / The Spokesman-Review)
I've been listening to my bread.
Right out of the oven, my bread crackles and sighs and hisses. If you put your ear up to the loaf, you hear it clearly: Bread song.
It's the sound of the crust contracting as it cools, and it represents just one movement in the sensory symphony of making sourdough bread, which includes the sight of bubbles in a growing starter, the sticky feel of flour turning to dough, the slapping and folding of that dough, the tension of the gas inside as it rises, the tangy smell of the loaf as it grows – and the comforting odor as you bake it, the sound of the knife biting into the crust, the sight of gluten-stretched whirls and holes inside the loaf …
Oh, and you can eat it too. Plain with butter. Stuffed with a sandwich filling. Grilled with olive oil. Toasted and made into a bread salad. It is a simple, superior, satisfying food. But, for me, baking sourdough bread is not merely about eating it. Otherwise I'd just buy one of the excellent loaves at any number of excellent local bakeries.
No, this is about something more. Concentration. Focus. Attention. Ritual. Obsession, even. I find myself thinking almost continually about my sourdough starters, my baking plan, the status of doughs rising in the kitchen, and the timing of when I will bake them and what uses I will make of them. I've built bread-making into my life, but some days it feels like it's the other way around.
If you saw me after one of the loaves emerged, bent to the cooling rack, listening for the tell-tale crackling, you'd know: I'm all the way down the rabbit hole, Alice.
The gateway drug
When I was a child, my mother ground her own wheat and baked beautiful loaves of wheat bread that I completely failed to appreciate. For me, that homemade bread represented poverty, not freshness. It signaled that we were outsiders, not artisans. My friends were eating soft, cake-like white bread from the store, and I thought that's what good bread was.
Homemade bread was just embarrassing.
I'm not sure why this began to change. For many years, as I began to appreciate crusty artisanal loaves and great baguettes, I was not remotely tempted to try and bake them myself. Even as I became more interested in cooking, the notion of making bread still seemed outside my set of skills and my desire.
I cultivated my favorite bakeries, knew where I wanted to get a baguette or a boule, and kept buying mass-produced sandwich bread at the store. Then, a couple of years ago, I tried the gateway drug of bread-making: Jim Lahey's No-Knead Bread, named for a New York City baker.
It was truly, deeply easy: Mix flour and water and yeast, let the dough ferment for 18 hours or so, and bake it in a Dutch oven in a blazing hot oven. My very first loaf was great. Anyone interested in making bread should give it a try, and if you never did anything more complicated than that, you'd be rewarded with a loaf that's crusty on the outside and softly stretchy on the inside, and well worth the small effort.
Of course, if might also infect you with the desire to do more.
Staff of life
That's what happened to me. I had been reading a bit about bread, delving into people's stories about their sourdough starters and hydration levels and baker's percentages and oven spring, and it became obvious.
Bread bakers are nuts.
I say this with affection, as one of the tribe. It was clear to me at the front end that there was something potentially endless about the practice of baking bread – that it was a process, a kind of devotion. Bread is bigger than mere food, after all – we often speak of it as if it were food itself. The food. We break it when we eat with others. Our stomachs are baskets for it. It's the staff of life, a divine symbol, a sign of civilization. When we earn money, we win bread.
Given all that, imagine how much people who love bread love bread. At first, I found it precious and insufferable, in the manner of so many precious and insufferable parts of our food culture. But, like so many of those parts of our food culture, baking sourdough bread really does produce a superior food – fresher, more delicious and complex in flavor, closer to the earth.
Last year, after I'd started baking the no-knead bread regularly, I saw that a friend of mine had posted a picture of his sourdough starter on Facebook. On a whim, I asked to borrow some starter, and he was happy to give me a glob – since regular care of a sourdough culture requires discarding some of it at each feeding. I took it home and began to feed regularly with flour and water.
(A sidenote about leavening: To make a loaf rise, you need to grow a little Who-ville of bacteria and microbes that consume glucose and fart out gases that fill the bread with air and give it flavor. You can leaven a bread with store-bought yeast or a sourdough starter. A starter is a living glob of flour and water, which requires you to feed it regularly. It waxes and wanes, swelling with gases and sinking as the gases dissipate and the time for another feeding approaches. We sourdough people will tell you that bread made this way is better, richer, more flavorful and toothsome than bread made with commercial yeast, and we are correct.)
I followed the recipe my friend shared with me for a loaf modeled on the famous Tartine bread, from a San Francisco bakery. It was a long process, spanning two days and including a long proof in the refrigerator. This longer rise time is a key to the character of sourdough bread – it allows more time for fermentation, for the flavors and texture to develop.
Right off the bat, that first loaf was pretty good.
And right off the bat, I started thinking about making the next one.
Hooked
Now, around 18 months later, I have baked something like 100 loaves of bread. Which is nothing, really. I usually make big round loaves inside my Dutch oven, though I also bake longer loaves on my baking steel, and I've made baguettes a few times. They are, so far, tasty but ugly.
I've purchased special equipment, and filled the cupboard with six kinds of flour. I've cadged a second starter from David Blaine, chef and owner of Central Food, which makes excellent breads. And I have woven bread-making into my life as a writer in a way that I could not have foreseen – my most productive writing hours are often spent taking breaks to fold or proof dough, then returning to the prose on the screen to see how the fermentation there is going.
I'm far from an expert. At best, I'm an enthusiast: eager, clumsy, awkward, persistent. I have a friend who creates the most beautiful loaves, artistically scored and shaped and made with creative, unexpected additions like turmeric. By comparison, mine are straightforward and rugged.
I have another friend who bakes molasses and rye loaves that look like something from a Russian banquet table. I have tended to make simple loaves of mostly white flour, with rye and wheat added in different amounts at different times to see what works.
What I can offer is not baking knowledge so much as baking encouragement: anyone can do it, and it's worth doing. The pleasures of the process are manifold and rewarding. There is ritual satisfaction in joining the circle again each week, in stoking the starter for a new dough, in watching the time and temperature, in poking a finger into the dough to see when it's ready, in learning how to adjust and fix errors. I can remember reading all about it before I had done it very much, and I can see now that there are things I know about baking bread that I could only learn by baking a lot of bread.
Like the way it sings to you after you bake it.
Local journalism is essential.
Give directly to The Spokesman-Review's Northwest Passages community forums series -- which helps to offset the costs of several reporter and editor positions at the newspaper -- by using the easy options below. Gifts processed in this system are not tax deductible, but are predominately used to help meet the local financial requirements needed to receive national matching-grant funds.
Subscribe to the Spokane7 email newsletter
Get the day's top entertainment headlines delivered to your inbox every morning.
---