News > Spokane
Spokane County commissioners in stalemate over selection of third member
Sept. 8, 2017 Updated Fri., Sept. 8, 2017 at 11:44 a.m.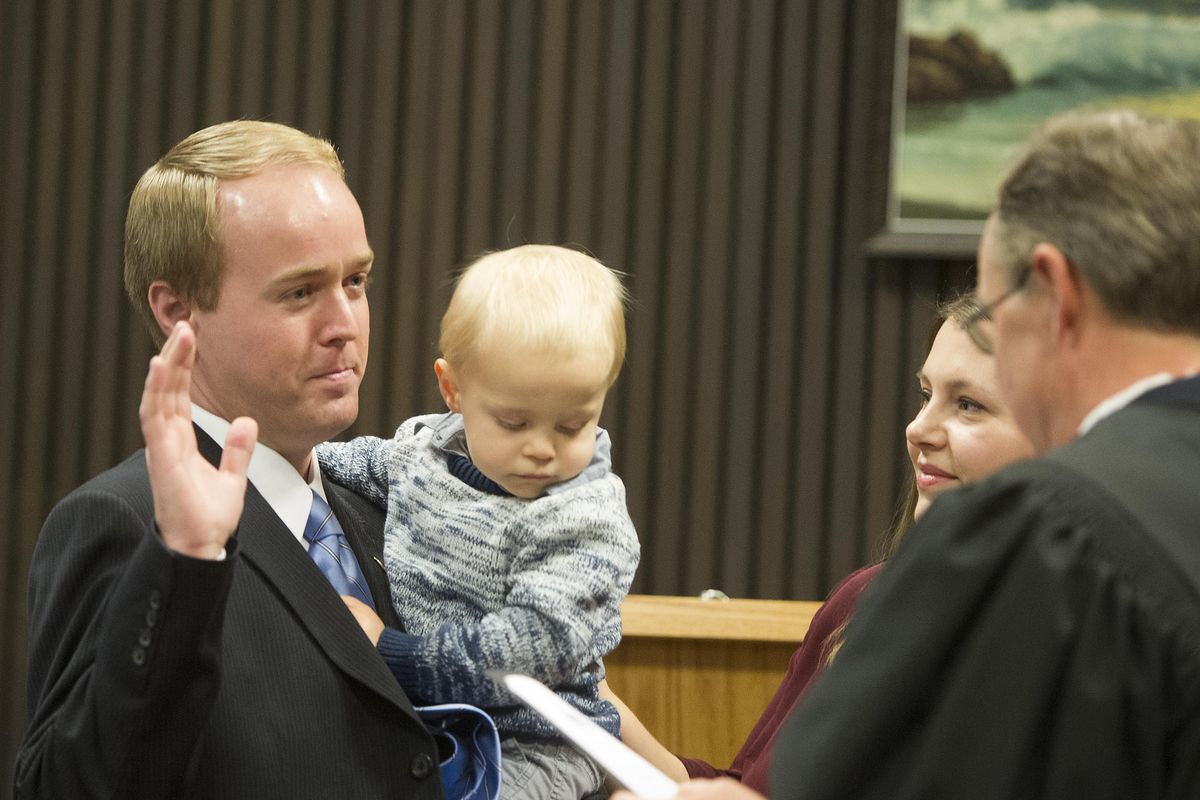 FILE – Josh Kerns, holds his son Joey as his wife Nichole looks on as Judge Richard Leland swears him in as Spokane County commissioner on Nov. 29, 2016, at the Spokane County Public Safety Building in Spokane, Wash. (Tyler Tjomsland / The Spokesman-Review)
A rift in the Spokane County Republican Party has resulted in a stalemate between two county commissioners who are running out of time to choose a new colleague.
Republican Commissioners Al French and Josh Kerns are seeking to fill a vacancy left by former Commissioner Shelly O'Quinn, who resigned partway through her term eight weeks ago.
French and Kerns must choose one of three people nominated by the county GOP. If they can't agree on someone by Sept. 15, Gov. Jay Inslee, a Democrat, will get to pick a new commissioner from the same list of nominees.
Multiple Republican sources said French prefers Mary Kuney, the county's chief deputy auditor, who served as treasurer on two of his campaigns when he was a Spokane city councilman.
Those sources said Kerns prefers Rob Chase, the county's elected treasurer. Kerns and Chase have been seen as allies of controversial state Rep. Matt Shea, whose district includes Spokane Valley.
The third GOP nominee is John Guarisco, an executive at a Spokane Valley marketing firm who plans to run for the commission seat next year.
Both of the sitting commissioners said they would vote during a public meeting on Tuesday, but they declined to say who they hoped to appoint. They have discussed the appointment process only a few times since O'Quinn's resignation, in closed-door executive sessions.
"Unfortunately I can't really tell you where either of us are at," Kerns said Thursday. "I can't really discuss what we talked about in executive session. … I feel comfortable saying all our conversations have been cordial."
In a phone call Wednesday, French would not say if there's a disagreement.
"I don't know where my fellow commissioner stands until we sit down and take a vote," he said.
A radio ad that aired this week, paid for by a group calling itself the Washington Liberty PAC, called Chase "eminently qualified and a great campaigner."
The ad also accused French of ignoring the will of party officers, who ranked Chase ahead of Kuney and Guarisco when selecting the nominees in early August. The sitting commissioners are not required to appoint the party favorite, but Chase and others said French has repeatedly promised to do so.
"Commissioner French is on record stating publicly he would always select the Republican PCOs' favorite candidate," the radio ad said. "… So, Commissioner French, what's so difficult?"
French did not respond to a message on Thursday seeking additional comment.
State Rep. Bob McCaslin, who represents the 4th Legislative District along with Shea, also warned French against choosing Kuney in a Sept. 4 email obtained by The Spokesman-Review.
"I'm really concerned about the divisions we already have in our County, and appointing Mary over Rob would definitely widen those divisions," McCaslin said in the email.
---
Washington state Rep. Bob McCaslin, R-Spokane Valley, sent this email to Spokane County Commissioner Al French on Sept. 4, 2017.
McCaslin, who did not respond to messages seeking comment Thursday, also seemed to accuse French of hypocrisy, noting that French voted to appoint Nancy McLaughlin to the commission last year after she emerged as the party favorite.
McCaslin wrote to French: "I have heard rumors that there are a few locally elected officials who would run against you in the primary but (they) wouldn't, if you applied the same logic you explained very well when you appointed Nancy."
Sheriff Ozzie Knezovich, one of the few elected Republicans willing to publicly criticize Shea, said he was "really, really disappointed that Representative McCaslin would send something like that."
"I'm really tired of this type of politics," Knezovich said. "If you don't do what the Matt Shea group wants you to do, they threaten you, and I just don't think it's right that they're threatening Commissioner French."
McCaslin also suggested in the email that French was eager to appoint Kuney because he has received large campaign contributions from members of the Inland Northwest Associated General Contractors. Kuney's husband, Max, is the president of a large construction company, and her brother-in-law is vice president of the Inland Northwest AGC.
Mary Kuney responded: "AGC has contributed to Shelly O'Quinn, Josh Kerns, Al French and numerous other candidates over the years. Not sure what Bob's issue is."
Kuney is a certified public accountant with 13 years of experience as a state and county auditor. She's also worked for a private consulting firm and founded a tea company.
Chase was elected treasurer in 2010 and fended off a challenge from Kuney in 2014. He previously worked as a customer service representative for an insurance company and as a collection agent for U.S. Bank, among other varied jobs. On Thursday, he said that range of experience makes him an ideal commissioner candidate.
Knezovich, meanwhile, accused Chase and his supporters of having a conspiratorial "anti-military, anti-law-enforcement mindset." The sheriff said Chase would not denounce a recent online post by one of his friends and employees, Finance Deputy John Christina, that called out "the government's crimes against the citizenry." The post claimed, among other things, that Americans are "pushed and prodded and watched over by twitchy, hyper-sensitive, easily-spooked armed guards who care little for the rights, humanity or well-being of those in their care."
"Rob Chase is not qualified to be a commissioner. He's just not. I've seen him at work. I've looked at his resume. He's not the quality candidate for this position," Knezovich said. "And more importantly, I really don't want to see a county commissioner that is not willing to stand up against radicalized hate."
Local journalism is essential.
Give directly to The Spokesman-Review's Northwest Passages community forums series -- which helps to offset the costs of several reporter and editor positions at the newspaper -- by using the easy options below. Gifts processed in this system are not tax deductible, but are predominately used to help meet the local financial requirements needed to receive national matching-grant funds.
Subscribe now to get breaking news alerts in your email inbox
Get breaking news delivered to your inbox as it happens.
---