Sports > WSU football
Washington State beats Boise State with miracle comeback
Sept. 9, 2017 Updated Sun., Sept. 10, 2017 at 2:37 p.m.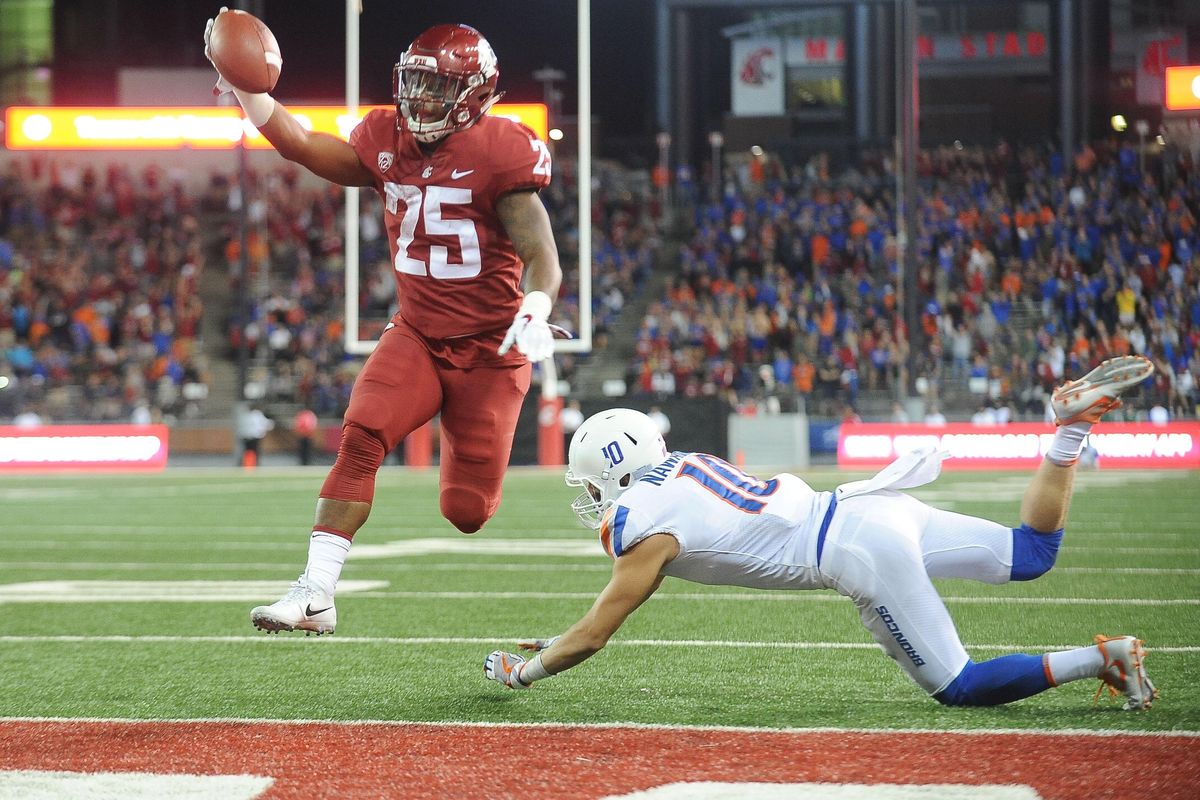 Washington State Cougars running back Jamal Morrow (25) runs the ball in off a Tyler Hilinski (3) pass for a touchdown to tie the game against Boise State during the second half of a college football game on Saturday, September 9, 2017, at Martin Stadium in Pullman, Wash. (Tyler Tjomsland / The Spokesman-Review)
PULLMAN – It was in the fourth quarter of this cinematic drama disguised as a football game when one of the Cougars' youngest cubs approached one of the team's eldest statesmen and made a bold prediction.
"It was 31-10 with eight minutes to go and (Boise State) had just scored," senior running back Jamal Morrow said, "and Jamire (Calvin) came up to me and said, 'Yo, we're going to come back and win this game.'"
Now Calvin is the oracle of Pullman.
The 20th-ranked Cougars were indeed down as many as 21 when they started to craft the early parts of this still-hard-to-fathom comeback. They were also down a starting quarterback and had seemingly run out of ways to move the ball efficiently – or move it at all. The visiting Broncos had done plenty to torment WSU and now Murphy's Law was kicking in, too.
The Cougars would need to make up more ground in a game than they have in 33 years. They had a 21-point hole to dig out of and they had under a quarter to do it. Heck of a time for a true freshman to gaze into his crystal ball.
In a late-night thriller that ended past 11:40 p.m. local time, WSU came all the way back from three scores down to shock Boise State 47-44, winning a triple-overtime game for the first time in program history.
Those who stuck around celebrated like such.
More than 32,000 filled the stands for this nonleague game, but minutes after Morrow dove into the end zone for the game's decisive touchdown, at least a few-thousand fans – mostly students – barreled onto the field for a postgame party around the Cougar logo.
"Oh, it was a wild game," WSU coach Mike Leach said. "There's no question about it."
Luke Falk became WSU's all-time leading passer with a 59-yard heave to Renard Bell in the second quarter, but both the starter and his newest achievement became footnotes in a game that will forever be synonymous with the inspired play of Falk's backup, Tyler Hilinski.
Other than the long heave that made him the school's passing leader, Falk didn't find much success throwing the ball deep. The short pitches and pops that bailed out Falk against Montana State? They weren't there either.
"We were like one of the most constipated offenses on earth," Leach said. "We played timid and cautious, I thought we were soft up front on the offensive line. I didn't think (running) backs hit the holes very hard. … I thought our whole offense weree a bunch of cautious paddy cakers out there."
For a large portion of Saturday's game, the most productive offensive player in school history, a supposed dark horse Heisman Trophy candidate who owns nearly every record in the book, was so out of sync that it seemed maybe WSU would be better off with the backup.
And right on cue, with about four minutes to play in the third, the Cougars trotted out Hilinski. The QB shuffle didn't work initially for WSU. Then it worked wonders.
Hilinski hit his first seven passes, but the eighth was a errant shovel that was tipped into the hands of Durrant Miles. Falk returned for the next drive, but the starter took a violent shot from BSU's Jabril Frazier, who knocked the ball out and watched teammate Curtis Weaver take it 55 yards the other way for a touchdown.
Falk laid motionless on the turf for a few moments before being helped off the field. His night was done. Hilinski's was just warming up.
"Hilinski had the hot hand at the end and we were being cautious (with Falk)," Leach said, "and then he played well."
Years from now, we might be calling this the "Backup QB Bowl." Neither of the signal-callers who started the game finished it, and the Broncos flipped between their No. 1, Brett Rypien and backup Montell Cozart, until Rypien suffered an undisclosed injury in the second quarter following a sack from Frankie Luvu.
Cozart finished 12-for-20 with 161 passing yards and two touchdowns, while rushing 14 times for another 81 yards and one score.
He did enough to give the Broncos a cushy lead, just not enough to sustain it.
After Hilinski's 17-yard strike to Calvin made it 31-17, Peyton Pelluer intercepted a tipped shovel pass from Cozart and returned it for six points.
"I don't even know who tipped it," Pelluer said. "Next thing you know it was in my hands and I was just running."
The Cougars tied it at 31-31 with 1:44 to play. WSU regained possession when Erik Powell's punt ricocheted off the back of a BSU player and Hilinski found Morrow for a 6-yard TD just a few plays later.
Those two were responsible for sending this game into overtime. Nearly 40 minutes later, they put it to bed.
"It's just a testament to the change of the program," Morrow said. "From the strength and conditioning to us getting our mindset – the game's never over. Because we knew going into this game it would be a fistfight and we'd have to fight until the end. It was definitely just a testament to this whole organization."
Local journalism is essential.
Give directly to The Spokesman-Review's Northwest Passages community forums series -- which helps to offset the costs of several reporter and editor positions at the newspaper -- by using the easy options below. Gifts processed in this system are not tax deductible, but are predominately used to help meet the local financial requirements needed to receive national matching-grant funds.
Subscribe to the Cougs newsletter
Get the latest Cougs headlines delivered to your inbox as they happen.
---