Sports > Outdoors
Pack goats take a load off elk hunter's game
Sun., Sept. 10, 2017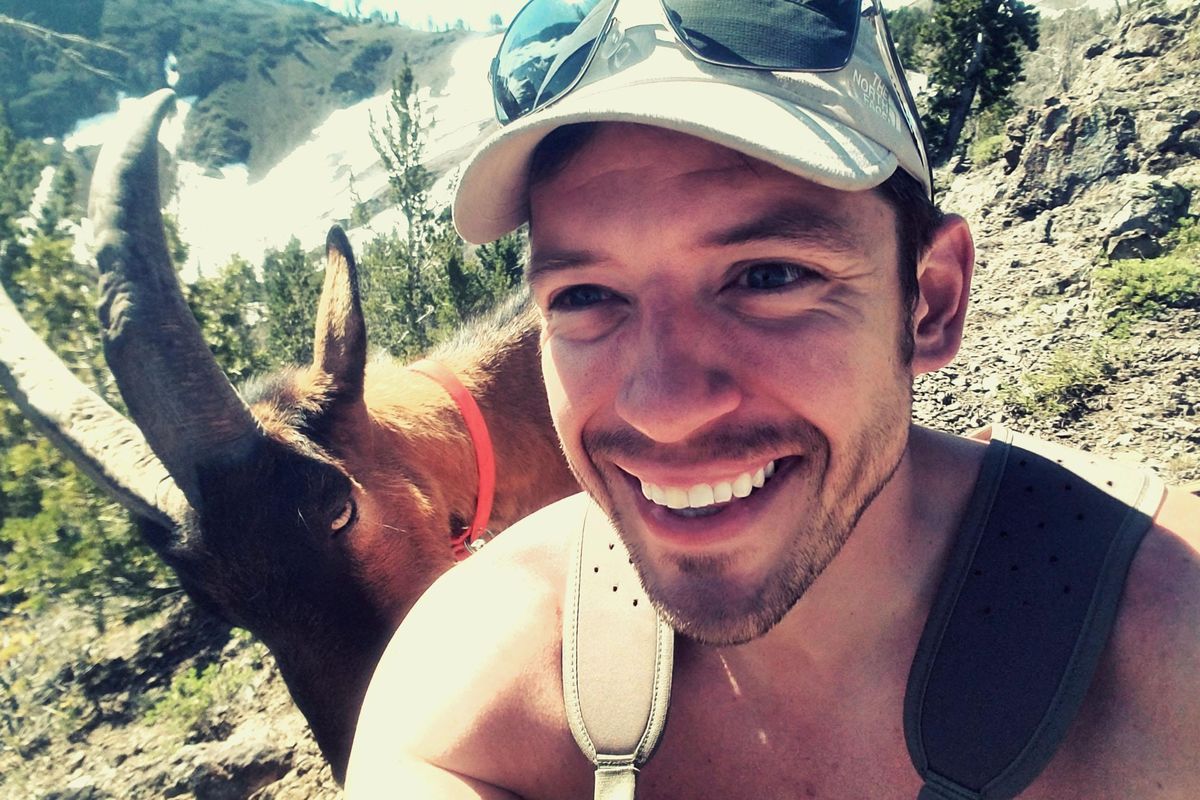 A pack goat licks sweat off Howie Halcomb's arm as he pauses on a high ridge while hiking and scouting for game. (Courtesy / HOWIE HALCOMB PHOTO)
One bowhunter is walking briskly into his backcountry elk camp this week with a team of four-legged helpers that take a load off his back without adding work and worry.
"Pack goats make my life easy," said Howie Halcomb, a hunter who pursues game with the rigor of a backcountry athlete.
The 38-year-old sportsman said pack goats are ideal companions for hiking to remote hangouts of trophy bulls. "The goats are like dogs with hooves and horns," he said, "and they can pack a load."
Halcomb says he's hunted with a bow since he was a kid: "I moved here from Texas to fish for trout and hunt for elk. I train all year for archery elk season."
His team of 200-pound pack goats tags along as he trains, scouts and heads into camps. They follow him like a devoted golden retriever.
Several years ago, Halcomb took a nasty fall with 90 pounds of elk meat on his back. He was in a rugged, remote area and feeling the pressure of getting the meat out in the summer heat when the accident occurred.
"I could have died up there from that fall," he said. The incident prompted him to consider supporting his hunts with stock.
"I needed to figure out something for going deeper into the mountains and still being safe in September, when warm temperatures require getting the meat out quickly so it doesn't spoil."
His research led him off the beaten path of western pack stock options. "It became clear that pack goats, for me, are more practical and safer than horses, mules or lamas," he said. "I checked out every goat breeder in the West."
And horses he might meet tend to be freaked out by lamas, but are calmed by goats.
While the term "work horse" has its roots in traditional pack stock that have served hunters for centuries, horses and mules are expensive to board and require a lot of attention on the trail.
"Honestly, horses don't care that much about being with you in the backcountry," Halcomb said. "They're thinking about heading back to the barn. If you lose one in the mountains, you may never see it again.
"Goats, on the other hand, just want to be with you. They don't blow up and run away. If they get scared, they come to you. I suppose that's good and bad if they're being chased by a grizzly, but I can work that out."
Hiking into the backcountry with pack goats is relatively simple. They go anywhere a horse can go as well as over rocks where horses won't go. They browse as they travel, don't require packed-in feed and can go three days without water, Halcomb said.
"Their favorite things to eat include ponderosa pine needles and sagebrush," he said. "They make a good living wherever they are."
Breeders told Halcomb to avoid Nubian goats. "They're milk goats; they (complain) and moan and won't shut up. And you don't want goats with floppy ears because they get frostbite."
After narrowing his breed selection to three, including Alpine and Oberhasli, he chose Saanen sables originating from Switzerland.
"Most are white, but I got colored ones for hunting because they're supposedly less likely to overheat and attract predators. Being from Switzerland, they're big and adapted to the mountains. They have a good disposition and they're not quitters.
"A good pack goat keeps its mouth shut and does its job all day," he said.
He acquired the goats from breeders at two days old and took over feeding them with a bottle. "When I worked, I paid a lady to wrap them in my shirts and bottle feed them," he said. "They don't know they're goats. I'm their dad."
Any questions he had were quickly solved by consulting breeders he calls "the goat lady network."
At home, goats require a well-built pen. "They're escape artists, that's for sure," he said.
Cattle panels with an electric wire along the top keeps them from crawling out. "They climb like monkeys," he said, "but that's what I want in goats that come with me to hunt on public land where the elk are taking to the rocky terrain because of wolves."
Instead of a horse trailer, he transports his goats in a less expensive customized utility trailer.
"My trailer is not covered except for a tarp," he said. "Only one of my goats tries to climb out, so I tie him in."
Training the goats for packing is a fun project Halcomb enjoys with his young daughter.
"They're gentle around Cassandra," he said. "They take to a pack saddle and paniers quickly. They don't complain. They don't freak out."
The key is to get them out learning to negotiate rocks and downfall at a young age. "Don't wait until they grow up to get them in the mountains," he said. "The most challenging thing for goats is walking on slippery downed trees. They can do it, but I avoid heavy downfall with them."
Swimming isn't natural for goats, he said. "I don't take them into deep water, but they will cross creeks if you start them early. If I have to cross a stream and they don't want to go, I put a leash on one goat, lead it across and the others will follow.
"They won't be left behind."
Each goat has its own personality, but they get along as a team. Each is fitted with a small pack saddle from Bantam Saddle Tack of Ashton, Idaho.
Rather than spooking game away, the goats sometimes act as decoys, he said. "When I'm bowhunting and working a bull, they sound like a herd of elk coming through the woods," he said. "I don't sound like a human in the forest when I'm with them.
"I'll tie them when when I set up. I've had bulls bugle at the goats. Sometimes bulls will hold up, sometimes they come right to the goats.
"One time I was at full draw and had to hold because a bull came nose to nose with a goat."
Pack goats live roughly 12 years and their useful life for packing is between ages 4 and 10, he said.
"At 4 years old, a goat can carry 20 percent of its body weight, depending on fitness," Halcomb said. "And since I hike with mine a lot, they're in shape. When fully grown, my whethers (castrated males) weigh 200 pounds.
Six is the magic number for getting a bull elk quickly out to a trailhead, he said. "The six goats I take with me can carry 40 pounds apiece. With me taking a load, too, we can carry out 300 pounds of de-boned meat in one shot."
"When I head in to camp in the Bob Marshall Wilderness or the Frank (Church River of No Return), we go 10 miles and I carry nothing more than about 5 pounds in my backpack."
During a break to scope distant slopes for game, the pack goats spread out and munch. When Halcomb stands and starts to leave, they head his way.
"You just don't have to screw with them like you do with horses," he said. "No hobbles."
Horns are left intact on the goats' heads to help them regulate body temperature with the blood flow, he said.
"And they need the horns because they like to fight, rearing up in the air and clashing horns. That's my dinner-time entertainment around a campfire. My boys will be boys. It's who they are."
When he calls it a night, he stakes them out or strings a highline and they bed down near the tent.
"They have less impact on the ground than horses or mules. They spread out and don't beat up a trails.
The goats are pastured during winter, but by spring Halcomb commits to hiking with them every week. "I want to be in shape for hunting and fishing, and I want my goats in shape, too," he said.
The goats packed his bait for spring black bear hunting in Idaho.
"I find a friend to feed them when I have to be gone. They're a commitment, but the rewards exceed the hassles."
The main benefit is extending his range to hunt elk in solitude.
"I go in eight miles, which is farther than a guy on foot wants to hunt and closer than a guy on a horse wants to hunt for all his effort," he said.
"I killed a 6-by-6 point bull in Idaho last year. I was in there for 12 days and didn't see another human. I was where other guys don't want to carry elk out of."
Local journalism is essential.
Give directly to The Spokesman-Review's Northwest Passages community forums series -- which helps to offset the costs of several reporter and editor positions at the newspaper -- by using the easy options below. Gifts processed in this system are not tax deductible, but are predominately used to help meet the local financial requirements needed to receive national matching-grant funds.
Subscribe to the sports newsletter
Get the day's top sports headlines and breaking news delivered to your inbox by subscribing here.
---