News > Spokane
Employee of Cheney marijuana shop remains missing after kidnapping Sunday afternoon
Sept. 11, 2017 Updated Mon., Sept. 11, 2017 at 10:04 p.m.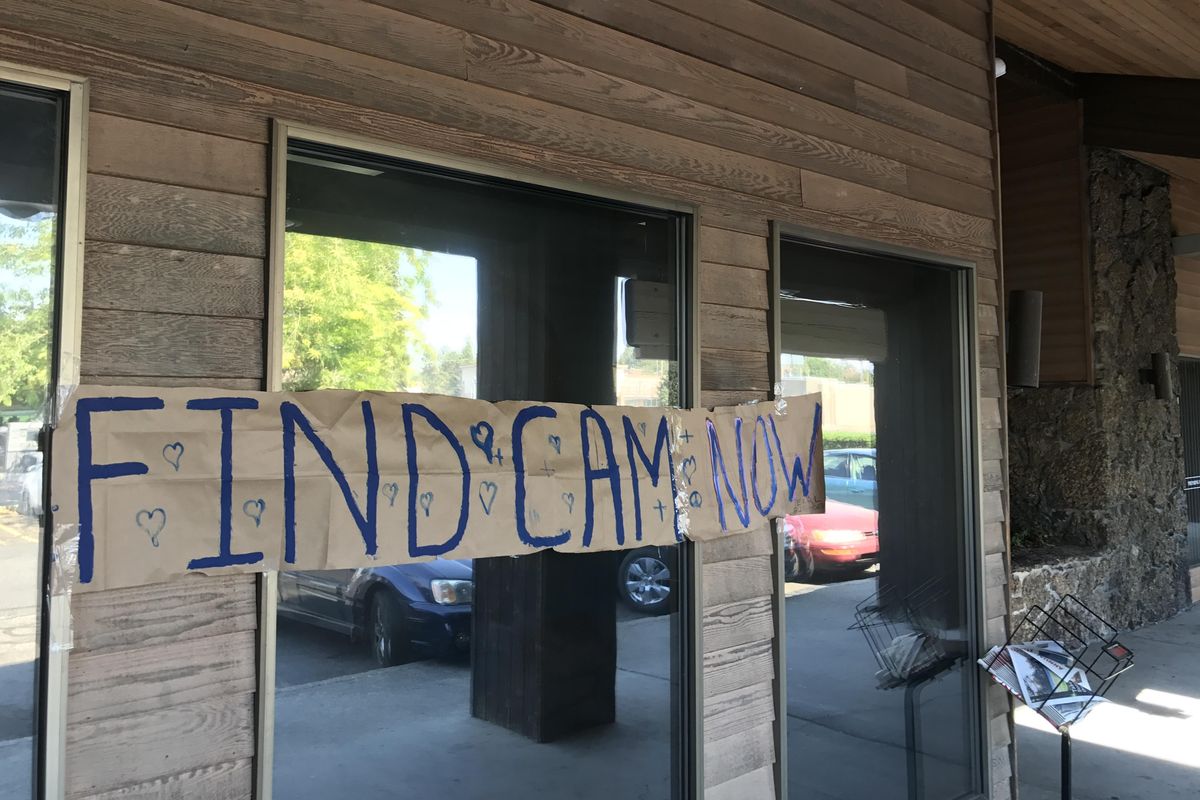 Employees were greeted by this sign when they came into work Monday morning. It was apparently put up by friends of Cameron Smith, who was kidnapped while on his lunch break at Lucid Marijuana Sunday, Sept. 10, 2017. (Jonathan Glover / The Spokesman-Review)
An employee of a Cheney marijuana shop remained missing Monday, a day after he was abducted at work.
Cameron Smith, 46, was working at the Lucid Marijuana store, 1845 First Street, at about 12:45 p.m. when he was kidnapped at gunpoint after the store refused to sell product to two people.
Michael Schoefield, one of Lucid's owners, said a man and a woman tried entering the store, but were told multiple times they couldn't get admission without proper identification. Schoefield said the man told employees he didn't have an ID, that it was back in Yakima. The woman was able to produce identification, but she was 18.
Employees said the man was cordial while inside, not combative or rude, and the woman didn't talk much. The two eventually left the store and returned to a white Ford F-250 pickup truck parked on the far side of the parking lot, facing a Banner Bank.
Employees said the man then exited the truck, and walked around to the side of the shopping plaza, away from the front door of Lucid, where Smith was sitting in his 2008 Acura SUV while on his lunch break.
Schofield said he assumed the man chose Smith randomly as an avenue to relieve his frustration.
"This is all just a bad place, bad time," he said. "This is 100 percent a terrible tragedy."
Cheney police Captain Richard Beghtol said video surveillance showed the male suspect walk up to Smith's car and pull out a gun, firing two shots into the driver's side window. Employees reported hearing the shots, but not knowing what they were at the time.
"Nobody really saw it transpire," said Stacia Shirley, Lucid's general manager.
The male suspect then hopped in and drove away in Smith's car, with Smith still inside.
The female and another woman also left the area in the Ford pickup, which was recently reported stolen in the White Swan area of Yakima County. Both vehicles headed north on state Route 904. Schoefield said Smith's phone was pinged just outside of Medical Lake, where it was likely thrown out of a vehicle.
The three suspects have not been identified by police. The man and woman who entered the store were captured by the store's surveillance cameras, which police have shared in hope of identifying the two.
Beghtol said police have received multiple calls from people who recognize the same man as the suspect who abducted Smith. Beghtol wouldn't release the man's name, but said Monday morning that officers were "tracking down several leads right now."
The FBI has offered assistance in the case, but is not part of the current investigation, Special Agent Christian Parker said Monday afternoon.
Mikhail Carpenter, a spokesman with the Washington Liquor and Cannabis Board, said the agency was monitoring the incident, but any investigation is the job of local law enforcement. Carpenter said there had been reports of armed robberies at cannabis retailers throughout the state, but he was not aware of any reported abductions at state-licensed stores.
Immediately after the kidnapping, Schoefield and others who knew Smith took to social media, asking for help from anyone who knew the beloved barber-turned-budtender from Toledo, Ohio.
"Cam was a well-loved person," Schoefield said. "He was a celebrity in this town."
Amber McDaniel, a regular who frequents Lucid with her fiance, said she knew Smith and the rest of the staff like family. She said she's had a sickening feeling in her gut since learning Smith was kidnapped.
"He's a genuinely good person and always has a smile on his face," she wrote in a Facebook message Monday morning. "My mind just (keeps) thinking about how scary it must have been for everyone there, how frightened Cam must have been."
McDaniel said she and her fiance had planned to drive straight to Lucid from downtown Cheney on their way home Sunday afternoon, around the time the kidnapping happened, but instead they stopped for gas – possibly saving themselves from getting caught in the altercation.
"If we had stuck to our original plan, one of those bullets could have hit us," she wrote. "I thank God no one got hurt in the crossfire."
More than 100 people, many with tears in their eyes, attended a candlelight vigil outside the store Monday evening.
Smith's brother, Dennis Turner, led a prayer and asked attendees to sign a book that would be sent to their family in Ohio. Turner, a co-owner of Lucid who's run the business for about five years, said Smith moved to Cheney about a year and a half ago.
"At the end of the day," he said, "the most important thing is to bring Cam home safe."
Reporter Chad Sokol contributed to this story
Local journalism is essential.
Give directly to The Spokesman-Review's Northwest Passages community forums series -- which helps to offset the costs of several reporter and editor positions at the newspaper -- by using the easy options below. Gifts processed in this system are not tax deductible, but are predominately used to help meet the local financial requirements needed to receive national matching-grant funds.
Subscribe now to get breaking news alerts in your email inbox
Get breaking news delivered to your inbox as it happens.
---