News > Spokane
A look at shootings at Washington schools
Sept. 13, 2017 Updated Wed., Sept. 13, 2017 at 8:24 p.m.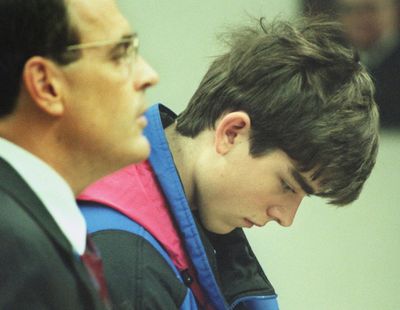 More than a dozen shootings have taken place on school grounds in Washington in the past 23 years. The most deadly was the 2014 shooting at Marysville Pilchuck High School, which left five students dead.
Here is a look at shootings at Washington schools going back to 1994:
April 2015: Teacher Brady Olson tackled a 16-year-old shooter who fired two shots into the air inside North Thurston High School near Lacey; no one was injured.
October 2014: 15-year-old freshman Jaylen Fryberg shot five other students at Marysville Pilchuck High School, mortally wounding four, before fatally shooting himself. Fryberg's father, Raymond Fryberg, was arrested and convicted the following year for illegally purchasing and owning the gun used in the shooting.
June 2014: 27-year-old Aaron Ybarra of Mountlake Terrace opened fire at Seattle Pacific University, killing one person and injuring two.
February 2012: 8-year-old Amina Kocer-Bowman was critically injured at Armin Jahr Elementary School in Bremerton when a gun in a classmate's backpack went off.
September 2011: 51-year-old Ronald Flicker was killed in a shootout with police on the playground of Clark Elementary School in Issaquah.
February 2010: 30-year-old Jed Waits, of Ellensburg, stalked and fatally shot Jennifer Paulson, a special-education teacher at Birney Elementary School in Tacoma. Waits later died of a self-inflicted gunshot wound.
October 2008: 15-year-old Quincy Coleman was shot and killed behind Garfield High School in Seattle. A 20-year-old was later charged with murder.
April 2007: Jonathan Rowan shot and killed his ex-girlfriend Rebecca Griego in her office at the University of Washington before killing himself.
January 2007: Douglas Chanthabouly fatally shot fellow student Samnang Kok in a hallway before the start of classes at Tacoma's Foss High School. Chanthabouly was convicted of second-degree murder and sentenced to more than 23 years in prison.
September 2003: 16-year-old Sean Fitzpatrick fired a single gunshot inside Lewis and Clark High School. Police said he was trying to commit "suicide by cop." Fitzpatrick was shot three times by officers when he pointed a hand gun at them. He survived.
February 1996: At Frontier Middle School in Moses Lake, two students and one teacher were killed and another student wounded when 14-year-old Barry Loukaitis opened fire on his algebra class. He was resentenced this April to 189 years in prison.
March 1994: 16-year-old Melissa "Missie" Fernandes was killed in a gang-related drive-by shooting at Ballard High School in Seattle.
January 1994: Neal Summers, a teacher at Whitman Middle School in north Seattle, was shot in the back and killed by Darrell Cloud, a former student who had been abused by Summers for years. Cloud served nine years in prison and later received a $250,000 settlement in a suit against Seattle Public Schools, saying Summers wasn't adequately supervised.
This report contains a compilation of school shootings from the Seattle Times and material from the Associated Press.
Local journalism is essential.
Give directly to The Spokesman-Review's Northwest Passages community forums series -- which helps to offset the costs of several reporter and editor positions at the newspaper -- by using the easy options below. Gifts processed in this system are not tax deductible, but are predominately used to help meet the local financial requirements needed to receive national matching-grant funds.
Subscribe now to get breaking news alerts in your email inbox
Get breaking news delivered to your inbox as it happens.
---