News > Spokane
Knezovich: Societal breakdown to blame for Freeman school shooting
Sept. 14, 2017 Updated Thu., Sept. 14, 2017 at 9:19 p.m.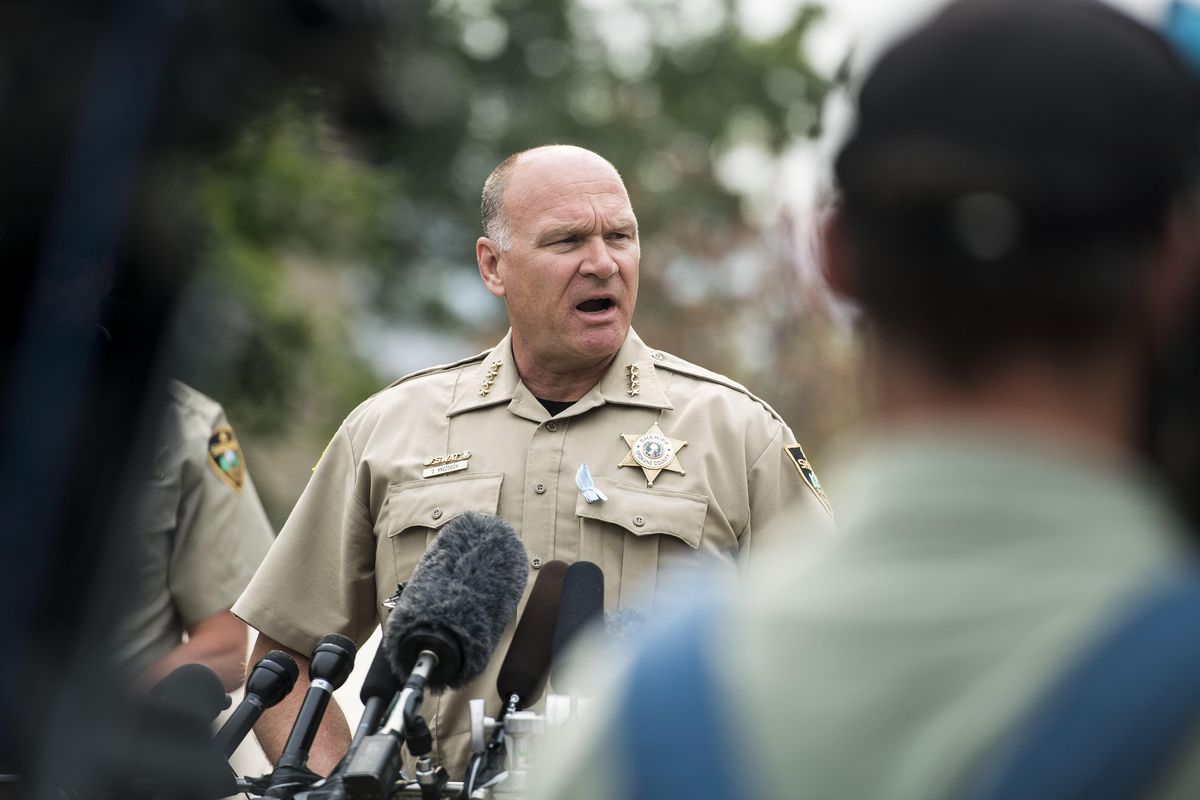 Spokane County Sheriff Ozzie Knezovich speaks candidly to the media about the shooting yesterday at Freeman High School, Thursday, Sept. 14, 2017, outside the Public Safety Building. (Colin Mulvany / The Spokesman-Review)
Spokane County Sheriff Ozzie Knezovich blamed a breakdown of society, the media and problems with the mental health system for Wednesday's tragic shooting at Freeman High School.
Knezovich opened a news conference Thursday afternoon by offering his condolences to the Freeman community. He quickly shifted gears, however, pointing to a host of catalysts that he said were responsible for the violence.
"Where did we go sideways in raising our kids?" he said. "All of this violence they consume perhaps has caused a major crisis."
Knezovich accused people dressed in black who "commit all types of violence in the name of getting their own way," and violent video games for influencing Caleb Sharpe, the 15-year-old sophomore at Freeman who is accused of shooting four students, killing one. Knezovich said investigators were increasingly convinced a preoccupation with school-shooting culture played a large part in precipitating the shooting, as opposed to bullying, which was the explanation offered by Sharpe.
Knezovich said Sharpe will likely be charged as an adult for premeditated first-degree murder.
On Wednesday, Michael Harper, 15, one of Sharpe's friends, said Sharpe would often watch school shooting documentaries, which he sent to friends via Snapchat, a popular photo and video sharing app. Harper also said Sharpe sent out notes to his friends, saying he planned on doing "something stupid."
Knezovich also placed blame on the media, saying it had furthered the "school-shooting culture" that played into Sharpe's fixation.
"This young gentleman got sucked into a counterculture, a culture of violence," he said. "And you media, you're to blame for it. You keep using headlines. You keep giving them names."
The sheriff also offered more details about Sharpe, specifically about his history with depression. According to court documents, Sharpe told arresting deputies he'd been in the care of a school counselor for "suicidal ideations" after suffering from bullying from fellow students. The sophomore told deputies he shot fellow student Sam Strahan partly because he was bullied.
When asked if warning signs were missed by parents, teachers and counselors, Knezovich again accused society and the media for dissuading people from speaking up when they see something is wrong.
"They're always missed," he said. "Here's a message to those who see it coming: You need to prevent that. Here's the problem though, we have made doing what is right wrong. … So we need to teach those kids that if you see something like this, we need to know. … We're not mind readers, folks."
When interviewed by deputies, Sharpe said the guns he used in the shooting were from his father's gun safe, to which he had access. When asked if a 15-year-old should have access to his father's guns, Knezovich said someone that young shouldn't be in possession of a handgun, but access to other weapons was at the discretion of the parents.
"It all depends on the 15-year-old," he said. "I can tell you, folks, I carried a gun all my life. I hunted, I shot. My friends and I, when it's hunting season back home, when I was in high school, every one of those rigs had a gun in the gun rack. Why? We went hunting on the way home. None of those guns ever walked into a school. None of those guns ever shot anybody."
Knezovich said guns haven't changed over the years, and aren't to blame in shootings. He said society is.
"You started glorifying cultures of violence. You glorified the gang culture," he said. "You glorified games that are actually giving you points for raping and killing people. A gun did not change, we changed."
Several questions asked of Knezovich by reporters focused on Joe Bowen, a custodian at the school who helped disarm Sharpe in the hallway after he shot four people. Knezovich called him a "hero" and hailed his quick decision-making in saving students' lives.
He also praised Spokane County sheriff's Deputy Ron Nye, Freeman's school resource officer, who was in the middle school when the shots rang out.
"He did what he was trained to do" Knezovich said. "He ran into gunfire and helped Joe take that suspect into custody."
He said the school and the deputy have a special relationship.
"They love each other and that's the way it should be," he said. "Maybe that's what we need to teach our kids: that old-school stuff. Love one another."
Local journalism is essential.
Give directly to The Spokesman-Review's Northwest Passages community forums series -- which helps to offset the costs of several reporter and editor positions at the newspaper -- by using the easy options below. Gifts processed in this system are not tax deductible, but are predominately used to help meet the local financial requirements needed to receive national matching-grant funds.
Subscribe now to get breaking news alerts in your email inbox
Get breaking news delivered to your inbox as it happens.
---