Getting There: City unveils a new and improved East Sprague Avenue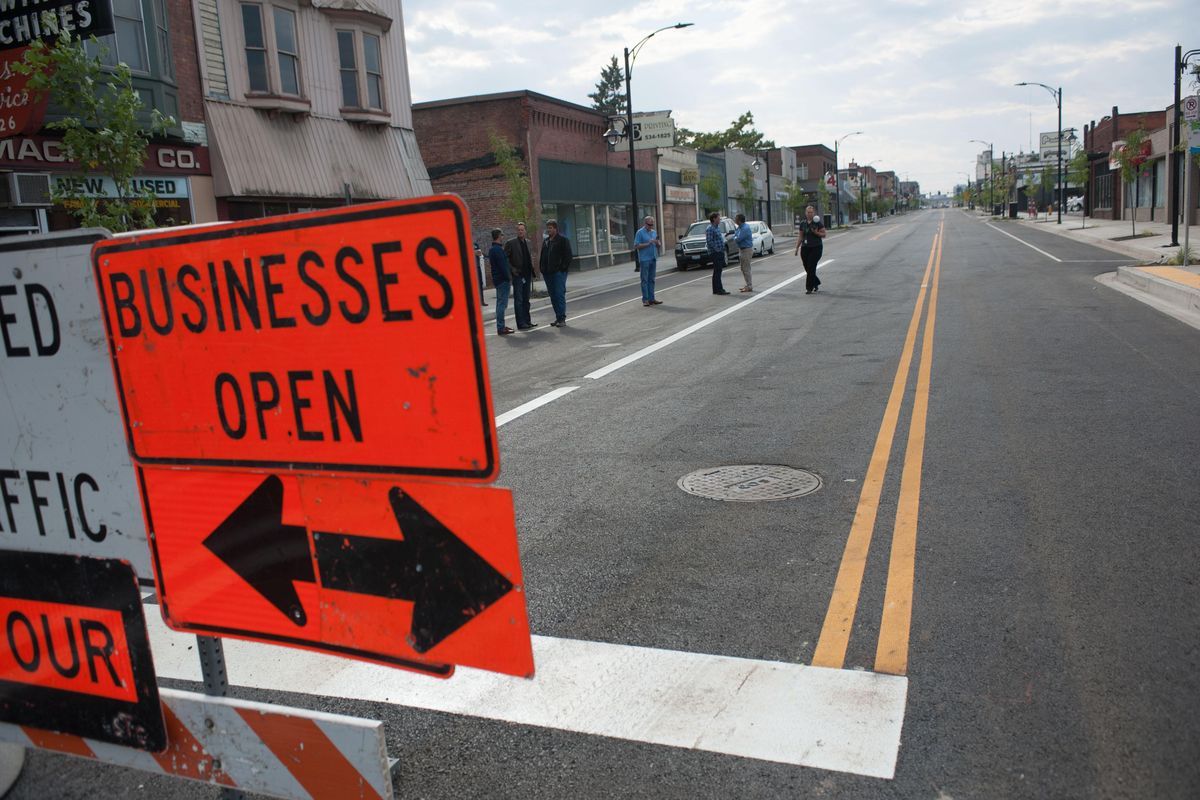 East Sprague Avenue.
What do those words conjure? Pristine pavement, new bike racks, modern, streetcarlike transit stops and wide sidewalks with trees and flowers that welcome pedestrians?
Probably not, but after this weekend, they may.
After nearly half a year of construction, and half a century of stagnation, a new section of the East Central neighborhood roadway opened Friday afternoon. The $4.3 million project completely replaced the street and sidewalks, from building to building, and rebuilt the road to its base, including the installation of a new water main. Streetlights, crosswalks and glass transit shelters give the street a decidedly new urban look.
It's just one part of the neighborhood's effort to reinvigorate. New housing is going up, other houses are getting rehabilitated, new landowners are coming to the long-derided part of town and the business district has even given itself a new name: the Sprague Union District.
You could call this part of town The Twenty if you listen to Spokane City Council President Ben Stuckart, who is credited with devising the plan to point public money at it like a fire hose.
"Over 20 funding sources and over $20 million in the targeted area so far," he wrote on Facebook after the street's opening. "Seeing the beautification is great and hoping in 20 years we look back at a different area."
Jim Hanley, who has lived in the neighborhood since 1942, was a driving force behind the neighborhood's transformation. But he says the reputation East Sprague has as a place to avoid is "rather ignorant."
"East Sprague was never dangerous," he said. "There were some nefarious goings-on but they weren't robbers or muggers. They were just obnoxious."
He urges everyone to come back and just look. "You'll see a totally different environment," he said. "It's the nicest-looking street in Spokane."
At 4 p.m. Friday, Mayor David Condon, state Sen. Andy Billig, longtime business owner Dave Clack and Hanley moved the barricades. A few cars kept to the detour, but it didn't take long for traffic to flow. Within minutes, cars lined up behind a red light and a few people sat in the bus shelter, waiting for the No. 90 to downtown.
Clack, who's been in East Central since 1938 and is the former chair of the Old National Bank, said he hoped the work would bring East Sprague back to what it once was.
"I remember this being the most vital business street in Spokane," he said. "Even busier than North Division is today."
As Clack suggests, the new street is something of a reversion to what it was almost 70 years ago.
With the war won and prosperous Americans driving more and more, the East Sprague Commercial Club called in 1945 for widening the roadway by 20 feet. Within a few months, the city released plans to push East Sprague's girth to 56 feet, making it wider than Monroe, Washington or Division streets.
Charles Davis, a city engineer at the time, said the wider Sprague would be "one of the best streets in Spokane."
The main purpose of making Sprague four lanes, taking 4 feet of sidewalk from each side, was to maintain U.S. Highway 10 on Sprague. In the days before Interstate 90 was built, old U.S. 10 was an important national road connecting Seattle to Detroit, and businesses along it flourished from the traffic.
"This was essentially the interstate," Hanley said of the road called the Sunset Highway. "If you were going east to New York, this is the way you took."
Four years later, in 1949, the street was widened to 62 feet at a cost of $600,000 using, largely, federal funds. Traffic lights were installed at Helena and Altamont streets, joining the one already in place at Napa.
Seven years later, in 1956, East Sprague had the highest number of accidents for any section of U.S. 10 in the entire state, according to the state highway commission. With 30,000 vehicles a day, the street that was a "mere wagon road" 70 years before was feeling the consequences of the auto age.
But that was the end of an era for the business district. I-90 was built through the neighborhood just three blocks away. As in many other American cities, the highway divided the neighborhood and had drastic consequences for the once-prosperous Sprague.
"I-90 killed it," Clack said. "But today is a blue ribbon day for east Spokane."
Got a transportation question you want answered? Write nickd@spokesman.com.
In the city
Commuters in northwest Spokane got an important connecter back last week. TJ Meenach Drive down the hill from Northwest Boulevard to the bridge opened Tuesday. The road was closed as part of an $8 million project to construct a 1.4-million-gallon sewage overflow tank and related infrastructure. Grace Avenue from Alberta to Cochran streets will be closed until December.
For pedestrians
South of the interstate in East Central, sidewalks on Fifth Avenue between Haven and Fiske streets are being replaced for $750,000.
Work on new pedestrian infrastructure near Regal and Bemiss elementary schools and Shaw Middle School in north Spokane continues. Crews are working at the intersections of Regal Street and Rich Avenue, Garland Avenue and Cook Street, Empire Avenue and Stone Street, and Stone from Empire to Bridgeport avenues. This $565,000 project includes new sidewalks, bump-outs, disabled-accessible curb ramps, storm drainage upgrades, pavement replacement and signage.
Sidewalk detours at Riverfront Park remain in effect. The walks are closed on the north side of Spokane Falls Boulevard from Howard to Post streets, and on the east side of Post from Spokane Falls to Parking Lot 6, just before the Post Street Bridge. The South Howard Street Bridge – for pedestrians and bicycles just north of the Rotary Fountain near the location of the Looff Carrousel – remains under construction through the fall.
Crestline lane reduction continues
Work to reduce the number of lanes on Crestline Street between Euclid and Francis avenues has started. Southbound traffic is reduced to one lane from North Foothills Drive to Empire. When southbound work is complete, crews will move to the northbound lanes of North Foothills to Empire, and eventually to the section from Empire to Wellesley Avenue.
This $510,000 project is to be completed in late fall and includes lane re-striping and new signs.
Hatch Bridge delays
Bridge crews are painting Hatch Bridge in Latah Valley from 9 a.m. to 3 p.m., and motorists should expect flaggers and delays.
Pothole work goes on
City crews are still filling potholes. If you see a pothole, report it to the city's pothole hotline at 311 or (509) 625-7733 and include location and size of the pothole. The largest potholes on the busiest streets are priority.
Trent repaving work
The Washington State Department of Transportation is working on a paving project on 7 miles of Trent Avenue, from Mission Avenue to Sullivan Road. Crews will be working night shifts from 7 p.m. to 6 a.m.
In the Valley
Sprague Avenue between South University Road and South Pines Road will be closed for the Valleyfest parade Friday from 5:45 p.m. to 7 p.m. Some side streets will also be closed. Detour signs will be posted.
Euclid Avenue between Tschirley and Barker roads remains closed through September for a road and sewer project. East Saltese Road between East 16th and East 24th avenues also remains closed between 7 a.m. and 5 p.m. for a street preservation project.
Post Falls road closure
Chase Road, north of Poleline Avenue, will be closed through Tuesday from 6:30 a.m. to 5:30 p.m. for grade work and repaving.
Idaho I-90 work
Between Sherman Avenue and Blue Creek Bridge, the interstate is being patched up after sustaining winter damage. One side of I-90 will be closed completely, and traffic will cross over to the other side and be narrowed to one lane.
Roadwork and resurfacing continue on both directions of I-90 in Coeur d'Alene between Ninth Street and Sherman Boulevard. Lanes are reduced. Expect reduced speed, median crossovers and possible delays. In 2018, work will take place between Northwest Boulevard and Ninth.
Transportation council seeks input
The Spokane Regional Transportation Council is proposing to invest nearly $800 million in the local transportation system and wants input from the public.
This year's update, which covers 2018 through 2021, has $789 million covering 106 projects, 12 of which are new. The largest projects include STA's Central City Line, the county's Bigelow Gulch-Forker Connector project and the city's Sunset Boulevard project.
An open house to review the plan and its major projects is scheduled for Tuesday from 4 to 6 p.m. at the Paulsen Center, 421 W. Riverside Ave.
---