News > Nation
Senate on track to pass $700 billion defense policy bill
UPDATED: Mon., Sept. 18, 2017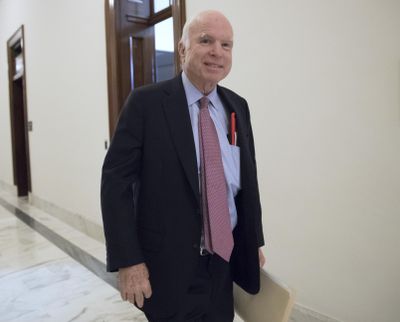 WASHINGTON – The Senate has approved a defense policy bill that authorizes a $700 billion Pentagon budget.
The measure sailed through the chamber, 89-8, even though lawmakers have yet to agree on a plan for waiving restrictions imposed by a six-year-old law to control government spending.
The Senate bill would provide $640 billion for core Pentagon operations, such as buying weapons and paying troops, and another $60 billion for wartime missions in Afghanistan, Iraq, Syria and elsewhere.
The budget the Trump administration submitted to Congress sought $603 billion for basic functions and another $65 billion for overseas missions.
With North Korea's nuclear program a clear threat to the U.S. and its allies, the bill would provide $8.5 billion to strengthen U.S. missile and defense systems. That's $630 million more than the Trump administration sought for those programs, according to a committee analysis.
North Korea last week conducted its longest-ever test flight of a ballistic missile, firing an intermediate-range weapon over U.S. ally Japan into the northern Pacific Ocean. The launch signaled both defiance of its rivals and a significant technological advance.
There's also $10.6 billion for 94 Joint Strike Fighter aircraft, which is two dozen more of the jet fighters than Trump requested.
Local journalism is essential.
Give directly to The Spokesman-Review's Northwest Passages community forums series -- which helps to offset the costs of several reporter and editor positions at the newspaper -- by using the easy options below. Gifts processed in this system are not tax deductible, but are predominately used to help meet the local financial requirements needed to receive national matching-grant funds.
Subscribe to the Coronavirus newsletter
Get the day's latest Coronavirus news delivered to your inbox by subscribing to our newsletter.
---