News > Idaho
North Idaho library in Bonners Ferry named 'Best Small Library in America'
Sept. 19, 2017 Updated Fri., Sept. 22, 2017 at 3:25 p.m.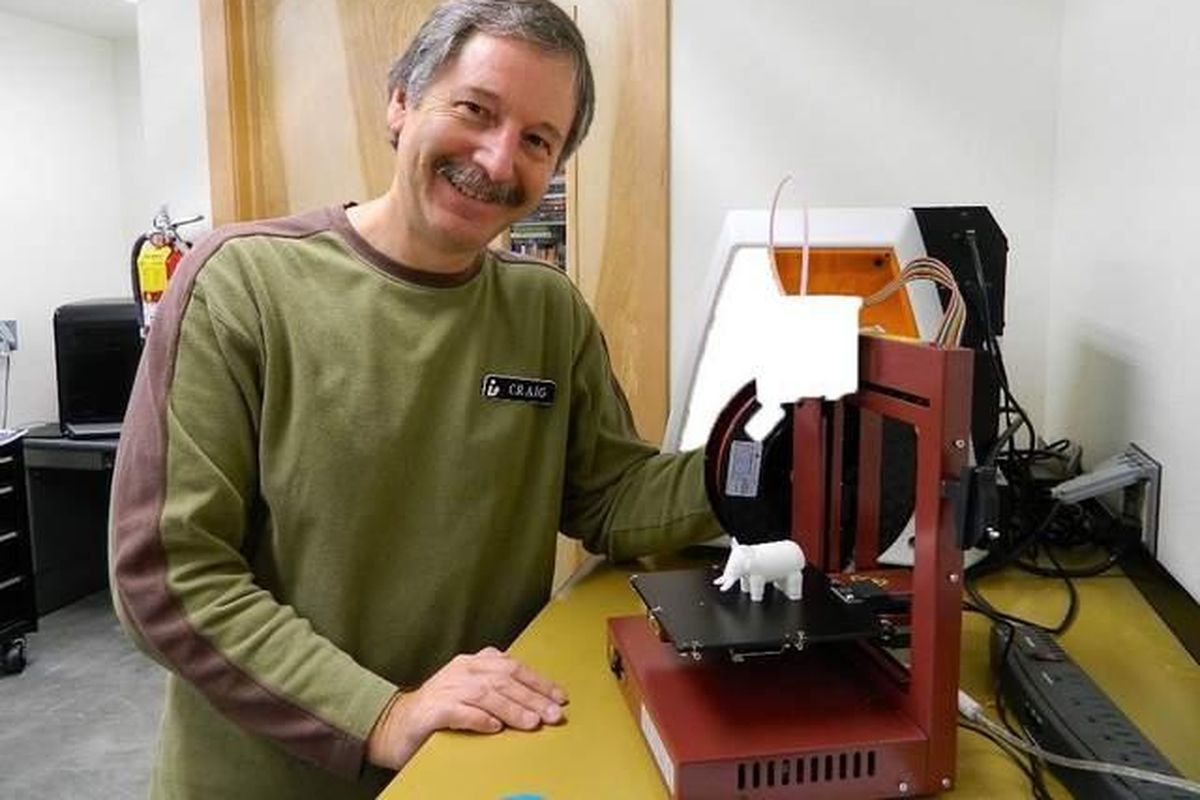 Craig Anderson, Boundary County Library director, demonstrates a 3D printer in the library's "Fab Lab." The Bonners Ferry library has been named the "best small library in America" for 2017 by Library Journal magazine. (Boundary County Library District)
The Boundary County Library in Bonners Ferry, Idaho has been named the "Best Small Library in America" for 2017 by Library Journal magazine – a mark of distinction for the busy small-town library that offers an array of innovative programs to its community.
Library Director Craig Anderson said that when he learned about the award, "I was having a hard time breathing … This is amazing."
Perhaps even more amazing are the offerings the small library has, from its high-tech "Fab Lab" where patrons can learn and practice computer-aided design and computer-aided machining; to its free computer tutoring; to its monthly "Nerf Wars," regular story times, NASA classes for kids and wildlife presentations.
Anderson, who was born and raised in Boundary County, remembers going to the library with his mom and brother back when it was in an old bank building, complete with a vault; he used to daydream about getting closed in the vault at closing time. "It's always been like a home to me," he said.
Anderson became the library's director just one year ago, after 32 years as an English teacher at Bonners Ferry High School, during which he worked closely with longtime library Director Sandy Ashworth. When she retired, "I realized it was time for me to switch over," he said.
Anderson and Ashworth worked together to develop the "Fab Lab," which Ashworth had put together by the time she retired, but hadn't yet opened. There, kids or adults can "walk in our lab, take classes, and learn how to do rapid prototyping for a brand-new invention that you had conceived," Anderson said. "That's quite amazing."
The lab is complete with 3D printers, a laser engraver, a milling machine and more; it's based on a concept developed by a Massachusetts Institute of Technology professor.
Other library programs include the "Library in a Box" book exchange program, which brings books out to five locations where people can borrow and return them at their convenience. There are summer and winter reading programs; a chess club; a Lego Club; and more.
Free one-on-one computer tutoring is available on using smartphones, tablets and laptops. "A retired person will show up and say, 'My kid made me get this new phone – please show me how to use it,'" Anderson said. "We do quite a bit of that."
The library proctors tests for home-schoolers and people taking college classes.
"Our staff enjoys coming up with new ways to engage and help our patrons," Anderson said, "whether that is through an early literacy program, community-wide reading challenge, or resources to start a business."
He noted that the computers at the library are pretty much always in use; on Sundays, the one day of the week the library is closed, he'll frequently see people in the parking lot making use of the library's free Wi-Fi.
"There's just a constant stream of people coming through," Anderson said.
Ann Joslin, Idaho state librarian, said, "The Boundary County Library is a model for the amazing things that can happen with a library director, staff and board that truly listen to the needs and aspirations of their community and then take action to not only meet those needs, but exceed them."
Operated by the Boundary County Library District, the library moved into its current downtown Bonners Ferry location in 1974, and has expanded into the whole building, including the portion that earlier was occupied by the local museum.
Boundary County's population is just over 11,000; Bonners Ferry, just 30 miles south of the Canadian border, has just over 2,500 people. Yet Anderson estimates the library's users in the thousands – whether they check out e-books online, attend a program, borrow books or use a computer.
"We serve the entire community," he said.
Local journalism is essential.
Give directly to The Spokesman-Review's Northwest Passages community forums series -- which helps to offset the costs of several reporter and editor positions at the newspaper -- by using the easy options below. Gifts processed in this system are not tax deductible, but are predominately used to help meet the local financial requirements needed to receive national matching-grant funds.
Subscribe now to get breaking news alerts in your email inbox
Get breaking news delivered to your inbox as it happens.
---